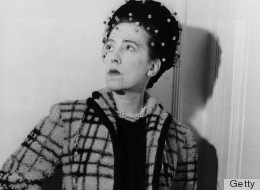 If you're going to stage a fashion comeback, where better to do it than the Met Gala?
The Elsa Schiaparelli brand, co-star of the Metropolitan Museum of Art's new Costume Institute exhibit, is on track to be revived by its current owner, Diego Della Valle. Women's Wear Daily reports that Della Valle, who purchased the rights to the long-dormant brand in 2007, has hired French model/actress Farida Khelfa as Schiaparelli's spokeswoman and is on the hunt for a head designer. "The designer's introduction," says the press release, "will take place in October."
According to WWD, accessories, fragrances and cosmetics will be the first products to hit shelves in February 2013.
The Elsa Schiaparelli brand has laid dormant since 1954, although Schiaparelli herself lived until 1973. An Italian native, "Schiap" began designing in Paris in the late '20s and grew to become one of the most prominent designers in the '30s -- even more prominent, some would argue, than her peer and rival Coco Chanel. (Chanel supposedly referred to Schiap as "that Italian artist who makes clothes.")
Schiaparelli's fashion house suffered from World War II and she shuttered the business in 1954. But her name and legend lived on for fashion lovers and, in 2006, Della Valle purchased Schiaparelli's trademarks and archives with an eye on resuscitating the brand.
And it would seem now is the perfect moment. Schiaparelli is the co-star, along with Miuccia Prada, of the Costume Institute's 2012 exhibition, "Impossible Conversations." The exhibit, which kicks off tonight with the Met Gala, puts the two Italian design legends in conversation, comparing their work and suggesting new ways to understand their designs.
To compare the two idiosyncratic designers might literally be an impossible undertaking ("They are not taking into consideration that we are talking about two different eras, and that [Schiaparelli and I] are total opposite," Prada herself noted). But it is undoubtedly good for Schiaparelli, whose name is lesser known in the contemporary fashion world. The Costume Institute's new exhibition will not only honor her legacy but also put her name on the public's radar -- so what better time to push the brand back in stores?
Read more about Della Valle's plans for Schiaparelli in WWD.com -- and check back here this evening for coverage of the Met Gala, where the museum will officially unveil "Elsa Schiaparelli and Miuccia Prada's Impossible Conversations."
Discover Elsa Schiaparelli in the vintage photos below:
She came to prominence in the same era as Coco Chanel, innovating new silhouettes and clothing details that would influence stylish women around the world. But Italian-born designer Elsa Schiaparelli is a name often forgotten, thanks to the struggles of her fashion house after World War II. Here, see more photos of the woman and her innovative work, from knitwear to culottes. Pictured: Schiaparelli in one of her own designs, 1937. You can't see it here, but the jacket she wears is a bright shade of magenta she called "Shocking." (Photo: John Phillips./Time & Life Pictures/Getty Images; Courtesy of LIFE.com)

When Coco Chanel was still a supposed B-lister (though a fabulously wealthy one) in the world of fashion in the mid-1930s, Schiaparelli was the queen of the roost. But Chanel eclipsed her competitor in the post-war years. (Photo: George Konig/Getty Images; Courtesy of LIFE.com)

The designer was extremely well educated and cultured -- her father was dean of the University of Rome -- and growing up she often stared at the cosmos at the side of her astronomer uncle (who discovered the canals of Mars). All of this, including her interest in the art movements of the time, contributed to her aesthetic. (Photo: Sasha/Getty Images; Courtesy of LIFE.com)

Schiaparelli studies fabrics for a new collection, studying the charts of her new collection, circa 1938. She is also credited for developing the runway show as we know it today -- a display that combines clothes, art, music, and long, thin women with boyish frames. (Photo: John Phillips./Time & Life Pictures/Getty Images; Courtesy of LIFE.com)

LIFE magazine once caught up with the designer during a trip to New York to open a perfume salon, and asked her opinion about American hats. "They are ugly -- and do nothing for the face," she said. When asked about her own eccentric hats -- "some of which closely resemble pin cushions, lamb chops and shoes" -- she replied: "Yes, I too like eccentric fashions in hats and gloves -- but always they must be becoming." (Photo: John Phillips./Time & Life Pictures/Getty Images; Courtesy of LIFE.com)

The designer is surrounded by treasures, paintings, and books at her home in Paris. Over her career Schiaparelli collaborated with artists of the day, most famously with Salvador Dali. The surrealist even sketched a design for a "shoe hat" that Schiaparelli included in her fall/winter 1937-38 collection. (Photo: Hans Wild./Time & Life Pictures/Getty Images; Courtesy of LIFE.com)

A top New York model wears a tight grape taffeta gown by Schiapparelli featuring a separate flesh-colored bra that drips sequins and pearls in 1949. (Photo: Nina Leen/Time & Life Pictures/Getty Images; Courtesy of LIFE.com)

Schiaparelli and her friend smile in Hyde Park, London. Her culottes caused quite a scandal when tennis player Lili de Alvarez debuted them at Wimbledon not long before this photo was taken. But Schiaparelli was never one to shy away from excitement and controversy: Before becoming a fashion designer, she published a book of sensual poems that shocked her wealthy family, and fell in love with surrealism and Dada. (Photo: Fox Photos/Getty Images; Courtesy of LIFE.com)

Theyskens' Theory is known for cool, downtown looks, and the Fall 2012 collection is rather inspired: by Grandma! Effortless hair floated down the runway thanks to a neat hair trick, and the makeup palette included warm bronze shades, taken from someone Granny might look at for beauty inspiration: the late Italian designer Elsa Schiaparelli.
Want more? Be sure to check out HuffPost Style on Twitter, Facebook, Tumblr and Pinterest.