Mother Over 50 Cover Wins Award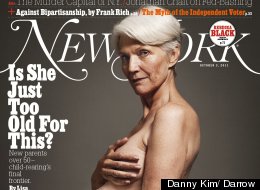 It was an image and story that would stand out on any newsstand: a naked woman of a certain age -- with a sleek silver haircut and her fair share of wrinkles -- covering her breast and cradling a very pregnant belly. "Is She Just Too Old For This?" -- an article looking at the social and scientific issues around parents having children past their 40s and 50s -- appeared in the October 3, 2011 issue of New York Magazine to much discussion, reaching over 6,700 Facebook shares. (See the full cover by reading the article here.)
The American Society of Magazine Editors took notice as well, naming it the Cover of the Year in its 2012 Best Cover Contest. ASME gave its reasoning for the win in a press release:
The editors deliberately chose a model representing the story at its most extreme and photographed her in the pose made iconic by Demi Moore on the cover of Vanity Fair. Her belly was plumped with a prosthetic pillow, then carefully retouched to look real. The over-the-top poster-like cover was meant to stop consumers in their tracks -- and it did.
The article was just as engaging. Read the
New York Magazine cover story that won the 2012 ASME Best Cover Contest here
and vote in our poll below.