Mother's Day Gift Ideas: The Most Relaxing Mother's Day Gifts From Etsy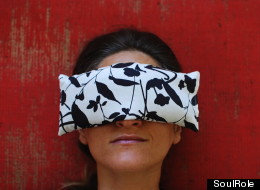 Our 2012 Mother's Day Gift Guide offers a variety of presents that will make you feel pampered and special. For hipsters, a new mug and coffee cozy might do the trick; for foodies, try vanilla cinnamon caramels or strawberry French macarons.
But when it comes down to it, countless surveys, polls and wish lists confirm that what moms want most on Mother's Day is quiet time and spa-style relaxation. And as we wrote here on HuffPost last week, there's no guarantee your significant other is in the know:
Forty-eight percent of moms who participated in an online survey for Ebates.com named a day at the spa as their number one gift choice. Men, however, mistakenly ranked spa day as number three on the list of what they think their partners want, placing flowers and jewelry above.
To ensure this Mother's Day is your best yet, send this handy cheat-sheet, courtesy of Etsy, to your family. Then get ready to sit back, breathe deep -- and just press pause.
Most Relaxing Mother's Day Gifts
Slatted Wood Tray | $98 | PigeonToeCeramics.etsy.com Why not serve mom a lovely Mother's Day breakfast on one of her gifts? These simple, sustainably sourced gumwood trays are hand-assembled in Portland, and have "generous low-profile handles" you'll appreciate while carting mom her French Toast and orange juice on the 13th.

Earl Grey Tea Shea Butter Soap | $5 | sweetpetula.etsy.com This distinctly English-sounding soap -- wrapped in quirky paper "from an old botanical journal" -- was originally created for a Royal Wedding Party, according to Etsy store owner Cordelia Smith. For coffee- and tea-loving moms alike, an Earl Grey bath will be as relaxing as a good English cuppa is dignified.

Tree Branch Candle Holders | $17 | worleyslighting.etsy.com Bring Mother Nature indoors with these candle holders created from discarded pieces of the North Carolina woods. "[My husband and I] love taking a naturally beautiful material that would otherwise be shredded to bits and giving it a second life," Etsy merchant Shelli Worley says. For an extra-special Mother's Day surprise, you can have a custom message engraved.

Organic Cotton Lavender Flax Eye Pillows | $18 | SoulRole.etsy.com Always trust a craftswoman who uses her own products. Etsy store owner Nancy -- who works in an "off grid studio on the island of Hawaii" -- explains that she was inspired to start selling these eye pillows because she'd found one comforting as a gift: "My sister sent me a lavender eye pillow when I was pregnant with my second child back in 1999 and it was a tremendous help with my 'all day sickness' and hyper sensitivity to smells of all kinds."

Organic Mango Peppermint Bath Salts | $55 | TrulyAesthetic.etsy.com "I paired my love of organic body care with my other love of holistic living" to "create a new experience in bathing," the owner of Etsy store Truly Aesthetic tells us. Mom "can pour ... the test tube contents directly" into her tub, or use tea bags (included) to make tiny, fragrant bath bundles; either way, she'll enjoy an experience that feeds her spirit and her senses.

Pure Soy Votives | $18 each | Luminology.etsy.com Etsy store owner Angela Sands says her candles are "hand-crafted in food-safe porcelain vessels, perfect for repurposing and integrating into your daily life." Fans of Sands's products have made leftover porcelain containers into sake cups and salt cellars, among other things (for a creative mom, the possibilities are endless). Their unassuming elegance makes them perfect for entertaining -- or simply enjoying a quiet, peaceful night at home.

Reclaimed Wood Tub Caddy | $130 | PegandAwl.etsy.com "What mother -- when given the opportunity -- wouldn't want to soak in the tub and read or write?!" asks Etsy seller Margaux, who "loves to takes baths and read and write while doing so" herself. These caddies are beautiful as well as functional; each is "made from reclaimed wood (primarily oak) that we gather from old buildings -- mostly 19th century so they are [full of] nails and nail burns, bug paths and other indications of their past life," Margaux adds.