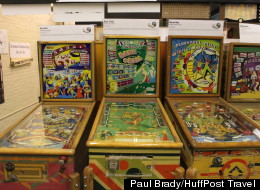 Baltimore's Inner Harbor is considered by many an urban development success story, transforming the waterfront of the city into a tourist-friendly destination. No wonder then that the National Pinball Museum, which moved to Baltimore from Washington, D.C. early this year, chose a storefront around the corner from the water to capture the attention of locals and visitors alike.
The one-of-a-kind museum is a perfect fit for Baltimore, which already boasts quirky attractions like the American Visionary Art Museum, the Baltimore Tattoo Museum and a John Waters-endorsed thrift shop called Killer Trash. (Indeed.)
The two-floor pinball museum offers a history lesson on the ground level, with vintage machines and an exhaustively researched look at the game, which began as yet another way for saloon-goers to gamble. Upstairs, an arcade of playable machines give visitors the opportunity to tilt to their heart's content, with restored vintage games alongside elaborate '80s and '90s contraptions, including one game with horizontal and vertical playing fields.
Open Friday through Sunday, you wouldn't spend your whole day here, but it's a pleasant diversion when the harbor-side heat gets to be a bit too much this summer.
Check out the museum below.
Baltimore's National Pinball Museum
Vintage games tell the story of the evolution of pinball.

Some of the oldest pinball games were all about gambling.

More gambling themes in this vintage game.

One of the earliest versions of the game is quite small, suitable for bar-top play.

More vintage games fill the museum portion of the building.

More vintage games that can't be played.

Vintage gives way to modern in these classics.

Games are marked with information about manufacture, gameplay and designer.

More historic pinball machines.

Two versions of the same game illustrate how local laws influenced the development of pinball in different parts of the country.

Upstairs, a number of playable machines are available.

The upstairs arcade at the National Pinball Museum.

More playable games.

A shocking sight, at least for a HuffPost reporter.