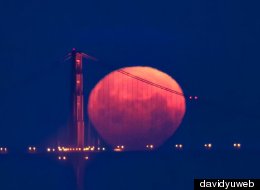 It was a clear night on Supermoon Saturday this weekend, and San Francisco's celestial-loving bodies were camped at every view spot in the city to catch a glimpse.
The rare Supermoon (the coincidence of a full moon with the closest approach the moon makes to the Earth on its elliptical orbit) shined bright and clear above the bay, giving the unusually warm weekend night an extra dose of magic.
Macie Melendez witnessed the sight from her home in San Francisco. "It was crazy!" she told The Huffington Post. "I'd never seen anything like it."
Emily Cohen, also a San Francisco resident, witnessed the Supermoon from a friend's house in Oakland. Though she found the experience "a bit underwhelming," she assured HuffPost that she "loves the moon and all of its glory."
Did you see it? Check out local photos of the Supermoon around the bay in our slideshow below, and then submit your own!
By Davidyuweb

By tobyharriman

By beckcowles

By D.H. Parks

By ericwagner

By Davidyuweb

A timelapse capturing the sea of photographers that swarmed the Golden Gate Bridge for the May 5th super moon.

Greg Linhares:

Greg Linhares:

Greg Linhares:

Greg Linhares:

Geoff Gould:taken 10:33 PM

dslevine:The Supermoon Rises behind a footbridge over highway 80 in Berkeley, California.