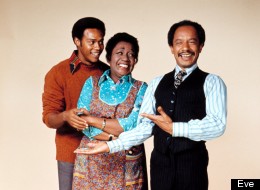 Mothers come in all different shapes, sizes, and colors.
As head of the household holding down the fort as a single parent, or attempting to keep the peace under a rowdier roof, here are some of our favorite character moms (barring Tyler Perry in Madea drag) who have brought some much-needed color to an otherwise monochromatic state of family dynamics on television.
And if you think you've got a mother worthy of such a list, here's your chance to prove it.
Let the "First Lady" in your life—and other Huffpost readers—know how special she is by telling us about her in the comments section, and be sure to enter Optimum Salon Haircare's Mother's Day Makeover-Trip-for-2 Sweepstakes for a chance to win a 3-day, all-expense paid trip to Washington, D.C., for a VIP tour, makeover by celeb stylist Johnny Wright, and a feature in Heart & Soul magazine.
Women We Admire: Television's Mothers of Color (PHOTOS)
Dee Thomas: Ooh, you're gonna get it! Roger Thomas: Shut your face! Mama: Don't you talk to your sister like that! Dee Thomas: Yeah, don't you talk to your sister like that! Mama: Shut your face!

Harriette Winslow: You got a problem there, sugar. That boy's becoming a couch potato. Larry Appleton: A couch potato? Harriette Winslow: You know, one of those people that spend so much time watching TV they end up with a butt the size of Detroit?

Suzanne Kingston-Persons: I am married with two kids, and I do not look like this in the morning. Goodbye.

Florida Evans: Who would've thought they wouldn't give us the loan because James made $100 too much last year? I didn't know $4,200 was the limit for a family with three kids. Willona Woods: Well I've got an idea, if you had a fourth kid... Florida Evans: I'm willing to listen but I'd need a 9 month notice.

Wanda McCullough: [to Jordan and Bryana] Listen up, the two of you. Now you may think your Uncle Bernie punished you bad, but that's cupcakes compared to what I'm gonna do.

Edward 'Eddie' Winslow: The party doesn't start until 9 and my curfew's at 10. Estelle 'Mother' Winslow: That stinks. That's not enough time for Rambo to blow anything up. Edward 'Eddie' Winslow: That's what I said, but Dad still said no. Estelle 'Mother' Winslow: Don't you worry, I'll work on him. Your grandma is gonna fight for your right to party.

Frank Mitchell: You see, we got into a bidding war for the dealership. "Dee" Mitchell: Are we talking desert storm or Star Wars?

[Chris reminisces in the following series of flashbacks:] Rochelle: [moderate voice] Boy, I'll slap da *caps* off ya knees! Rochelle: [low and menacing tone] I will slap you into last *night*! Rochelle: [loud voice] I will *slap* your name outta da phone book, and *call* Ma Bell, tell 'em I did it!

Nicole "Nikki" Parker: The next time you put Outkast before Jesus I'm gonna cast you out of this house.

Rose Lee: [discussing Sandra's sexy outfit] She was dressed in mourning. Mary: Yeah. First time I've ever seen a black armband used as a skirt.

Michael Kyle: Claire is not going to that prom! Janet 'Jay' Kyle: Yes, she is! Michael Kyle: No, she isn't! Janet 'Jay' Kyle: Yes, she is! Michael Kyle: No, she isn't! Janet 'Jay' Kyle: No, she isn't! Michael Kyle: Yes, she is and that's final! Janet 'Jay' Kyle: Thank you! Michael Kyle: Hey, wait a minute, you Bugs Bunny'd me!

Vivian Banks: Will, why did you want to take a class in black history? Will Smith: Because I'm interested in it. Vivian Banks: Are you really? Will Smith: Hey, I read the autobiography of Malcolm X like three times. Vivian Banks: And that makes you interested? Will Smith: That's a very important book. Vivian Banks: Will, you can read the book, you can wear the shirt, you can even shout out the slogans, but unless you know ALL the history behind it, you're trivializing the entire struggle. Now you started something very good. Now it's up to you to finish it.

Lisa Landry: He acted like a pig, but he lied like a dog. Ray Campbell: Which is he, Lisa, a pig or a dog? Lisa Landry: Worse, he's a man.

Ella Payne: Curtis, you need a spam blocker to keep junk from coming out of your mouth.

George Jefferson: I don't want no daughter-in-law who's a zebra. Louise Jefferson: Why not? I'm sure she won't mind a father-in-law who's a jackass.

Julia Baker: Did they tell you I'm colored? Dr. Chegley: What color are you? Julia Baker: Wh-hy, I'm Negro. Dr. Chegley: Have you always been a Negro, or are you just trying to be fashionable?

Clair Huxtable: You see, Denise, you know you can pretty much do anything you want because, deep down, you know we're always there to bail you out. You see, we're your safety net. And, we're so good at it, half the time you don't even know we're doing it. And, your father and I accept that responsibility because we're your parents. And, you'd better not ever forget that, young lady, because, if you EVER take THIS attitude with us again, you can take whatever is in that bank account of yours and go DISCOVER America!