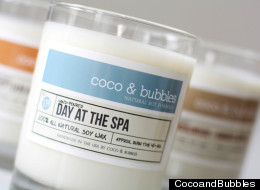 Some moms insist they don't want anything for Mother's Day. They'd rather have a home-cooked breakfast than a big restaurant brunch; they want a homemade card in lieu of jewelry; they dream of peaceful morning hours in bed instead of a big family to-do. Take their protests with a grain of salt. You don't need to get us something super-fancy, but nobody is about to turn down a gift.
With this in mind, the fourth installment of HuffPost Parents's 2012 Mother's Day Gift Guide is about affordability. Below, you'll find neat-looking, handmade Etsy items that are easy on the eyes and the wallet. None of them will set you back more than $25, and all are mom-approved.
For further Mother's Day gift inspiration, check out the other sections of our guide -- with gifts for moms who work magic in the kitchen, moms who need a spa break and moms who wear Keds (a.k.a. hipsters).
Natural Soy Candle | $17 | CocoandBubbles.etsy.com The makers of these hand-poured, all-natural soy wax candles brag that "every aspect" of their product -- from cotton wick to burlap packaging -- is eco-friendly. The candles' "calming and relaxing scent" will help mom recharge after an especially busy day.

Hand Stamped Stainless Steel Necklace - Family Tree | $18 | CountryMomDesigns.etsy.com Etsy seller Jess Ewer says the first Family Tree necklace she made "was actually a last minute thing that I threw together as a gift"; now, she's selling personalized pieces to customers everywhere. Like your real family tree, this necklace won't be compromised by the elements; Jess says its pewter and stainless steel components won't ever "rust, tarnish, or lose [their] color."

Small Bird Vases | $24 | catherinereece.etsy.com These adorable, illustrated bird vases will bring a touch of color to mom's morning. San Fran-based Etsy seller Catherine tells us: "I get a lot of feedback from buyers who say that these little vases ... are the perfect gift for moms with small children who like to pick just the tops of small flowers." Simply charming.

Spoon EndZ Personalized Necklace | $24.99 | SpoonerZ.etsy.com The owner of Etsy store SpoonerZ says the concept for these ingenious spoon-handle necklaces came to her as she "brows[ed] the antique shops here in town" and "came across a huge box of silverware with great patterns and designs all ready to go." The resultant pendants would be lovely on their own -- but you can add personalization for an extra special touch.

Home Is Where Mom Is - Papercut Wall Art | $30 unframed, $81 framed | antdesign.etsy.com "Whenever my mom is present, it feels more like home," says Londoner Kashmira Jhaveri, adding: "I really wanted to use these words to create a design." Kashmira's message is simple, but its presentation is glorious. If you're seeking the ultimate Mother's Day card, look no further.

Lace Pattern iPhone 4 Case | $14 | afterimages.etsy.com Smartphone owners will be hard-pressed to find an iPhone case as dainty -- and affordable -- as this one. The subtle pink lace pattern "will not fade or peel," nor will it ever be unfashionable; as seller Steven Springer says, "lace is one of those amazing staples that has the ability to fit anyone's style, no matter how neutral or fashion forward."

Custom Family or Children Birth Dates | $24 | BetweenEverything.etsy.com "Mothers not only cherish gifts from their children; they also cherish gifts about their children," says Ohio-based Etsy store owner Brooke Witt. She couldn't be more right. This simple, highly personal calendar of important family birthdays doubles as a handsome decor piece; every time she sees it, mom will think of you and smile.

Mom Birthdates Necklace | $24 | ExpressionsStamped.etsy.com "We are a mother and daughter team that have a passion for the art of making jewelry," write Heather and Debbie from Etsy store ExpressionsStamped. Who better to know what mothers want? At just under $25, this highly personal piece is both a charming personal accessory and a great deal.

Personalized Monogram Necklace | $24 | J4JCharms.etsy.com There are thousands of custom jewelry pieces out there (and we've highlighted several other examples in this very collection) -- but Carin Jones's items take personalization a step further than the rest. "Truly, no two necklaces are ever exactly the same," Carin says, explaining: "Now each piece has the option to have charms created from your child's own handwriting! ... Whether it be the first time he writes his name or when he is all grown, these unique keepsakes are something to cherish for a lifetime."

Mom Mug | $22 | Misspottery.etsy.com Etsy seller Melissa writes, "Everyone loves a personalized, handcrafted mug with their name on it." And personalization aside, this isn't just any mug: its earthy colors and special shape make it stand out. Perfect for everything from coffee to soup, it's bound to be mom's favorite for years to come.