Top 9 Toughest Tech Gadgets (PHOTOS)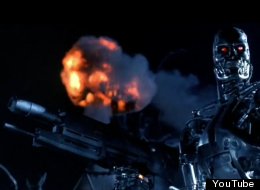 You want to know where the beach is? Here, I'll point with my tough tech smartphone GPS. Why did I throw the phone against a wall as hard as I could? Because I can that's why.
Those that like their tech rugged and durable and don't approve of flimsy super thin gadgets that break when looked at funny are in luck. We've compiled a list of some of the toughest gadgets around, so the adventurous mountain climbers, explorers of ocean depths, or those constantly dropping their devices will be tech-ready for any occasion.
While most devices nowadays are getting lighter and skinnier to appeal to normal folk (Apple's upcoming iPhone 5 is rumored to be 2mm thinner than its 9.3mm thick predecessor), there are still some gadgets being forged to withstand (nearly) everything the world could possibly throw at them.
Flip through the slideshow below to check out cameras, phones and even tablets designed to be waterproof, dust-proof, shock-proof, evil villain resistant and more.
Know another tough gadget? Fail to agree with our picks? Let us know in the comments below.
Top 9 Toughest Tech Gadgets
Not only does this Android smartphone have a 3.7-inch Super AMOLED display, 4G network connectivity and both front- and rear-facing cameras, but it also can survive 6.6-foot drops and withstand temperatures from -60 degrees Fahrenheit to more than 160 degrees Fahrenheit. In addition, the Samsung Rugby Smart passed the MIL-STD 810F military standard specifications, which means it successfully lived through "blowing rain, dust, sand, high humidity, solar radiation, salt, fog and thermal shock," according to Samsung's website. Check out the Rugby Smart in action above. [via Gizmodo]

Released in early February, apparently, Olympus's TG-820 camera has "both brains and brawn." In addition to offering iHS (intelligent, high-sensitivity, and high-speed) technology, the TG-820 can take pictures as deep as 33 feet underwater, can be dropped from a height of 6.6 feet, can snap photos in 14°Fahrenheit and can withstand 220 pounds of pressure. It costs $299.99 read more about it on Olympus's website. [via Engadget]

According to V-MODA's website, these Crossfade M-80 on-ear headphones, available on the site for $230, offer vibrant sound as well as military-level quality. With a STEELFLEX headband, a hard exoskeleton case, and Kevlar reinforced cables, it'd be difficult for even the most hardcore headbanger to break these babies.

Panasonic's line of fully-rugged Toughbook mobile computers gives your device the protection it needs from drop, shock, rain, dust, extreme temperatures and more. The Panasonic Toughbook 31 is one of the most rugged of them all and you can even equip it with 4G LTE capability. But, unfortunately, it'll set you back between $3,000 and $4,000. The company also offers a "toughpad," an Android-powered tablet with military-standard tolerance to dust and water. The 10-inch A1 version of the Toughpad will be available for $1299 starting this spring, while the 7-inch B1 will be released later this year.

Panasonic claims that its Gold SD Cards are waterproof, shock-proof, magnet-proof, x-ray proof and resistant to extreme temperature. Check out the video above to see if one of these memory cards survives when put to the test!

According to ioSafe's Rugged Portable Hard Drive website, the drive, available either in aluminum or titanium for $249.99 or $349.99, respectively, has been designed to military specifications to protect its contents from water, drops, shocks, pressure, extreme temperatures and even chemicals.

This nearly 1.5-pound wrist computer, is developed by military device manufacturer Parvus, meets military standards for protection against extreme temperatures, humidity, shock, altitude and water (when submerged no more than three feet). According GPS World, the device is made of fiberglass-reinforced nylon and magnesium alloy and features an electronic compass, a biometric fingerprint reader, an integrated GPS module and more.

Flash drives aren't the strongest of devices, so it's a good thing there are a few that are nearly indestructible. Device-maker Slava Tyukalov, for example, has created a USB drive that's waterproof and resistant to shock, vibration and static, reports SlashGear. According to Gizmodo, thanks to its titanium-covered graphite/aluminum composite metal body, it can withstand 2,000 lbs of pressure. Don't expect it to be easy to find one as only 100 units of the device, which came in a 1GB model for $197 and a 2GB model for $247, were produced. [via SlashGear]

Okay, so maybe this isn't exactly your normal indestructible tech gadget, but this remote-controlled fire-breathing flying dragon was just too awesome not to throw in. Created by Rick Hamel of Pittsburgh, PA, it has a 9-foot wingspan, can fly up to 100 mph and can shoot fire from its mouth thanks to a 55,000-voltage stun gun mixed with propane, according to MailOnline. Hamel presented his creation at this year's Toledo Show, a remote-controlled model expo in Ohio and won the prize for "Best in Show."