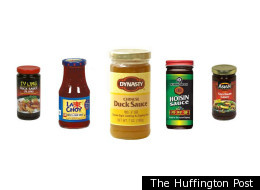 American-Chinese cuisine has a lengthy repertoire -- a typical menu at a Chinese restaurant can easily exceed over 60 dishes. This exhaustive list may seem like the work of thousands of years of culinary history, but what you're really looking at is a handful of dishes with multiple variations (Chicken with Broccoli, Chicken with Cashews, Chicken with Garlic).
This is actually a blessing for home cooks. It means that you can easily recreate your Chinese restaurant favorites in your own kitchen -- so long as you know what you're dealing with when looking at Chinese condiments. Take duck sauce, plum sauce and sweet-and-sour sauce, for example. These three sauces are all similar in appearance and in taste. So how do you know when you should use which?
Click through the slideshow below to get to the bottom of Chinese condiments and sauces. You'll be able to cook more confidently in the kitchen (and order more knowledgeably next time you go out for Chinese).
Chinese Condiments Decoded
Hoisin sauce is a Chinese dipping sauce. It's a thick, brown, spicy-sweet sauce that works great as a salad dressing and as a base for meat sauces -- such as Mu Shu Pork. Ingredients: sweet potato (or another type of starch), water, sugar, soybeans, vinegar, salt, garlic and red chili peppers. Recipes: Hoisin Beef & Edamame Noodles Hoisin-Sesame Salad with Baked Tofu Hoisin-Sesame Dressing

XO sauce was invented in Hong Kong in the 1980s. It can be used as a condiment for fish, meat, veggies tofu or noodles but is also used as a flavoring in a lot of stir-fry dishes ordered at restaurants. Ingredients: dried scallop, red chilli, Jinhua ham, dried shrimp, garlic and canola oil.

Oyster sauce is used in popular Chinese-American dishes such as beef with stir-fried vegetables and Kung Pao chicken. It's typically used as a flavor enhancer. Ingredients: sugar, salt and water thickened with cornstarch, and oyster essence or extract. Recipes: Watercress with Rice Wine-Oyster Sauce Broccoli & Tomatoes with Rice Wine-Oyster Sauce

Plum sauce, also known as duck sauce, is a sweet and sour condiment that got its name thanks to its main ingredient: plums. Though now it's also made with other fruit, such as apricots. Plum sauce is typically served with egg rolls and other deep-fried dishes. Ingredients: sweet plums (but can also be made with other sweet fruit -- most commonly apricots), sugar, vinegar, salt, ginger and chiles.

Black bean sauce (which sometimes comes with garlic) is commonly served with fish, stir-fry veggies and spare ribs; it has a bitter and sweet flavor. It's made from fermented soybeans, which is one of the oldest uses of soybeans to date. Ingredients: fermented and salted soybean, garlic and soy sauce. Recipes: Broccoli with Black Bean-Garlic Sauce Grilled Sea Scallops with Cilantro & Black Bean Sauce

Sweet and sour in its most basic form is a simple combination of sugar and vinegar. It shows up in many Chinese restaurant dishes -- mostly as a sauce for deep-fried meats. Ingredients: sugar, vinegar, pineapple, green and red bell pepper.

This is a hot and spicy sauce great for stir-frys. Ingredients: Chili peppers, soy sauce, vinegars, miso and spices.

Hot and sour sauce is similar to sweet and sour, with the inclusion of hot chiles. If you like a little heat, it's a good sauce to use in place of plum sauce or sweet and sour. Use with caution; even though it's sweet, it sure is spicy too. Ingredients: fruit, hot chiles, sugar, vinegar, and salt.

Chinese mustard sauce is a condiment usually served with appetizers. Take caution when adding to your meal, it's known to be really hot. Ingredients: dry mustard powder and water.