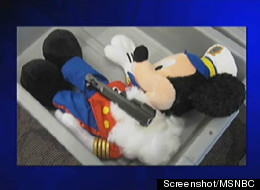 A man traveling with his son was stopped at T.F. Green International Airport in Rhode Island on Tuesday, when airport screeners discovered gun parts hidden inside his four-year-old's stuffed animals, CNN reports.
The three stuffed animals -- a teddy bear, a bunny rabbit and a Mickey Mouse -- concealed the parts of a .40 caliber gun, a magazine loaded with two rounds of ammunition and a firing pin, according to CBS News.
The man told authorities he had no idea the materials were stuffed within the toys. The materials were confiscated and the man and his son were allowed to continue onto their flight to Detroit.
"It appears to be the result of a domestic dispute," Rhode Island Airport Police Chief Leo Messier told CNN. "There was no threat at any time to air safety," he said.
According to WPRI-12 in Providence, officials are now looking to the man's wife for an explanation.