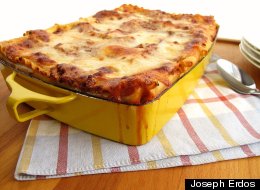 With Mother's Day approaching, many of us have mom on the mind. Memories of our mothers are often dominated by food, especially if your mom was a spectacular cook. Maybe your mom made your favorite fried chicken every year for your birthday, a gigantic feast every Thanksgiving, or just the best brownies you've ever had. In a fitting Mother's Day tribute, we want to know what your mom's best dishes are.
We've been collecting our readers' best memories of their mothers' cooking from Facebook, Twitter and email, as you'll see below. We want you to get in on it, too.
Submit a description of your mom's best recipe in our slideshow below, and make sure your mom gets recognized -- you can't give a better Mother's Day gift than a public nod to her culinary skills.
"My mom raised my brothers and me on the Sicilian peasant food she grew up with while living in Sicily. As kids, we didn't realize that most of what we ate was pretty weird to our American peers -- rabbit, internal organs, pig's feet ... the list goes on! I chronicle these stories and experiences on my blog, Pomato Revival. Her Sicilian Rabbit Stew is one of my favorites. It's a tomato-based sauce that explodes with Sicilian flavors: salty capers, green olives, celery, and the secret ingredient that makes it really pop: vinegar. It's a salty/sour combo that we loved as kids, and now that I'm a mom it's my favorite thing to share with family and friends. I especially love it since it speaks of the traditions and flavors of my mom's little Sicilian village, Favara." -- Maria Gagliano via email

"Lasagna ... when she used to make some, she precooked the pasta first and let it dry on cloths all over the kitchen. I loved to steal some before she built the lasagna in the plate." -- Francois Goupillon via email Image courtesy of NathanF, Flickr.

"She made the best potato salad ever!" --Liesl Harrison via Facebook Image courtesy of trekkyandy, Flickr.

"[She taught] us to make pate au choux (cream puffs) as children even before making brownies or chocolate chip cookies." --Wendy Bonham via Facebook Image courtesy of jeffreyw, Flickr.

"My mom's technique of stuffing onions, peppers, and garlic under the skin of a oven roaster/turkey breast and roasting it upside down. Amazingly juicy and flavorful throughout!" -- Robin Whittington-Easter via Facebook Image courtesy of jfinnirwin, Flickr.

"I loved her 'Goo' (pasta with ground beef, cheese, n veggies)." -- Ash Wo via Facebook Image courtesy of giovanniscanavino, Flickr.

"She made the absolute best, most perfect filet mignon at Christmas every year." -- Susan Tilney via Facebook Image courtesy of naotakem, Flickr.

"The best Yorkshire Pudding ever and she was Jewish go figure!" -- Ivan Goldberg via Facebook Image Courtesy of Cloned Milkmen, Flickr.

"Homemade fried chicken and potato salad -- loved when my mom made that." -- Traci Nichols-Taylor via Facebook Image courtesy of bucklava, Flickr.

"Homemade French fries (with the skin on) and thick chocolate malts." -- Danita Day via Facebook Image courtesy of stu_spivack, Flickr.

"The best -- pizza burgers on English muffins." -- Jodi Gravlin Wolff via Facebook Image courtesy of bucklava, Flickr.

Pupusas are a traditional Salvadoran dish. They're basically tortillas stuffed with a filling, such as cheese, pork and beans, or more. They can be eaten with this kind of cabbage and carrot slaw called "curtido" or with salsa roja (red salsa). I can't eat any other pupusa because they don't taste like mom's.