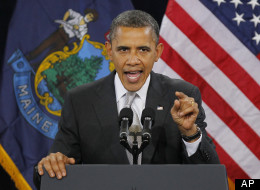 On Tuesday, North Carolina voters passed a constitutional amendment that defines marriage exclusively between a man and a woman, making North Carolina the 30th state to pass such a ban same-sex marriage.
The Associated Press reported:
In the final days before the vote, members of President Barack Obama's cabinet expressed support for gay marriage and former President Bill Clinton recorded phone messages urging voters to oppose the amendment.

Supporters of the amendment responded with marches, television ads and speeches, including one by Jay Bakker, son of late televangelists Jim and Tammy Faye Bakker. The Rev. Billy Graham was featured in full-page newspaper ads backing the amendment.

North Carolina law already bans gay marriage, but an amendment effectively seals the door on same-sex marriages.

The amendment also goes beyond state law by voiding other types of domestic unions from carrying legal status, which opponents warn could disrupt protection orders for unmarried couples.
Unsurprisingly, Tuesday's vote immediately inspired strong reactions. Below, a look at how politicians, gay rights groups and others weighed in on the measure's passage:
Reactions To North Carolina Gay Marriage Ban
"The President has long opposed divisive and discriminatory efforts to deny rights and benefits to same sex couples. "He believes the North Carolina measure singles out and discriminates against committed gay and lesbian couples, which is why he did not support it. President Obama has long believed that gay and lesbian couples deserve the same rights and legal protections as straight couples and is disappointed in the passage of this amendment. On a federal level, he has ended the legal defense of the Defense of Marriage Act and extended key benefits to same-sex partners of federal employees."

"The passage of Amendment One in North Carolina is very disappointing. It unfairly singles out gay and lesbian Americans and is discriminatory. I'm proud that President Obama opposed Amendment One, as he has long believed that gay and lesbian couples deserve the same rights and legal protections that straight couples already enjoy. "While the passage of tonight's amendment is disappointing, it does not erase the incredible progress that gay and lesbian couples have made under the President's leadership. From putting an end to the legal defense of the Defense of Marriage Act in the courts and endorsing legislation to repeal it, to making sure that same-sex couples have equal hospital visitation and medical decision-making rights and extending key benefits to the same-sex partners of federal employees, we have taken great strides forward. "The choice is clear. The President has fought on behalf of LGBT Americans while Mitt Romney has supported inequality and discrimination. Romney has said we should write discrimination and inequality into the Constitution, and he has funded efforts in states that have adopted marriage equality to roll back these rights. On this and so many other issues, Romney, like Amendment One, would take us in the wrong direction."

"As momentum for the freedom to marry continues to grow in the rest of the nation, today's vote is a painful reminder of what happens when a preemptive ballot-measure is stampeded through before people have had enough time to take in real conversations about who gay families are and why marriage matters to them. This amendment is a last gasp of discrimination that will cause real harm to families, communities, and businesses in North Carolina, but says little about the prospects for a better outcome in battles to come in states where there has been greater visibility for loving and committed couples and those who get to know them. And even in North Carolina, the long-term effect of this nasty attack will be to spur more conversations and open more hearts, helping more people rise to fairness and support for the freedom to marry."

"We applaud North Carolina voters for joining voters in 31 other states upholding the historic and natural definition of marriage as the union of one man and one woman. "At every opportunity, the American people have demonstrated a deep appreciation for the unique benefits that marriage between a man and a woman brings to families and society. They recognize that marriage is the only kind of union that results in natural procreation and keeps a mother and father together to raise the children produced by their union."

"North Carolina has wandered into treacherous terrain with Amendment One. For all the talk of bolstering families, this measure shamefully shoves them into harm's way. "Blocking loving couples from forming legal unions like domestic partnerships, civil unions and marriage flies in the face of family values. Indeed, Amendment One defies what it means to be a family today. Many North Carolinians, including seniors, single women and children, could be placed in peril because the shrinking definition of family excludes them. Some might even be denied life-saving services like domestic violence protections. This is a brutal step backward for relationship recognition in North Carolina. "We thank all the voters who rejected Amendment One. We stand in solidarity with them and the Coalition to Protect North Carolina Families as they build on this effort to make North Carolina welcoming and safe for all."

"Tonight's results are an unfortunate reminder that the fight for Civil Rights in our state is not yet over. Writing discrimination into our Constitution is wrong. The State Constitution exists to protect the rights of our citizens- not to take them away. Despite this setback, north Carolina Democrats will continue to fight for all of our citizens."