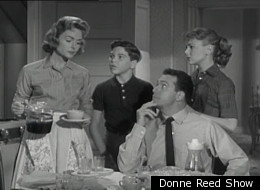 One obligation that almost all mothers share is having to feed their kids -- and though we wish we saw more TV dads whipping up dinner (like Tony Micelli!), moms have historically been shown serving supper on many of our favorite sit-coms and television dramas. Whether they're gourmet chefs or take-out queens, dinner gets on the table one way or another. Depending on how many years of your life you've devoted to watching TV, you've become acquainted with quite a few fictional mothers -- and you've come to know their cooking, whether it's good or bad (poor Debra Barone).
With Mother's Day in sight, what better time than now to pay homage to these TV moms? Don't worry, we're not suggesting that you buy them flowers or take them to brunch -- just take the quiz below and show off your trivia knowledge.
TV Moms That Cook
To get the highest score, get all the answers right in the fastest time!
The clock will start as soon as you submit your first answer.
0:00
Which TV mom who hates to cook was shown ashing her cigarette into a salad she was making for dinner?
Peggy Bundy from "Married With Children"
Roseanne Conner from "Roseanne"
Lucy Ricardo from "I Love Lucy"
Jill Taylor from "Home Improvement"
WATCH: Healthy Mother's Day Brunch Ideas