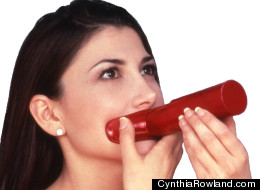 Mother's Day is one of the biggest gift-giving days of the year -- and definitely the least imaginative.
Moms, more than anyone, help us define our identity and uniqueness, but when it's time to honor her, most people stick to boring meals at a safe chain restaurant, flowers or even housecleaning, instead of looking for gifts that express the one-of-a-kind personality of the woman who gave them life.
At the risk of sounding like an ad shilling fast food, we at HuffPost Weird News want to help Americans break out of their same old Mother's Day gift rut by offering suggestions that are ... well, different, to say the least.
If you're a mother who likes one of these gifts, print it out and put it in a prominent place. If you're a wife or a mother of a certain HuffPost Weird News writer, stop reading -- it will spoil the surprise.
All the things you did to torture your mom as you were growing up have turned into wrinkles on her face. You can't restore her sanity, but you can help her recapture her once-smooth, youthful appearance without surgery, messy lotions or facial exercises via Frownies. These sort-of Botox band-aids retrain facial muscles to regain the strength and tone they have lost.

Angelina Jolie isn't the only mom who has beautiful lips. Now any mother can get the plump, bee-stung look with Luscious Lips, a suction-powered lip plumper that fits over the lips and works by using a technology similar to bicycle pumps or those weird-sounding flutes used in bad animated cartoons.

Mom has a big heart and, if she's like millions of Americans, probably a big waistline. The Inchmaster helps Mom stretch dollars (and her wardrobe) a little by slowly stretching her pants so she can comfortably eat a few more Cheetos.

Pillows are nice and cleavage is nice, but so far there hasn't been anything combining the two (other than tacky slang words for breasts). However, the Intimia provides a soft place for cleavage and also helps treat the heretofore unknown problem of cleavage wrinkles. Your mom and her "girls" will be happy.

If Mom likes to garden, these aerator sandals help open up the soil while she walks around the yard. If Mother likes walking in sketchy areas of town, they also can be used as weapons.

If your mom is the type who likes to booze it up in style, this wine bottle holder in the shape of a high heel is sure to get a foothold near the liquor cabinet or wine cellar.

When Ronald Reagan said, "Trust, but verify," he was referring to dealings with the former Soviet Union. However, it also works for techophobes who aren't sure their toast is being toasted. This Pyramid Toaster works inside-out so Mom never has to worry if her toaster is slacking on the job.

The idea of a remote control with a bottle opener built in seems tailor-made for Father's Day, but there are also a lot of moms who don't want to get up from the couch after a hard day's work.

Baseball stars get honored with their own bobbleheads, so why not Mom? Frankly, she does a lot more than hit home runs. For between $99 and $149, Mom can get a bobblehead that looks just like her -- mom jeans and all.

Even the best moms get divorced, but rather than show animosity toward her for pushing Dad into the arms of his much-younger secretary, why not give Mom a boost of confidence with a divorce ring? This beautiful ring features the words "trade up," so that your future stepfather is aware that your mom doesn't plan on settling for Mr. Right Now.

A lot of mothers are trying to be green and one way to do that is by turning some garbage into compost with an in-house compost maker. Amazingly, the same mom who gets mad when you track dirt in the house will be thrilled to be able to make her own.

You may not want to admit it, but your mom must have been a desirable, sensual person -- otherwise, you wouldn't be reading this. Acknowledge her seductive side with a night shirt that looks like a trench coat covering lingerie. She probably will blush when you give it to her, but she will quietly thank you later in the evening.

One of the lessons your mother probably taught you was the value of an education, but there are only so many hours in a day for someone to study. A pillowcase that includes the basics of biology, psychology and art history can satisfy your mom's desire to learn.

All women love jewelry and it's a thoughtful way to show you care. But necklaces haven't advanced much in design. Most only involve the senses of sight and touch. However, this pancake necklace adds the sense of smell. Truly a great way to tell your mom she doesn't stink.

It's a fair assumption that lots of moms like booze -- otherwise, you might not be reading this. For those who like their sauce with a side of songs, Musician Ali Spagnola hopes to help drinking moms (and other boozehounds) satisfy their love of both. This shot glass comes with a USB port that contains one hour of drinking songs. If only other musicians had been as thoughtful of your mother.