Without a doubt, filmmaker M. Night Shyamalan (The Sixth Sense, The Village) has a natural affinity for Philadelphia. Not only is he known to base and shoot many of his movies there, Shyamalan also grew up in the countryside near the Pennsylvania city. So, it's no surprise that Shyamalan's current house, a 1937 Georgian Revival that stands on 125-acres of land, is located nearby. Here's a quick peek inside the estate from Architectural Digest's latest June issue.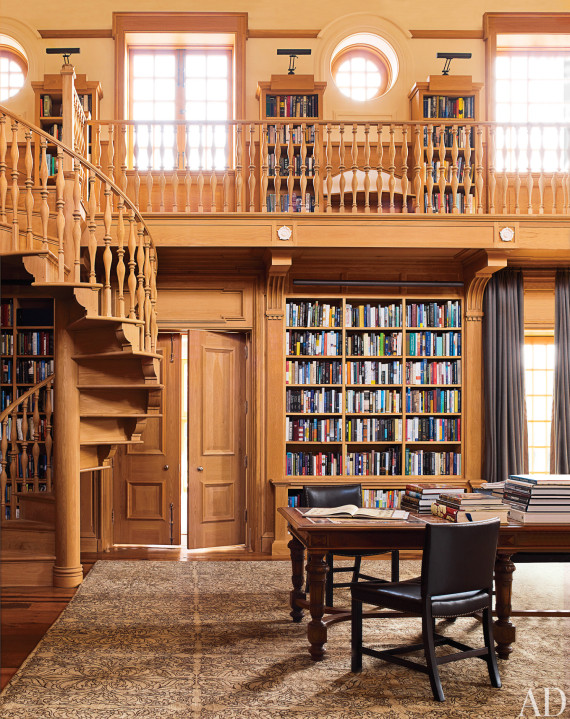 All photos by Eric Piasecki, Courtesy of Architectural Digest
Shyamalan and his wife, Bhavna, who have three daughters together, wanted to make the place feel romantic with minimal renovations. However, as is the case with most renovations, it turned out to be a much larger feat.
The couple worked with designers Richard Cameron and David Kleinberg, who brought romance to the property by adding a number of historical details. Cameron installed an entirely new structure that has the look and feel of a 17th-century building while Kleinberg filled the rooms with vintage-style furnishings. This refined, old-world appeal is most notable in the library, which features oak-paneling throughout and a spiral staircase that leads up to a second floor landing.
As for our favorite part of the home, it's definitely everything that surrounds it on the outside -- from the lush gardens designed by Barbara Paca to the main house's red brick facade.
To read the story and see more images of M. Night Shyamalan's home, head over to Architectural Digest. And let us know in comments below what you think of Shyamalan's estate.
Have something to say? Be sure to check out Stylelist Home on Twitter, Facebook and Pinterest.