Canned Foods: Which Items Are Okay To Eat From A Can?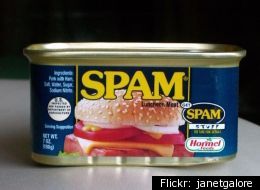 We're thankful for canned foods. They've played a major part in the innovations of our food systems and have certainly kept many bellies fed. But let's be frank, canned food can be wretchedly gross -- resembling nothing close to what the original (uncanned) item once was.
While there are some food items which seem safe to eat from a can -- some we almost solely expect to see in can form (like beans or chickpeas), others might possibly be considered the worst offense against the food world (canned hamburger anyone?).
We've put a guideline together to help keep the line straight on what's safe and, more importantly, what's not safe to consume from a can. Click through the slideshow below and let us know if you agree.
Which food item would you never eat from a can? Leave a comment.
Canned Foods: The Good, The Bad And The Ugly
While olives definitely develop a slightly rubbery texture when in a can, they're more than edible -- and work great as a pizza topping.

Okay, we know that tuna is considered chicken of the sea and we eat that all the time. But actual chicken, pre-cooked and vacuum-packed in a can just sounds like trouble with a capital T.

Chickpeas in a can make a great protein solution when in a pinch for time -- or on a budget. With a quick rinse of water, they taste great on top of salads, in a stew or pureed into hummus.

We're sure a lot of you weren't aware of canned bacon's existence, and some of you are probably thanking your lucky stars that you found this product, but we're here to tell you that bacon from a can is a step down from Bac-os Bits.

Canned chicken broth, while often times high in sodium, usually makes it possible to throw together a healthy home-cooked meal when you don't have time to make it from scratch. When you have to use it, we recommend going light on the salt when cooking with it.

While many vegetables can survive the canning process without too much of a transformation, mushrooms are a different story. They lose all their redeeming qualities and become, slimy, mushy stubs you wouldn't want going through your digestive tract.

While they certainly aren't as good as cooking up a pot of dried black beans at home, they're definitely good enough to eat reheated, straight out of the can.

If you follow just one rule of thumb when buying canned foods, we think it's wise to not by complete meals from a can. Chicken a la king? No. Corned beef hash? Double no.

Even if everyone plans on making their own cranberry sauce come Thanksgiving, with the commotion of the turkey, stuffing and gravy, the cranberries always get forgotten. That's why the canned stuffed is a real life saver.

Has spam ever been okay to eat? We know some people love it, and we're not judging you for it, but it's just really hard to find the appeal -- and to trust a food product -- with a such a mysterious name. Correction notice: we initially stated that SPAM was short for spiced ham, but this has not been verified. According to the SPAM website no one knows the meaning of the brand name, except maybe only a small circle of former Hormel Foods executives.