Personalized dishware can be a little on the cheesy side (unless a kid is doing the decorating, in which case, cute!), but we loved this stylish new take on a classic craft. Here, a design is "etched" onto a glass trifle dish through a simple method that uses sticky-backed vinyl and etching cream (available at most craft stores). This shortcut makes it easy to add a custom design or message. Keep reading for the how-to.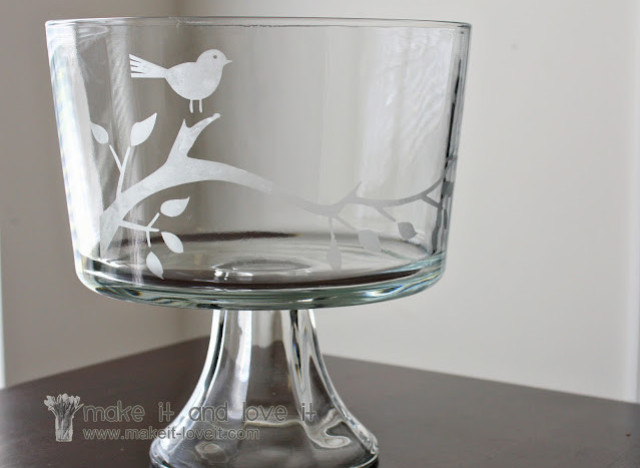 Photo by Ashley Johnston of Make It And Love It
You'll Need:
Adhesive vinyl
X-acto knife
Transfer paper or contact paper
Etching cream
Simply trace an image or text on to a piece of adhesive vinyl. Then, carefully cut out the image using an x-acto or utility knife. Next, place the sticky side of transfer paper to the front side of the vinyl. Then, peel the backing off the vinyl and stick it on the desired area of your dish. Once finished, peel off the transfer paper and smooth out any possible air bubbles. Then, apply etching cream over the silhouette and let it dry for 10 minutes or per the brand's instructions. Then, rinse with water and use your fingers to rub away any cream as much as possible. Finally, peel off the vinyl and give the dish a wash with soap and water for an impressive shine.
For the full tutorial, visit Make It And Love It.
Have something to say? Be sure to check out Stylelist Home on Twitter, Facebook and Pinterest.