Spring Lettuce Recipes: 15 Ideas, Zero Salads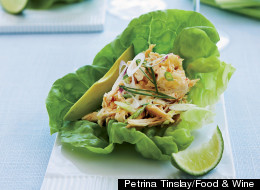 The most common place you'll find lettuce is in a salad bowl, but if that's gotten old we've got some recipes for you. Since spring is all about lettuces, there's no better time than the present to enjoy the gorgeous greens. Go to the market right now and you'll see the produce section stocked with beautiful, frilly heads of red leaf, green leaf, romaine (a.k.a. Cos) and butterhead (a.k.a. Boston, Bibb and butter). These lettuces range in flavor and texture: Romaine is extra crisp and perfect paired with strong flavors (it's famous in Caesar salad). Butterhead is soft, tender and, as the name suggests, buttery -- it's great to use as a wrap or cup for Asian-style fillings since it's so pliable. Red leaf and green leaf are not as delicate as butterhead but not as crisp as romaine, so they're in the middle in terms of texture.
Check out the slideshow below to get all 15 lettuce recipes -- you won't find a single salad. We have lettuce used as wraps, lettuce in wraps, lettuce wrapped around fish, lettuce on pizza, and more.
Reinvent chicken salad with this recipe, which features Asian flavors like sambal oelek and sesame oil. The recipe is great for leftovers or use store-bought rotisserie chicken. Forget about bread, serve the salad in Bibb lettuce and top with water chestnuts, scallion and avocado. Get the Spicy Asian-Chicken-Salad Lettuce Cups recipe

Hoisin sauce is your secret ingredient for giving ground beef an Asian flavor. Use romaine lettuce to wrap up the filling, which includes shredded cabbage, bean sprouts and carrot. Serve with sweet chilli sauce for dipping. Get the Beef and Vegetable Lettuce Wraps recipe

Cooking lettuce with peas is actually a traditional French technique that produces very flavorful results. For this recipe use Boston lettuce and add a touch of mint to bring out a fresh flavor. Get the Peas and Lettuce recipe

Vietnamese summer rolls show off the fresh flavors of vegetables. This recipe packs in Boston lettuce, red onion, bell pepper and cilantro. Halve the shrimp to make rolling up the rolls easier and prettier. Get the Shrimp-and-Vegetable Summer Rolls recipe

What's better than a BLT sandwich? Why a BLT pizza of course! This grilled pizza is topped with mayonnaise, mozzarella cheese, crisp bacon, sliced tomatoes, Parmesan cheese and chopped lettuce. Get the BLT Grilled Pizza recipe

Rice noodles and seasoned tofu fill these green-leaf lettuce wraps. Dress the dish with a flavorful Vietnamese sauce made with fish sauce, lime juice, sugar and crushed red pepper. You'll love the fresh flavor and gentle heat. Get the Vietnamese Tofu-Noodle Lettuce Wraps recipe

Who said you can't eat Caesar salad with your hands? This recipe gives you a great excuse to do just that. Romaine lettuce, Parmesan cheese, a creamy yogurt dressing and an egg omelet get wrapped up in each tortilla. Lunch never looked so good and healthy. Get the Caesar-Style Salad Wraps recipe

Pine nuts add a unique nutty flavor and crunch in this Asian-inspired dish of diced chicken in Bibb lettuce cups. Water chestnuts add an additional crunch. Serve with hoisin sauce for dipping. Get the Pine Nut Chicken in Lettuce Cups recipe

These Chinese rolls are a lot like spring rolls except they're not fried. The recipe fills each with romaine, carrot, daikon radish, bean sprouts and seared fish. Feel free to make the recipe with chicken. Get the Popiah Rolls recipe

Cooking in parchment packets is an easy method that yields impressive results when revealed tableside. Here salmon is laid over escarole and basted with a lemon-tarragon butter before being bundled up. If you prefer, use romaine or spinach in place of the escarole. Get the Salmon and Escarole Packets with Lemon-Tarragon Butter recipe

Lean ground turkey mixed with brown rice make a healthy choice for these lettuce wraps. Chinese five-spice powder and hoisin sauce are all the flavorings you need to give the dish a true Chinese flair. Serve in Boston lettuce leaves and top with fresh herbs. Get the Five-Spice Turkey and Lettuce Wraps recipe

Grilled lettuce? Why not? Romaine turns sweet and charred on the grill. Try it as an appetizer with grilled meat or fish. A pomegranate glaze (made form purchased juice) add additional sweetness. Get the Grilled Romaine with Pomegranate Glaze recipe

Have everyone assemble their own lettuce cups with this recipe for grilled flank steak, which is marinated in Asian flavors. Radishes, carrots, cilantro or any vegetable you like can be used to stuff the butter lettuce cups. Get the Grilled Beef Lettuce Cups with Carrot, Radish & Cilantro recipe

Fried shrimp are fine on their own, but they're even better when wrapped up in tender Bibb lettuce leaves. The lettuce serves as a cup to hold a number of flavorful ingredients including cucumber, bean sprouts, mint and cilantro leaves, and mango relish. Get the Crispy Shrimp Lettuce Wraps recipe

In this recipe the lettuce not only makes a unique presentation, it also has a purpose -- it locks in moisture while the fish bakes. For flavor the fish is spread with softened butter mixed with fresh herbs. Get the Herbed Fish Wrapped in Lettuce recipe