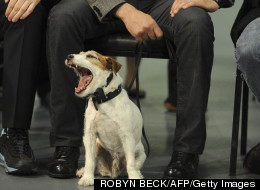 There are a lot of important lessons we can learn from our furry friends. Here at Healthy Living, dogs have taught us how to de-stress and cats have taught us about the importance of getting enough sleep.
But, like that kitty who just keeps on scratching at the couch, we don't always listen. In fact, according to the National Sleep Foundation's most recent annual Sleep in America poll, 43 percent of Americans ages 13 to 64 say they rarely or never get a good night's sleep during the week. And 44 percent of Americans say their stress levels have only increased over the past five years, according to the American Psychological Association's annual Stress in America report. We're tired and we're stressed and it's making us sick!
But Fido and Fluffy can relate -- they're tired, too! To prove it, we've compiled some of our favorite photos of animals yawning. Hopefully they'll inspire you to catch a few extra zzz's.
Tonto, a guide horse, yawns before going on a walk with his owner Shari Bernstiel, March 19, 2004 in Lansdale, Pennsylvania. Tonto, a miniature horse who went through one year of training, acts as Bernstiel's seeing eye dog and is one of three working guide horses in the United States.

Flickr photo by PauerKorde Photo

Uggie the dog yawns as he sits in front of actor Jean Dujardin at a ceremony honoring the cast and crew of "The Artist" with the "Made In Hollywood" honor, January 31, 2012 at RED Studios in Hollywood, California. Parts of "The Artist" were filmed at RED Studios.

Flickr photo by corsi photo

Flickr photo by KRO-Media

Hasani, a six month-old Western Lowland Gorilla, yawns as he plays in the gorilla exhibit during his first public viewing at the San Francisco Zoo June 5, 2009 in San Francisco, California. Hasani, who was born on December 8, 2008, has been hand-raised by a zoo staff after being rejected by his mother at birth. A surrogate gorilla mother was trained to care for Hasani and has accepted the newborn.

Flickr photo by toolmantim

Flickr photo by tkspencer

Flickr photo by wwarby

Flickr photo by real.heightz

A Meishan pig yawns on June 11, 2008 at the Tierpark Friedrichsfelde zoo in Berlin. Some Meishan piglets were born on May 3, 2008 at the zoo. The animals are domestic pigs originating from China.

Flickr photo by Mr. T in DC

A sea lion yawns during a swim in it's old enclosure as it waits for the construction of a new sea lion and penguin enclosure.

Flickr photo by Mr. T in DC

Flickr photo by NaturesFan1226

Flickr photo by hermmermferm

Flickr photo by sly06

Flickr photo by spencer77

A baboon yawns in its enclosure at Berlin's Zoo on June14, 2011.

The world's most famous polar bear, Knut, yawns in his enclosure at the zoo in Berlin on December 10, 2010.

A white tiger cub yawns in front of his mother, Radjah, on May 20, 2010 at the Maubeuge Zoo, northern France. The seven-year-old Radjah gave birth on May 9, 2010 to two white tigers belonging to a relatively rare species which only exist in captivity.

A Leopard yawns in his enclosure at the zoo of the northern town of Hanover on March 19, 2010.

Flickr photo by basykes

The Kamchatka brown bear named Mikhailo Potapovich yawns in his cage after awakening from the winter hibernation at the Moscow's Zoo.

Horse Smarty Jones yawns in his stall after arriving from Philadelphia on June 2, 2004 at Belmont Racetrack in Elmont, New York.

Homer the elephant seal yawns as he lies on the boatramp in the port of Gisborne.

A 15-month-old, female red panda yawns as a tranquilizer dart takes effect. The red panda was spotted making its escape from the zoo grounds and searchers spent most of the day searching the surrounding trees for the animal.

Flickr photo by lawtonjm

Flickr photo by Vivian Chen [陳培雯]

erynmarch:my 5-year-old mini pomeranian, banana, on a walk next to the train tracks in my neighborhood.

Elizabeth Ann:My Toy Poodle Nelson is so tired!

CaitlinLOrton:Obi is a bichon/terrier mix, who actually yawns more than he barks

Wendy Whelan Vega:Violet is so bored she can't hold back a yawn.

wwildlife:Micco (lion) & Kira (Bengal tiger) were raised together and played all day. By afternoon, they were ready for naps and just yawned & yawned & yawned. One would start and the other would yawn then the other would yawn, too. Micco continued to yawn throughout his life.

wwildlife:Micco grown up and still yawning all the time.

Maggie Goldstein:Long day at the dog park = big yawn

JohannaAnn:Dasha is my family's mixed terrier. I snapped this photo of her a few months ago, sitting in her favorite spot in my parents' home--on my old bed, looking out the window.

nazdancecoach:Midnight yawning while trying to sleep on top of the couch.

catrina353:Woody is tired because he hasn't had his required 26 hours of sleep per day.

kpglo:Bruno prepares for his daily nap with his sisters.

Robert Boulanger:I'm saying AHHHH Doctor!

Andie Amit:

Robin Stevens Clark:This is Milo, he is my 5th child. He is very photogenic and I just happened to snap this pic mid yawn. Hope you enjoy it.

Eileen Morse:

JoJo Barnett:Firelight South Ranch, 501(c) non-profit horse rescue and sanctuary. Alpine, Texas. Yawning before feeding.

Dollie Goldman:Yawning Honeybear wants to go home from the vet.

purplluck13:Boris is a lab/sheltie mix and he was super sleepy after waking up from a doggie nap

cgemmati:I think Carmen had too much alcohol that night from too much partying and is either very sleepy or she's about to throwup!

NixieMarie:

enlea:Snowfire, a Siamese-Manx rescue cat, yawns after roughhousing with his buddy Calvin, a Yorkshire Terrier.

AnimaSola:I caught Gigi the Mini-Schnauzer in mid-yawn.

rabreuadri:Abby just finished a real big meal!

dirtydiva:It's a hard life being a spoiled bulldog.

karaco111:Caught Willa Wafer mid-yawn!

:After A long day @ the dog park Chloe needs a nap

flfiore:Ruling all I see is tiring!

steorio:Too many nom noms = time for bed

Laura Hildreth:Joseph and Tecumseh at the Cincinnati Zoo

Lisa Canini:Lola yawning, still in bed, while doing a downward dog yoga pose.

Mary Conte:As if my cat needed more sleep... she's still exhausted

Mary Conte:My dog's mouth is CRAZY LOOKING

JessicaaLlynn:

psecretgarden:Wolf yawning at Wolf Park, Battleground, Indiana May 28th 2012

ela21:A dog's summer day, zzzzzz.

Kgreen5857:She had a long day of napping and a few snoozes to catch up on.

FrenchKissed:I don't think he was sleepy; I think he was just tired of having his picture taken. My understanding is that dogs yawn as a response to nervousness or stress. I didn't want to stress the little guy out, but this photo came out looking awfully cute.

Tara Harper OConnor:He was pretending to be tired so we would take off his shirt!

labradoodlepups:It makes one tired to be 9 days old.

kg4wxp:Yawning Bearded Dragon!
For more on pet health, click here.