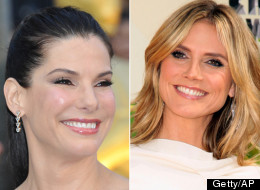 With Mother's Day fast approaching, we wanted to take a moment to toast some of our favorite single celebrity moms. Hey, it can't be easy to push a stroller, manage sippy cups and keep the tantrums to a minimum when you've got paparazzi on your tail.
From the "Desperate Housewives" star who secured a photo op with Justin Bieber for her tween daughter, to the English mum who strives to raise "regular kids" in spite of her fame, click through slideshow to read their stories and to vote on your favorite celebrity single mom.
Our Favorite Celebrity Single Moms
Sandra Bullock and her ex-husband Jesse James had adopted a baby boy, Louis Bardo Bullock, in January 2010, but kept the news a secret until after the Academy Awards. When her marriage famously unraveled following James' multiple infidelities, Bullock decided to adopt Louis as a single mother and raise him on her own. "You wake up, you feed, you burp, you play, you do laundry," she told People magazine in April 2010. "I'm still in that stage where I'm just amazed with him and at life."

Twice-divorced Madonna has four children -- two biological and two she adopted. She had her first child, Lourdes, with fitness instructor Carlos Leon in 1996. Prior to marrying her second husband, (first was Sean Penn in 1985) Guy Ritchie, in December 2000, she and the British director had their first child together, Rocco. They decided to adopt a Malawian baby, David, six years later in October 2006. After divorcing Ritchie in December 2008, Madonna adopted another Malawian child as a single mother in June 2009. "The best way to teach [my children] about sharing and giving is to do those things myself and set an example," Madonna told Parenting magazine.

Liv Tyler took a two-year break from show business after her split from British rocker Royston Langdon in May 2008. She admitted to having a "rough couple of years" following the birth of her son, Milo, and a heartbreaking divorce. She opened up to Bust magazine in March 2011 about raising her then six-year-old son as a single mother. "Milo and I have been in such transition -- I've been rebuilding and trying to be patient. And I've just put all of my focus on that," she said. "Because I can't go to work and be happy unless he's happy and feels secure." Tyler also recently attended the Alexandra McQueen Gala at The Metropolitan Museum of Art.

"Top Chef" host Padma Lakshmi gave birth to her daughter, Krishna, in February 2010, but remained tight lipped on the identity of her baby's father. It was later revealed that venture capitalist Adam Dell fathered Krishna, though Lakshmi reportedly wanted nothing to do with him, preferring to raise her daughter on her own. In March 2012, Dell was granted expanded visitation rights and legal recognition of his paternity of Krishna. Lakshmi opened up to Celebrity Baby Scoop about motherhood in April 2011, saying, "In small ways and big ways it changes every aspect of your life. Everything is better and more meaningful. Motherhood is a very humbling experience."

Michelle Williams tragically became a single mother when her on-again, off-again beau, Heath Ledger, passed away of an accidental drug overdose. The pair had a daughter, Matilda, in October 2005. In her first interview since Ledger's January 2008 death, Williams told Nightline's Cynthia Mcfadden in December 2010 that she tries to provide a normal life for her child, out of the spotlight. "It is of more importance to me then anything else in my life and I would rearrange anything to make that possible," she said. "If something starts to encroach on that then it's going to be removed from the equation."

Fashion designer Tory Burch split from her second husband, venture capitalist Chris Burch, in 2006. She and Burch have three sons, whom she described as "the light of my life" to NBC in January 2010. Being a working mother is her "biggest challenge," she said, "But obviously being a mom comes first and everything else comes after that, and that really is what matters."

In March 2003, "Desperate Housewives" star Teri Hatcher filed for divorce from Jon Tenney, her husband of nearly nine years and the father of her daughter, Emerson Rose. In her 2006 book, "Burnt Toast: And Other Philosophies of Life," Hatcher included a dedication to Emerson, who's now 14 years old. "To Emerson, whose birth was the sole source of my personal evolution over the last seven years. Thank you for giving my life meaning." When Emerson was 12, Hatcher solidified her status as a cool mom by introducing the tween to Justin Bieber. "I scored some big points with her," she told People in June 2010.

Heidi Klum and Seal shocked fans in January 2012 when they announced their separation after seven years of marriage. The couple have four children together: Leni, 7 Henry, 6, Johan, 5, and Lou, 2. The supermodel recently told Stylelist about her low-key plans for her first Mother's Day as a single mom: "To just be with my kids. We go out a lot. We went to The Ivy just last week, and it's a lot with four kids. So sometimes it's nice to just be home and hang out by the pool."

Jennifer Lopez and Marc Anthony announced their split in July 2011. The former couple are parents to four-year-old twins, Max and Emme, who famously joined J.Lo in a Gucci fashion campaign when they were two and a half years old. Lopez, who moved on with backup dancer Casper Smart after the split, recently opened up about the possibility of having more children, E! Online reported. "It would be a blessing for me," Lopez said. "But right now I'm focused on doing it right with [Max and Emme]."

On ABC's "Modern Family", Sophia Vergara plays a feisty Colombian woman raising her son in a blended family. Her real life isn't so different -- she had a son, Manolo, when she was 19 years old with her childhood sweetheart, whom she subsequently divorced. "I always tried to do the best for my kid," Vergara told People magazine in November 2009. She is engaged to Onion Crunch owner Nick Loeb.