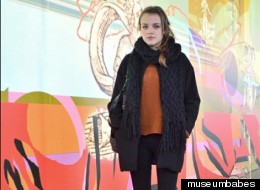 It's National Museum Month, and we're keeping the momentum going on HuffPost Culture with a new reason to love museums every week. Last week, we asked you to reflect on your favorite museum exhibits of all time. This week, we kept things in the moment by culling your, and our, favorite museum-oholics on Twitter. Some give us news, others commentary and others yet dig the depths of museum history.
This list is by no means comprehensive, so let us know who we missed in the comments! And be sure to test your museum smarts with our quiz.
Just as his handle suggests, Museum Nerd comes with a wealth of museum knowledge, news-related and otherwise. Check out how wonderfully old-school the New Museum website looked like 12 years ago (left), and also how awesome the Walker Museum's website looks today (h/t, @museumnerd of course!).

Nina Simon, exhibit designer and champion of participatory museum experiences, has her finger on the pulse of the discussions surrounding museums today. And as a bonus, she's funny, too!

When it comes to the future of our museums, this is the act to follow.

Personifying dinosaurs? The Houston Museum of Natural Science knows how to engage an audience.

Museum Directors, the Twitter feed of the Association of Art Museum Directors, directs you toward interesting links (find out how the museum gift shop got made by accident!), along with the big news occurring in the museum world.

An entertaining feed of museum news and commentary, brought to you by Art Info's Tyler Green.

Google Art Project allows you to wander through museums around the world, all from the convenience of your computer. It's Twitter feed is useful in that it points you to new exhibits/artists to visit online, and sprinkles in museum news, facts and commentary to boot.

Museum lover Jenn Nelson starts off each morning with enthusiasm for museum news -- proof enough that she's worth the follow.

The AAM is a little more insider-y, but still a great resource for those interested in the industry.

And for fun, we're including the tweeters over @museumbabes, who tweet photos of babes at museums, and throw museum news and commentary into the mix. Don't be fooled, these babes are smart.