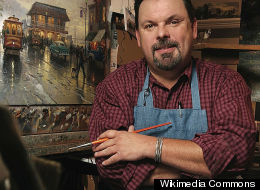 Thomas Kinkade was quite possibly the most collected living artist and one of the most criticized, both for his sentimental artworks and for questionable decisions made in his personal life.
We have received thousands of comments from readers in the past weeks and have been impressed by the thoughtful responses to Kinkade's life and work, whether complimentary or critical. His death raises many questions, such as: What role should an artist's personality play in the reception of his works? How do commercial success and critical success interact? Is authenticity still valuable in art? Is it wrong to have popular appeal? Some of our readers have pointed to the business practices and hypocritical private persona of the Evangelical artist, known as the "Painter of Light" to fans and foes. And yet, we can all agree that his art accomplished what it set out to do: make a large number of people across the country happy every day.
In honor of the great number of commenters that remark on issues on our page every day, we have compiled a slideshow of some comments we particularly enjoyed, from the snarky to the genuine. If you'd like to see more, we recommend visiting the original article or revisit John Seed's thoughtful comparison between Mike Kelley and Kinkade.
Mateo Smith: There's so much outpouring here you'd think the Hallmark factory burned to the ground.

JonnyTruant: May his work forever be found above ugly sofas worldwide. My condolences to his family. I consider his work to the the Starbucks of art. Overpriced, overhyped, everywhere and leaving a bad taste in the mouth. If anything could best represent the senseless consumerism of the past 20 years, it was the work of Thomas Kinkade. Rockwell captured with great eloquence very human moments, emotions, and a time that will never come again. Disney was one of the greatest pioneers of animation and entertainment. Kinkade should never be compared to them. Well marketed mediocrity should never be celebrated.

syllable: As we consider Kinkade's merits as an artist and place him under the banner of Kitch, how do we define in art historical terms where art is today? Abstract Expressionism is of an earlier time and relevance as are Impressionism and Modernism. Are we in Post, Post Modernism? Eclecticism? Neo-Obfuscationism? I would love for an art historian to answer.

patrick2574: When I look at a Van Gogh, Cezanne, or Picasso, then I look at a Kinkade, I feel like I have just been walking through the halls of genius then accidentally stepped through an exit door that leads to a Denny's.

PoundOFun: His passing somehow reminds me of a movie I saw a long time ago with Christopher Reeves called "Somewhere in Time", with Jane Seymore. It was about this guy who through sleep would go back into an era that was comforting, beautiful and serene to him. In the end, he slipped back into that dream through death. I hope as this wonderful artist slipped out of this world, that his dreams delivered him into the world he created through his art, that would be so cool, eh? RIP Thomas and sooo young, so young.

margiemetz: I believe he was a talented artist, but he was a much more talented marketer. I had a close friend who worked at his "factory", where they sold prints, after applying a substance to each so it would look like a painting. It was a sweatshop, and those works of "art" sold for hundreds of dollars.

JuliaOceania I used to like his art when I was in my early 20s.. it is familiar, homey, and his paintings are rather warm, sentimental... It is not surprising that he took inspiration from Rockwell, but he lacked something that Rockwell possessed, and that was creativity. Rockwell could be sentimental without being maudlin. Rockwell managed to catch moments in time that made you nostalgic without being insipid or cliche. Kinkade was collected by many, and he will probably go up in price, even though he made his art into cheap reproductions on the scale of Walmart. I suppose I have not said many kind things about his art, so I will be a touch kinder and say that his art made many people feel good... kinda like high fruitose corn syrup, but nonetheless, he made many people happy that liked his work... and that is something that is of value in this world, even if it wasn't something that I personally valued.

Catlady44: Well , I sure hope that all those critics are happy now !!! They drove a good , talented , intelligent man to his death !!!

smoknjoe: I'm kind of surprised to see how many detractors Mr. Kinkade has here. I admire the man for bringing joy to others. I don't care how much money he made but rather the impact he had. As for those saying that he was comparing his art to Rockwell and Disney, REREAD the article. I'll even put the quote here. "I share something in common with Norman Rockwell and, for that matter, with Walt Disney, in that I really like to make people happy," he said. He like to make people happy. I don't see the crime. May you have a happy afterlife, Mr. Kinkade.

Edward Goodwin: My mother-in-law was on a business trip to South Korea about 15 years ago, she was invited to join a group of Americans staying in the same hotel to visit the "Thomas Kinkade factory." That's what it is called. She knew who he was, of course. She went along thinking that it was a building he had been commissioned to decorate, or something of that nature. It wasn't. It is the factory that produces Thomas Kinkade art. Mr Kinkade would create a template very much like a paint-by numbers set. Each color or mixture of colors would have an alpha-numeric code to prevent translation mix-ups. These codes would be printed on the template. The template would be printed on specially treated canvas and would roll down an assembly line. Young ladies, hired for their ability to paint lightly, yet rapidly, would sit along the conveyor belt. One woman did only clouds, another, only bushes, another, only tree trunks, another, brightly lit windows, and so on until the finished painting reached the end of the conveyor belt. Mr Kinkade never met the young women who actually painted his paintings. They were paid $45.00 dollars a day for a 14 hour day for paintings that Mr Kinkade would sell for ten grand. Why were they worth that much? Because Mr Kinkade "painted" his signature on to them when they arrived in America. Nice work...if you can get it.

Ironjam628: It's like finding out Mr. Rogers goes home, changes his sweater to a wife-beater, kicks dogs, abuses his wife and kids, all the while snorting a few lines.

oldwolf49: I'm drinking heavily even as we speak, and doesn't this guy look like Commander William Riker??

Cichawoda: "Art is supposed to be pleasing." -- no Art is supposed to be art above all. Is "The raft of the Medusa" by Théodore Géricault pleasing? Does "3rd of May" by Francisco de Goya make you smile? Does "Guernica" make you feel warm and fuzzy inside? Art is not a visual substitute for hot cacao -- it has to engage you emotions and your intellect and expand your horizons by presenting a deep insight into another human beings soul. I'm sorry he died so young but what he made was embarrassingly trite, disingenuous and manipulative.

catpeople: In a world where there are not enough pastel-colored cottages nestled beside babbling brooks, while soft, pastel-hued light glows from within, he will be sorely missed.