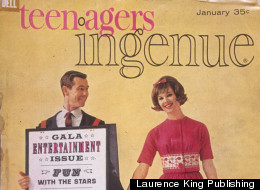 On bus stops, in magazines, and on TV: they're color schemes and shapes and ideas that we're exposed to every day. We take them for granted, these images, because they seem so commonplace. But someone created them.
In the new book "100 Ideas That Changed Graphic Design" by Steven Heller and design critic Veronique Vienne, some of the most unique and game-changing images are featured and discussed. As more and more options pop up for the art of graphic design -- doesn't it seem like every other person you meet these days calls themselves a "graphic designer?" -- the book breaks down the origins and inspirations for some of the design world's classiest and most ubiquitous tricks.
Ideas That Changed Graphic Design
The language of the 1960s rock and drug artists became commonplace for graphics as well.

Teenagers Ingenue (1962) capitalized on the developing female teenage commercial market for fashion, cosmetics, and other beauty aids. Teens were now treated as young adults.

Give a Hand to Wild Life (2008), by Saatchi & Saatchi Simko agency in Geneva, is a series of clever and beautiful photographs of human hands camouflaged as wild animals by bodypainter Guido Daniele.

The Best of Jazz (1979), a typographical masterpiece by Paula Scher, was done when she was discovering Aleksander Rodchenko and El Lissitsky. She recalls her work being acclaimed as 'new wave' and 'postmodern' when in fact it was a private homage to the pioneers of the Russian avant garde.

Ulysses (1934), hand-lettered and designed by Ernst Reichl, was said to be influenced by the paintings of Piet Mondrian.

Rainboeing the Skies (1971), an ad introducing the new Boeing 747 to El Al Israeli Airlines by graphic designer Dan Reisinger. This iconic image is at the center of an Internet controversy, with some claiming that it was in fact an Air Canada poster.

A Season in Hell (1944), a black-and-red assemblage of stark and wobbly forms characteristic of Alvin Lustig's highly abstract visual vocabulary, is a graphic equivalent of the tormented prose of poet Arthur Rimbaud.

First Things First (1964), published by British designer Ken Garland, who intended to radicalize the design practice that was fast becoming a subset of advertising. In 2000 an updated version was printed in cutting-edge magazines including Adbusters, Emigré, Items, and Eye.

Gun Crime (2010), illustrated by Noma Bar, is a commentary on the tragic toll of gun-related violence in the UK. The trigger serves as the mechanism and outcome of gun attacks.

Trying to Look Good Limits My Life (2004), part of Stefan Sagmeister's typographic project '20 Things I Have Learned in My Life So Far.' Words are formed from natural and industrial materials and composed in situ.

Chez Panisse Second Birthday Celebration (1973), a poster designed by David Lance Goines in an homage to the Jugendstil style of the Vienna Workshops and Vienna Secession movement.