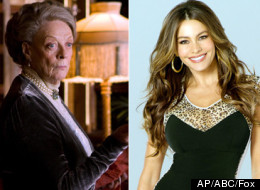 On Mother's Day, we honor and celebrate the strong women who brought us up and advised us on how to make our way in the world -- and we couldn't help but think of all the moms on TV who have done the same.
From the hilariously blunt Gloria Pritchett (Sofia Vergara) on "Modern Family" to some heart-warming words of wisdom from Lorelei Gilmore (Lauren Graham), we compiled a slideshow of motherly advice -- both the good and the bad -- from some of our favorite TV moms.
Click through our gallery to see what they had to say ... and Happy Mother's Day!
Motherly Advice From Our Favorite TV Moms
"That's when you know your family loves you, when they feel free to scream at you."

"If you can't count on family, who the hell can you count on?"

"I was already 26 -- an old maid! So I settled for a wonderful man, and I have never regretted it."

"I think what you really need to do today is wallow ... Get back in your pajamas, go to bed, eat nothing but gallons of ice cream and tons of pizza. Don't take a shower or shave your legs or put on any kind of makeup at all. And just sit in the dark and watch a really sad movie and have a good long cry and just wallow. You need to wallow."

"The way I see it, if you can raise three kids who can knock out and hogtie a perfect stranger, you must be doing something right."

"No one wants to kiss a girl in black."

"Sometimes I feel like my job is to make sure you guys don't fall on your faces."

"Remember, when you're pregnant, one bottle of wine a day. That's it."

"One day you may or may not become Daniel's wife, but I will always be his mother."

"My mother always used to say: 'The older you get, the better you get, unless you're a banana.'"

"Don't be a victim, you know? Just do something. You don't need an invitation to your own life."

"Ya know, I wanted us to live in a place with real family values, but values don't come from where you live or who your friends are. They come from inside, from your own beliefs."

"Honey, I know how it happens. You get comfortable and you give up a little bit, and then it just gets out of control. There are things you can do about this, there are pills you can take."