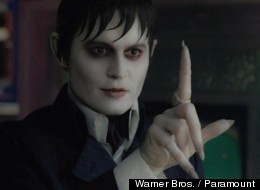 Is Tim Burton's macabre shtick getting old? Or is it just an acquired taste? "Dark Shadows" may aim at being silly, but many critics are finding it terribly dull. It even made The Detroit News "long for a 'Twilight' movie." Now that's bad.
Meanwhile, HBO's "Girls" is still getting heat from Gawker, and USA's "Common Law" is apparently dead on arrival. USA Today calls the new buddy-cop series, "TV you need to escape."
HuffPost Entertainment has rounded up the week's snarkiest reviews just for your enjoyment in this latest installment of our "Week In Ouch" series.
Let us know what you think deserved the harsh critiques, and which ones you think critics should ease up on, in the comments.
Sacha Baron Cohen stopped being funny when he started getting scripted. Case in point: "No joke in 'The Dictator' is funnier than the spontaneous one-liner Baron Cohen uttered after spilling an urn of ashes on Ryan Seacrest at the Academy Awards: 'If someone asks what you are wearing, tell them Kim Jong-il,'" writes Variety.

When it comes to Tim Burton, you either love him or you hate him for his macabre sense of humor. The Los Angeles Times doesn't particularly care for the Burton's nightmarish ways. "As good an example as any of what might be called the Way of Tim, a style of making films that, like the drinking of blood, is very much an acquired taste," writes The Times, "And, unless you're a vampire, not worth the effort."

When is it time to say goodbye to "The Office"? The A.V. Club's Erik Adams wrote a piece entitled "End it already: When cancellation is the best thing that can happen to a TV series." His central example is, unsurprisingly, "The Office." "The show has burned through a lot of goodwill in the [eighth season]," he writes, "And a once-favored underdog now comes off like the college freshman who still stops by his high school alma mater every Friday afternoon."

"This isn't escapist TV," writes USA Today. "It's TV you need to escape." Looks like USA's new buddy-cop drama about an odd-couple pair of cop partners isn't winning over any critics. "That's the kind of show this is, and reality and sense -- common or otherwise -- need not apply."

Chloe Grace Moretz may be the breakout star of "Hick," but that's not saying very much. "The film doesn't deserve to be remembered as much of anything," writes NPR. According to the critic, there seems to be a disconnect between the actors and their troubled characters. "The cast holds the gravity of the story at arm's length like it doesn't really concern them."

Almost five weeks in, and everyone is still talking about HBO's "Girls." Is it racist? Is it believable? Is it Nepotism? According to Gawker, "Girls" is full of un-self-aware moments of white privilege -- a.k.a. White Girl Problems. "The Drummer From Bad Company's daughter is a nanny now," writes Gawker. "She hangs out with other nannies at the playground and is SHOCKED at how little money they make."

Bravo's new culinary competition series,"Around the World in 80 Plates," is pretty much a knockoff of Bravo's hit series "Top Chef," but there's one major difference: Where's the cooking? "By the time the two teams get to design and prepare competing menus, there's very little time to see them do their work in the kitchen before one team loses the challenge," writes TIME.

It's one thing to be self-aware, but it's another thing to use every single cliche and trope in the book without throwing a knowing wink at the audience. According to the A.V. Club, that is the problem with "Girl in Progress," starring Eva Mendes. The coming-of-age flick is "ultimately less interested in subverting the clichés of the genre than in recycling them," write the A.V. Club.