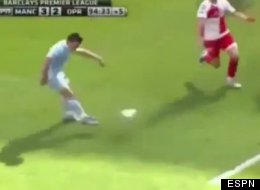 By Matt Yoder, Awful Announcing

Manchester City won the English Premier League title today in the most incredible fashion imaginable, creating one of the most exciting moments you will ever see in sports. With Manchester United defeating Sunderland 1-0, Manchester City needed a win over QPR to get their first title since 1968. In a huge shock, City trailed relegation threatened QPR 2-1 after 90 minutes and needing two goals in stoppage time to win the title that had slipped from their grasp. That all set up the five most dramatic minutes in sports this year.
Edin Dzeko gave Manchester City a lifeline with a header off a corner kick to equalize at 2-2 in the 92nd minute. Then, in the 94th minute, Sergio Aguero and Mario Balotelli combined at the edge of the box. Aguero latched onto Balotelli's ball, dribbled around a defender, and fired a shot to the left of Paddy Kenny that hit the back of the net and echoed around the world. Aguero's goal completed a remarkable comeback and gave Manchester City the title.
We have four different calls of Aguero's winning goal. First, here's the call by the sublime Ian Darke of ESPN, who has announced his fair share of memorable moments in the last two years...
Announcers Call Sergio Aguero Goal
On Sky Sports News in the UK, analysts watch games on monitors and report scores and breaking news from around the country. Former England international Paul Merson took viewers through the game and broke the news of Aguero's strike...

Any collection of highlights of the goal heard round the world wouldn't be complete without the Spanish "GOOOOLLLL" call and a bonus "na na na na, na na na na, hey hey hey, Kun Aguero!"

And finally, the great Martin Tyler on Sky Sports in England, with one of the best calls ever you'll ever hear. Chills..
"I swear you'll never see anything like this ever again... Two goals in added time for Manchester City to snatch the title away from Manchester United! STUPENDOUS!!!