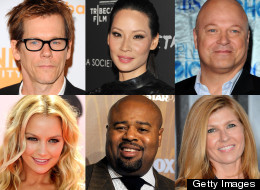 The networks have made their series orders for the 2012-2013 TV season, and there are some pretty huge names coming to your TVs.
Both dramas and comedies at NBC, ABC, Fox, CBS and The CW are boasting impressive talent rosters, and we've got a few favorites.
From Kevin Bacon and Lucy Liu to Chi McBride, Michael Chiklis and Connie Britton on the drama side; and "Ugly Betty" alums Becki Newton and Michael Urie coming back to comedies, along with Matthew Perry and Jeffrey Tambor ... well, the list has us seriously excited to see them all back in action.
Click through our gallery to see more, and to get details on the roles they're playing.
Stars We're Excited To See Back On TV
Kevin Bacon. On TV. Need we say more? OK, we will -- Kevin Bacon on TV as an FBI agent tracking the cult-like group of followers of a serial killer he put away years ago, who's just escaped. Yes please. Read more about "The Following" here.

Our favorite new twist on this Sherlock Holmes series isn't that it's set in modern day -- it's that Lucy Liu (yes, a woman!) is playing Watson. Her recent stint on "Southland" was Emmy worthy, so this leading role is a well-deserved next step. Read more about "Elementary" here.

There's no such thing as too much Tambor. With "Bent" canceled after a quick burn-off on NBC and the "Arrested Development" reboot still a year away, one of favorite funnymen has time to be the bright spot on this otherwise groan-worthy Dane Cook sitcom. Click here to watch a preview of "Next Caller."

Mrs. Taylor is back! And there are no men in rubber suits in sight! And she can sing? Yes, Britton's playing a country music star here, mentoring a songstress-in-training, played by "Heroes" alum Hayden Panettiere. Read more about "Nashville" here.

Gummer has played doctor before, on ABC's "Off the Map," but we're hoping this lead role on The CW's foray into hospital dramas will be more on the level of her "Good Wife" guest role. Read more about "First Cut" here.

Messina was a revelation on last season of "Damages," and we're thrilled this underrated actor will take time away from movies to add sex appeal to Mindy Kaling's new Fox sitcom. Read more about "The Mindy Project" here.

Perry's post-"Friends" TV luck hasn't been great -- ABC canceled his "Mr. Sunshine" after only one season -- but we're hoping this is the one that sticks. Click here to watch a preview of "Go On."

We've got a soft spot for McBride and his larger-than-life persona, which switches from drama ("Boston Public" and "Human Target") to more lighthearted fare ("Pushing Daisies") with ease. Here, he's playing a police detective, a role we think really suits him. Read more about "Golden Boy" here.

This series boasts an insane cast -- which also includes "Brothers & Sisters" alum Dave Annable and "Desperate Housewives'" Vanessa Williams -- but as "Lost" fans, we're just thrilled to finally have O'Quinn back on TV in a leading role on an intriguing supernatural drama. Read more about "666 Park Ave" here.

Newton has had a string of unfortunate TV luck since "Ugly Betty," with anthology series "Love Bites" getting the shaft at NBC and a so-so guest role on "How I Met Your Mother." We can't wait to see her spar with another old TV favorite, Scott Foley, in this new sitcom from "HIMYM" team Carter Bays and Craig Thomas. Read more about "The Goodwin Games" here.

The diversity of this cast (which also includes Meagan Good, Victor Garber and Tate Donovan) makes it notable this season, but after stints on "Breakout Kings" and "Southland," we're excited to see what Alonso can do in a lead role. Click here to watch a preview of "Infamous."

TV hasn't been the same since Michael Urie's Marc said goodbye with "Ugly Betty's" cancellation, but now he's back, neuroses and all, as one half of a very codependent male friendship. Read more about "Partners" here.

Cassidy has been a bright spot on several series (the "Melrose Place" reboot and "Harper's Island," most notably) -- we hoped her stint on "Gossip Girl" meant another CW show in her future, and superhero drama "Arrow" is it. Read more about "Arrow" here.

Chiklis may always be best known as "The Shield's" Vic Mackey, but if anything can compete with that corrupt cop role, it's this: He'll play the mobster nemesis to Dennis Quaid's Las Vegas sheriff in this 1960's-set drama. Read more about "Vegas" here.

Bornheimer's "Romantically Challenged," "Perfect Couples" and "Worst Week" were all axed after a season or less, and we think it's about time that his brand of casual, guy-next-door (who happens to be hilarious) funny gets more love. Read more about "Family Tools" here.

We haven't seen enough of Kreuk on the small screen since "Smallville," so nabbing the much-buzzed about titular "Beauty" role here was a pleasant surprise. Read more about "Beauty and the Beast" here.

Dr. Mark Greene's death was one of the most memorable in all of "ER's" very long run, and that's due in large part to Edwards' relatable presence and serious acting chops. We can't wait to see him battle some major international conspiracies here. Read more about "Zero Hour" here.
Tell us: Did we forget any of your favorite returning TV stars? Chime in down in the comments!