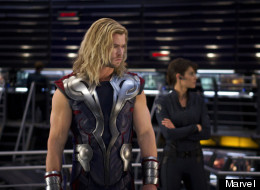 Hulk keeps smashing box office records.
According to estimates from Disney, "Marvel's The Avengers" earned $103.2 million at the domestic box office over Mother's Day weekend, plus an additional $95.4 million from international territories. After just 19 days of release, "The Avengers" has totaled $1 billion in global grosses, tying "Avatar" and "Harry Potter and the Deathly Hallows Part 2" as the fastest films to reach that lofty sum.
Of course, "The Avengers" has plenty of records to call its own. The $103.2 million in second weekend ticket sales is the biggest ever, blowing away the $75.6 million earned by "Avatar" during its second weekend in 2009. At $373.1 million, Marvel's superhero supergroup team-up is also the fastest film to cross $300 million at the domestic box office, doing so in just nine days of release. "Marvel's The Avengers" is currently sitting at 18th place on the all time domestic box office chart, just behind "Spider-Man 2." It's expected to jump into the top ten by next weekend.
In non-"Avengers" news: "Dark Shadows," the eighth film collaboration between Johnny Depp and Tim Burton, earned $28.8 million during its opening weekend, good enough for second place. Per THR.com, "Dark Shadows" played to an older audience (73 percent of the audience was over 25) that was noticeably more female (57 percent). That could help the film in the coming weeks, as "The Dictator," "Battleship" and "Men In Black 3" are expected to skew more male.
1. "The Avengers," $103.2 million
2. "Dark Shadows," $28.8 million
3. "Think Like a Man," $6.3 million
4. "The Hunger Games," $4.4 million
5. "The Lucky One," $4.1 million
6. "The Pirates! Band of Misfits," $3.2 million
7. "The Five-Year Engagement," $3.1 million
8. "The Best Exotic Marigold Hotel," $2.7 million
9. "Chimpanzee," $1.6 million
10. "Girl in Progress," $1.4 million
So why see Dark Shadows, on a weekend when The Avengers beckons you for a second look? Five reasons, and they're all females. Each of the actresses in the cast looks great and star-acts up a perfect storm.

Of all the morbid beauties in Tim Burton's work, the spooky goth girls and deathly pale boys, none wear their ghoulishness as lightly or winningly as Johnny Depp. And what a bewitching corpse he makes in "Dark Shadows," Mr. Burton's most pleasurable film in years.

As the door to Collinwood creaks open... we glimpse a powerful, almost Proustian totem leaning against the front porch: A Schwinn kids' bicycle, with a banana seat. I had already suspected I was going to love "Dark Shadows," even before that moment. But that's when I knew it for sure.

Some of director Tim Burton's costume parties are livelier than others, and the new "Dark Shadows" -- from the man who gave us "Edward Scissorhands," "Sweeney Todd," "Alice in Wonderland" and other chalkface-makeup spectaculars starring Johnny Depp -- feels like a place-holder, a meandering first draft of an adaptation of the supernatural soap opera that ran on ABC-TV from 1966 to 1971.

Tim Burton's "Dark Shadows" is all dressed up with nowhere to go, an elegant production without a central drive. It offers wonderful things, but they aren't what's important. It's as if Burton directed at arm's length, unwilling to find juice in the story.

The film delivers precisely the satisfaction a sympathetic audience could expect from its director, not one degree above or below. The audience is whelmed. It's a whelmer.

Burton's greatest strength remains his visual artistry. "Dark Shadows" obviously springs from the same brilliantly ma-cabre imagination that has given us such works as "Beetlejuice," "Sleepy Hollow" and "Corpse Bride." But when the script is as weak as this "Munsters"-level pastiche by John August ("Big Fish") and Emerson graduate Seth Grahame-Smith, Burton is helpless.