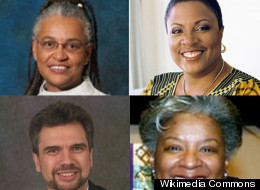 Barack Obama's endorsement of gay marriage triggered a storm of reactions from LGBT, religious and political leaders.
Many Jewish groups including the United Synagogue of Conservative Judaism and the Religious Action Center of Reform Judaism came out in support of Obama, as did a number of Christian groups.
But not everyone was happy. Joel Hunter, one of the President's spiritual advisors, expressed disappointment about Obama's decision. Timothy Cardinal Dolan of the United States Conference of Catholic Bishops said that Obama's remarks were "deeply saddening."
A number of African American and Latino clergy have come out strongly in support of Obama's statement. While groups like National Organization for Marriage emphasize divisions between the black and gay communities, it is often overlooked that many identify as both African-American or Latino and LGBT.
Support for marriage equality among African American and Latino groups has increased over the past few years. A recent Public Religion Research Institute poll found that a majority of Latino Catholics and a third of black Protestants support marriage equality.
Read statements below by African-American and Latino/a religious leaders who have come out in support of marriage equality.

African American / Latino Clergy on Gay Marriage
As an African American woman, who is clergy, lesbian, and married to a woman who is the love of my life, I am deeply moved by President Obama's declaration of support for same-sex marriage. The humanity and dignity of lesbian, gay, bisexual, and transgender people are too often dismissed because of who we are and who we love. President Obama's statement calls our nation to stand up against this kind of discrimination and shows clearly that equality and fairness are the rights of every American. His courage to speak out for marriage equality and his resolve to be true to his personal convictions inspire hope in me and many. Though I know there is much work yet to do to bring about the reality of full equality, I am encouraged and can see freedom dawning on the horizon. Rev. Candy Holmes is an African American Marylander who is lesbian. She is a reverend with the Metropolitan Community Church.

We who are Latino/as know a thing or two about marginalization. We understand the pain of being disenfranchised simply because of our identity. For Hispanics to engage in the oppression of other groups due to their identity makes us no better than those who continuously and historically marginalize us. Hence as a heterosexual minister of the Gospel of Jesus Christ, I commend the President in taking a first step toward marriage equality. I say first step because faith without works is dead. Now the President, along with the rest of us, must begin the difficult work of making marriage equality a reality. Proclaiming a faith in marriage equality is meaningless unless we work towards its implementation. None of us can truly taste liberation as long as some of us are excluded in participating in all rights society has to offer. Dr. Miguel de la Torre is Professor of Social Ethics and Latino/a Studies at Iliff School of Theology in Denver, Colorado.

As an African American clergy woman, blessed with a 28 year same-sex relationship, I and my family applaud President Obama's courage and support of our right to marriage equality. All of my civil and inalienable rights are important. I cannot separate my rights as an African American from my rights as a woman or as a Same Gender Loving woman. An attack against any of these realities is an attack against my personhood. The President's decision to stand with my family brings freedom to his and all families. This is a fresh wind in a toxic political environment. None of us are free until all of us are free. Bishop Yvette Flunder is founder and senior pastor of City of Refuge United Church of Christ in San Francisco, California

It is a good day to be an American. The announcement of President Obama's support for marriage equality has rekindled my hope for a better future for myself, my family, and for all Americans. The history of this country is rooted in discrimination and injustice. Yet the Obama White House has courageously reminded us again that our past need not determine our future. The President has stood up for freedom, moving all of us one huge step closer to the day when all Americans -- including those of us who are gay, lesbian, bisexual, and transgender -- will be free to live the American Dream of liberty and justice for all. Rev. Elder Darlene Garner is a pastor in the Metropolitan Community Churches and is a part of Senior Leadership and Director of Emerging Ministries.

"In this day and age of rolling back the rights of gay and lesbian citizens in our nation, it is encouraging to have our President to make a bold statement in an election year in favor of gay marriage. We who are people faith recognize that President Obama's decision is very much in line with our conviction for the just treatment of individuals and families in our society. As people of color, we are especially proud for our nation's first African-American president was the one to speak out on this form of discrimination. President Obama's statement continues to dismantle the stereotype that African-Americans are more homophobic than any other people group, as was the message following the Proposition 8 vote here in California. We will continue to stand up and speak out for the equality of all citizens who are marginalized by unjust laws in our country, just as our nation's leader has done." Rev. Roland Stringfellow is the Director of Ministerial Outreach of the Center for Lesbian and Gay Studies in Religion and Sexuality at the Pacific School of Religion

I have never been more proud as a gay African-American than when I heard President Obama publicly announce his support for same-sex marriage. Not only did my president become my ally, but as a heterosexual African-American POTUS, he is uniquely empowered to speak with a perceived authority and believability that I may not have with some who disagree with me on gay rights. His example will enable more leaders on all levels of government to reevaluate their own positions on same-sex marriage and/or to announce their existing support publicly. President Obama has brought our society over a new threshold in the movement for gay rights, and I, for one, am proud to consider him a partner and ally in the work that is yet to be done. Pastor Romell Weekly is co-pastor of The Sanctuary in Saint Louis, Missouri. He has also authored two books that show how the Bible is the biggest ally of gay rights, and also rebut anti-gay teachings.

Although President Obama's recent remarks regarding marriage equality do not immediately change policy, for those of us who still believe in religious freedom, his words are a hopeful sign. Religious freedom has been denied to thousands of faith communities whose theologies call for full inclusion of gay, lesbian, bisexual and transgender individuals. It was encouraging to hear that our President supports the right of every faith community, and not only of those whose theologies call for "separate but equal" realities regarding access to the civil right of marriage. As a Latino, Baptist minister I commend the President for his remarks, and encourage him not to be sidetracked or disillusioned by those who want to politicize his convictions. Rev. J. Manny Santiago, Pastor, University Baptist Church - Seattle, WA

As an African American Baptist Minister, who is an open straight LGBT ally, I take President Obama's support for marriage equality as proof that there is a paradigm shift taken place in our country. This shift consists of allies like our president who openly support our LGBT/SGL brothers and sisters as they fight for equality. As the shift continues, more allies are needed (especially in the pulpits) to stand with our LGBT/SGL brothers and sisters and call for an end to religious based heterosexism which has built the walls that block marriage equality. From the pulpits to the pews we must tear down these walls by continuing the paradigm shift as we spare not our voices. Rev. Gerald Palmer, MSW Founder Word 4 The Soul Ministries

As a biblical scholar and straight LGBTQ ally, I am grateful for the President's recent statements in support of same-sex marriage. His comments are an excellent example of how the Bible can be read seriously--but not literally. Those who argue that the Bible is "crystal clear" on the matter of homosexuality fail to recognize that the biblical tradition itself evolves. For example, Deuteronomy 23:1 says basically that males who could not procreate were excluded from the faith community, but Isaiah 56:1-8 includes them as does Acts 8. In the same way, as an African American female, I am very aware of how the U.S. Constitution had to evolve in order for me to vote. By evolving over time to include those formerly excluded, both the biblical and the constitutional traditions become living words that are not frozen in an earlier historical period and so speak a word of grace to all in our own time. Rev. Dr. Cheryl B. Anderson is a seminary professor, an ordained minister in The United Methodist Church, and the author of "Ancient Laws and Contemporary Controversies: The Need for Inclusive Biblical Interpretation" (New York: Oxford University Press, 2009).