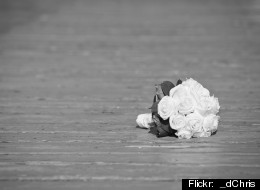 A woman wearing a wedding dress was found stabbed to death in a bathtub in south suburban Chicago just days after her wedding.
Police found Estrella Carrera, 26, in the dry bathtub of an apartment in Burbank, Ill. while conducting a well-being check requested by her sister, who had been unable to contact her, the Chicago Tribune reports.
Carrera was pronounced dead at the scene at 7:30 p.m. Sunday of multiple stab wounds, according to WGN.
CBS Chicago reports that it is as yet unclear how long the woman had been dead before she was found.
She was last seen around 2 a.m. Saturday after her wedding Friday evening, a source told The Macomb Daily.
An autopsy is scheduled for Monday and a police investigation is ongoing.
Flickr photo by _dChris.