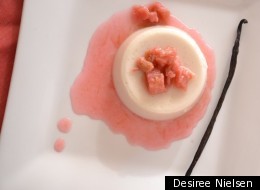 With an excitement for spring and a strong love for rhubarb, we set out looking for the best, most delicious rhubarb recipe to honor this time of year. We put a call out to you home cooks to share your favorite rhubarb dish and enter for a chance to win our Kitchen Daily Recipe Showdown (and a really great Wusthof Classic Chai Dao knife).
We got recipes for rhubarb pie (a favorite for sure), rhubarb and ginger jam, and even a roasted strawberry rhubarb cheesecake ice cream (yum!). But now we leave it in your hands. Click through the recipes and vote on your favorite using the star system (five stars for your favorite). Once the top three have been selected, we'll make them in our kitchen to determine an ultimate rhubarb recipe winner.
Click through the slideshow below and cast your vote!
This is a creamy ice cream, but like so many homemade (and premium) ice creams, it'll benefit from a few minutes on the counter before you scoop it. The leftover roasted fruit makes a great ice cream topping, by the way. How about over your morning oatmeal? With yogurt! It's also good eaten straight from the container. Roasted Strawberry Rhubarb Cheesecake Ice Cream Ingredients: 1 pound rhubarb, cut into 1-1 1/2 inch pieces 1 generous pound of strawberries, tops cut off and halved or quartered if large zest of one orange juice of 1/2 an orange 1 tsp vanilla extract (almond would be good here, too!) 3 tbsp brown sugar 16 oz cream cheese, at room temp 3/4-1 cup sugar, depending on how sweet your fruit is 2 tbs lemon juice 1 tsp almond extract 1-1/2 cups of the roasted fruit, mashed up 2 cups half and half 3/4 cups graham cracker crust crumbs, either a homemade crust or store bought (see below) 3/4 cups almond paste, cut into a small dice Directions: Start by roasting the fruit. Heat the oven to 350. On a large baking sheet with sides, mix the rhubarb, berries, zest and juice, vanilla and brown sugar. Toss it all together with your hands, and place it in the oven for 20-25 minutes. Remove from the oven, let it cool, and then put it in a container in the fridge to chill completely. To make the ice cream: Set the graham cracker crust crumbs and the almond paste cubes in the freezer to chill. In the bowl of a stand mixer or in a large bowl with a hand mixer, blend the cream cheese, sugar (start with the 3/4 cup and add more if it needs it), lemon juice, almond extract, chilled, mashed pureed fruit and the half and half. Get it as smooth as you can, but don't worry if there are some small chunks of cream cheese left. This makes a bit more than will fit into my ice cream maker, but I managed to squeeze in 3-1/2 cups of the mixture. There was a little left over that you can do what you want with. Like slurp it up with a spoon. Freeze according to your ice cream maker's directions. In the last few minutes of freezing time, add the graham cracker crust crumbs and almond paste cubes. Finish the freezing process and place it in the freezer to harden up. * I made the crust on the side of the graham cracker crumbs box. Use your fave.

I am one of the crazy few who will eat (and enjoy) raw tender, slender shoots of rhubarb, but coming in a close second in the barely adorned rhubarb category is a blush pink homemade preserve that is as good spooned over ice cream as it is on your breakfast toast. Rhubarb and Ginger Jam (makes six 8-ounce jars) Ingredients: 3 pounds of trimmed rhubarb stalks, cut into 1/2-inch pieces 3 cups granulated sugar 1/4 cup crystallized ginger, finely chopped 1/4 cup grated fresh ginger Combine the rhubarb, two types of ginger, and sugar in a large saucepan. Stir over medium-high heat until the sugar dissolves and the mixture begins to bubble. Once boiling, reduce the heat to medium and simmer, stirring frequently, until jam thickens. Adjust heat accordingly to maintain a steady simmer and stir often during the thickening process to prevent scorching. Cook for about 20 to 25 minutes, skimming and discarding the foam that collects on the top of the mixture. After 20 minutes, test for doneness. Turn off the heat under the jam and take the temperature of the fruit mixture using a candy/jelly thermometer. The thermometer should read about 220 degrees when the jam is done. Alternately, place a small spoonful of jam on a plate and place the plate in the freezer for 35-45 seconds. Remove the plate and run your finger over the top of the jam. The surface should "wrinkle" in your finger's wake. If it does, the jam is done. Ladle the mixture into hot, sterilized 8-ounce jam jars leaving about 1/4-inch of space between the jam and rim of the jar. Cover with lids and rings and process the jars for 10 minutes in a hot water bath. The lids should vacuum seal shortly after removing the jars from the processing bath. If you do not hear the telltale "pop" of some or any of the lids, return the unfinished jars to the boiling water and process for an additional five minutes. Place the sealed jars on the thickness of a kitchen towel and allow to rest and cool completely overnight. Preserves will keep for at least a year in the sealed jars if kept in a moderate temperature.

This is the most delicious rhubarb recipe because the cardamom lends a warmth and richness to rhubarb that perfectly compliments the delicacy of the coconut and vanilla bean panna cotta without overwhelming it. (Originally published on her blog, The Fresh Sheet.) Vegan Panna Cotta Makes 6 servings Ingredients: 1 tsp agar agar powder 3/4 cup soy, rice or coconut beverage (plain or vanilla flavored) 1 can (400mL) coconut milk 3 tbsp organic sugar 1/2 vanilla bean or 1 tsp vanilla extract Directions: In a saucepan, stir agar into soy, rice or coconut beverage. Add coconut milk and sugar. Add vanilla extract or vanilla bean by slicing the vanilla bean lengthwise and using the back of a knife to scrap out the seeds. Add the seeds and vanilla bean pod to the pot. Stir to mix well. Over medium heat, bring mixture to a boil. Reduce heat to low and simmer for one full minute, stirring frequently. Remove from stovetop and discard the vanilla bean pod. Divide mixture into six ramekins, glasses or decorative cups. Cool to room temperature. Refrigerate for at least two hours to set. Panna cotta can be served in several beautiful ways. To serve on a plate, gently run a knife around the edge of the ramekins and gently place upside down on a plate. Shake gently to unmold the panna cotta. Top with rhubarb compote. You can also leave the panna cotta in decorative cups or glasses and top with rhubarb compote. This looks particularly impressive in translucent glasses. This coconut panna cotta is also delicious served with fresh mango, toasted coconut or fresh lime zest. Rhubarb Compote Ingredients: 4-6 stalks of local rhubarb 1 cup water 1/2 cup sweetener of choice (I like to use organic sugar) 1/2 tsp ground cardomom 1/4 tsp ground cinnamon Directions: Coarsely chop rhubarb stalks into 1 inch pieces. You want about 4 cups of chopped rhubarb. Place in a medium saucepan and add water and sugar. Bring to a boil. Stir in cardomom and cinnamon. Reduce heat and simmer for 10-15 minutes or until rhubarb is soft and flavours are well blended. Adjust spices and sugar to suit your tastebuds. I like my rhubarb compote slightly tart, so feel free to add more sugar if desired. Let cool to room temperature to serve with coconut vegan panna cotta or refrigerate and use within a week. You can also freeze rhubarb compote for enjoyment all year long. Enjoy rhubarb compote stirred into yogurt, oatmeal or ice cream or on its own

I love the combined flavors of rhubarb and strawberries, in any form! This recipe combines the tart rhubarb with the sweet strawberry, and preserves it so spring can be enjoyed any time of the year. This jam is delicious on fresh biscuits, toast,and even spread over a block of cream cheese as an appetizer to be served with crackers. Rhubarb-Strawberry Jam Ingredients: 5 cups cleaned, stemmed, and mashed ripe strawberries 5 cups diced rhubarb (cleaned) 1/4 cup fresh lime juice 9 1/2 cups granulated sugar 1/2 teaspoon butter (optional, this will help to keep the foam down) 2 packages (1.75 ounce) powdered fruit pectin half pint canning jars with lids, and rings, sterilized and ready to fill* (10 - 12 of them) Directions: Place fruit, lime juice, butter (if using) and pectin in an oversize saucepan with lemon juice and cook over medium heat, until juices start to form. Add sugar, a cup at a time, stirring constantly. Sugar should dissolve completely before adding more. Turn heat up to medium high, bring the mixture to a full rolling boil, and stir for one minute. Skim off foam. Fill sterilized jars to 1/4 inch of the top; cover and secure rings. It is easier to fill the jars with a jelly funnel placed in the jar. Ladle the jam into the hot, sterilized jars. Wipe the rims of the jars with a damp clean towel to remove any drops of jam that might interrupt the seal. Top with lids, and screw rings on tightly. Place jars on a canning jar rack in the bottom of a large stock pot or canning pot with boiling water. Bring water to a boil again, and process for five minutes. Remove from water bath and place on a counter with room for air to circulate, to cool. To make sure that jam sets, don't move the jars until cool. Check the seals and store up to one year. If any seals have not set, then store in refrigerator or freezer. *Clean and rinse the jars well, then sterilize the jars and NEW lids in boiling water for at least five minutes.

My recipe for Rhubarb Berry Pie combines rhubarb with blueberries, raspberries and strawberries. Each bite of this pie is truly heavenly. The fusion of flavors and deep color in the juices showcase its yummy goodness that's waiting inside those easy-peasy tasty Pillsbury Ready Pie Crusts. A simple and tasty recipe that all can enjoy baking, sharing and eating! Rhubarb Berry Pie Ingredients: 5-7 stalks of rhubarb, washed and sliced 1 handful of each (3 handfuls in total) washed blueberries, raspberries & strawberries (sliced) 1 cup sugar (plus 1 tablespoon sugar set aside) 1/4 cup cornstarch 1/4 teaspoon cinnamon 2 teaspoons lemon zest 1 teaspoon vanilla extract 1 egg white Pillsbury Ready Pie Crusts Directions: Preheat the oven to 400°F. Line a 9-inch pie plate with half of the pie dough. Place all of the rhubarb and berries in a bowl and toss with 1 cup sugar, cornstarch, cinnamon, lemon zest and vanilla. Brush bottom crust with egg white and then spoon "filling" mixture into the crust. Cover the filling with the top crust. With egg white, moisten the rims of the top and bottom crusts where they meet, then turn the top crust under the bottom and crimp the edges. Cut a few slits (or use a cookie cutter) in the top to allow steam to escape. Brush the top lightly with egg white. Sprinkle with the remaining tablespoon of sugar. Bake in the oven for 1 hour or until the filling is bubbly and the crust is golden brown. *Cover the edges with tinfoil or silpat crust cover so the edge of the pie won't brown or burn until last five minutes... then take out the pie and let it cool down. After the pie has cooled, slice and serve.

This is a delightful tart that plays on the sweet and sour that we all love because, eventually, we shouldn't be buying Sour Patch Kids, right? (From Culinary Adventures with Camilla.) Tart crust Ingredients: 2 cup white flour 1/2 cup powdered sugar pinch of salt 3/4 cup butter Directions: Mix the flour, sugar and salt; rub in the butter until the mixture resembles coarse breadcrumbs. Stir in 1 teaspoon of water with a fork until the mixture forms a ball. Roll out between two pieces of parchment paper. Press gently into a tart pan. Prick crust with a fork to prevent bubbling. Bake for 20 minutes at 350, or until a light golden brown. Frangipane Ingredients: 1/2 cup ground almonds 1/2 cup sliced almonds 1/4 cup organic granulated sugar 1/4 cup powdered sugar 2/3 cup melted butter 1 large egg Directions: Mix everything together to form a paste. Once the tart crust is cooked, spread a layer of frangipane over the bottom. Slice the rhubarb into pieces and arrange them in concentric circles to cover the frangipane in a flower pattern. Sprinkle with sugar and bake for 50-55 minutes, until the rhubarb has softened. Serve in modest slices with a dollop of unsweetened whipped cream.

This picture doesn't give it justice! We love this Strawberry Rhubarb Crisp recipe because it calls for less than 10 ingredients, is easy to make, and with only about 100 calories per serving, you can enjoy it guilt-free! If strawberries or rhubarb aren't your favorite - the crisp topping can be used with any of your favorite fruits such as peaches, blueberries or blackberries. Serve warm and enjoy at your next picnic, family reunion or any occasion! Ingredients: 4 cups rhubarb, cleaned, cut into medium size bits (like celery) 4 cups strawberries, cleaned, halved ½ cup sugar 1 cup water 2 Tbs cornstarch ½ cup oats, rolled, dry ½ cup flour ¼ cup brown Sugar ¼ cup butter, softened Direcionts: Preheat oven to 350 degrees F. Lightly spray 9 x 13 baking pan with cooking spray. Cut fruits, mix together and lay in bottom of pan. In a sauce pot, mix sugar, water and cornstarch together. Cook until sugar is dissolved and sauce is semi thick (should be like a glaze). Pour glaze over strawberries and rhubarb. In another bowl, mix flour, brown sugar, oats and softened butter. Mix until topping is semi crumbling. Place the oat crisp topping mixture over the fruit mixture. Bake for 25 minutes (little bubbles should come up the sides of the crisp). Serve warm and enjoy!

The thinly sliced rhubarb is a little bit tangy and a little bit sweet and even though there's only a few ingredients in this tart, it tastes much more complicated. To make things even better, it only takes minutes to make up this dessert since it uses store bought puff pastry. Rhubarb Tart with Ginger Raspberry Glaze Ingredients: 1/4 cup light brown sugar 1/2 cup seedless raspberry preserves 1 cup ginger ale 3/4 pound fresh rhubarb (sliced into 1/8" thick pieces) 1 sheet of puff pastry (most packages of puff pastry have two sheets in them) Directions: Preheat oven to 400 degrees Farenheit. In a large bowl, whisk the brown sugar, preserves and ginger ale together. Put the rhubarb slices into the mixture and make sure that the pieces are submerged. Set this aside to soak for 30 minutes. Roll the pastry out to an 11"x17" sheet then cut it in half, lengthwise, so that you have 2 narrow rectangles. Place each rectangle onto a parchment paper lined baking sheet (both should fit on one sheet). Using a sharp knife, gently score a 1/2" wide border on all four sides. (Do not cut through the pastry. This is just a line to guide you when you top the pastry.) Use a fork to dock (pierce holes) the dough inside the border you just outlined. Be generous with these holes. By docking the dough, you'll be keeping the center flat and the border will puff up when you bake the tart. After the rhubarb has soaked for 30 minutes, begin to layer the pieces inside the lines of the puff pastry. Lightly overlap the pieces. Bake tarts for 30 minutes or until the pastry edges have puffed and are golden in color. The rhubarb slices should also look slightly dry. While the tarts are baking, transfer the ginger raspberry soaking liquid to a small pan and cook over medium high heat until it has reduced by half. When the tarts are done baking, remove them from the oven and gently brush (or dab) the reduced ginger raspberry glaze onto the rhubarb. Don't brush it on the crust. Let sit for 10 minutes, then slice. Serve plain or with a scoop of vanilla ice cream. Quick notes: Cut the rhubarb on a diagonal to get larger slices. If you slice it straight across, you will have a lot of little half moon slices and it will take you forever to line the dough with them. You don't have to line the baking sheets with parchment, but it makes removing the tarts much easier and you're less likely to tear them. The tarts do stick a little to the sheets (you do not want to grease the baking sheets though). Variations: After glazing the tart with the ginger raspberry syrup, you could further reduce it which would thicken it even more. Then you could use it as an ice cream topping, pancake syrup or to drizzle on toast. Preparation time: 20 minute(s) Cooking time: 30 minute(s) Number of servings (yield): 6

Simply delicious! Rhubarb And Strawberry No Bake Cheesecake Crust ingredients: 1 stick butter, melted 1 package Graham crackers, finely ground Directions: Put graham crackers in a food processor and process until finely ground. Melt butter in microwave. Combine ingredients in a 9-inch spring-form pan. Press the crumbs evenly over the bottom and sides. Bake the crust at 325 F for about 10 minutes. While the crust is cooling make the cheesecake. No-bake cheesecake ingredients: 2 (8 ounce) package cream cheese, softened 1 1/2 cups frozen whipped topping, thawed 1 teaspoon vanilla extract No-bake cheesecake directions: Combine ingredients in a mixer at medium speed until all is combined. Pour over the crust. Arrange strawberries and rhubarb on cooled cheesecake. Spoon glaze over the top. Topping ingredients: 1 cup fresh rhubarb, in 1" pieces, 1/4 lb 1/2 cup water 1/3 cup sugar 1 tablespoon cornstarch 1 dash salt 7-8 drops red food coloring 2 cups fresh strawberries, halved Directions: In a saucepan combine the rhubarb, 1/3 cup sugar and 1/2 cup water. Bring to a boil. Reduce heat. Simmer, uncovered until almost tender, about one minute, being careful not to break up rhubarb. Remove from heat. Drain, reserving syrup. Add water to syrup to equal 3/4 cup. Mix cornstarch, dash salt and 2 tbs cold water. Add to syrup mixture. Cook and stir until thick and bubbly. Cook one minute more. Remove glaze from heat. Stir in food coloring. Cool to room temperature. Arrange strawberries and rhubarb on cooled cheesecake. Spoon glaze over the top. Cover and chill. Makes 12 servings.

This recipe combines the burst in your mouth sweetness of blueberries with the tartness of rhubarb and just a hint of orange and cinnamon. The crisp topping adds a layer of crunch and sweetness that makes this dish just as delicious for breakfast as it is for dessert. Rhubarb Blueberry Crisp Ingredients for filling: 4-5 cups rhubarb cleaned, peeled, cut in half lengthwise, and sliced 1 pint blueberries 1/4 cup sugar 1/2 tsp cinnamon 1 tbs cornstarch 1 tsp orange zest Ingredients for topping: 3/4 cup flour 1 cup sugar 1 stick cold butter, cut in cubes Directions: Preheat oven to 350 degrees. In a large bowl, combine fruit through orange zest and stir to combine. Let sit while making topping. To make topping, combine sugar, flour, and butter in the bowl of a food processor. Pulse 10-12 times to combine. Place fruit filling in an 8x8 baking dish. Sprinkle topping on top and bake for 30-40 minutes until bubbling at the sides. Allow to sit for 20-30 minutes to thicken.

This unique and savory dish welcomes in spring with a bright fresh flavors by incorporating rhubarb into a stuffing for the pork chops as well as a chutney to accompany the dish. Grilled Porkchops with Rhubarb Two Ways 4 servings 4 bone-in rib pork chops, (1 1/2 inch thick) about 12 oz. 2 1/2 cups chopped rhubarb about 8 to 10 stalks -- divided 3 chopped apricots 3/4 cup chopped leeks 1/4 cup fresh sqeezed orange juice 1 tbs orange zest 1 tbs sugar 1 1/2 cup bread crumbs 3 1/2 tsp whole coriander seeds, crushed -- divided 1 tsp minced fresh thyme 1 tbs minced fresh rosemary 1 cup + 1/2 tsp salt 1 cup brown sugar 1 cup apple cider vinegar 1 tbs whole peppercorns 1/4 tsp fresh ground cardamom seeds 1 tsp chopped fresh ginger 1 tbs fresh lemon juice 2 tbs olive oil Brine pork chops: Add 1 cup salt, brown sugar, apple cider vinegar, 3 tsp coriander and peppercorns to one cup water. Bring to boil, stir until sugar and salt have dissolved. Allow to cool, then add 1 pound of ice. Add pork chops and allow to brine for at least 2 hours or up to 8 hours. Rhubarb Chutney: Add 1 cup rhubarb, apricots, lemon juice, cardamom and a dash of salt to saucepan. Simmer on medium-low heat until rhubarb and apricots are softened, about 5 minutes. Set aside to cool. Rhubarb Stuffing: Add 1-1/2 cup rhubarb, orange zest, orange juice and leeks to saucepan. Simmer on medium-low heat until rhubarb mixture is softened. Add bread crumbs, thyme, rosemary, coridander and salt. Stir until combined. Set aside to allow bread crumbs to absorb liquids Fire up the grill. Remove the pork chops and discard the brine. Rinse and pat dry. Place the chop upright with the bone on the chopping surface. Using a boning knife, create a pocket by cutting a slit all the way to the bone. Then enlarge the pocket (using the knife) until it can hold about 1/4 cup of stuffing. Repeat on the remaining 3 chops. Add 1/4 cup of stuffing to each chop. Use toothpicks to help keep the chop together if necessary. Brush each side of the chops with olive oil. Place on hot grill for 10 minutes per side. Remove from direct heat and continue to cook until each chop has reached an internal temperature of 145 F (5 to 10 minutes). Remove the chops and all to rest for 5 minutes. Serve with chutney and enjoy.