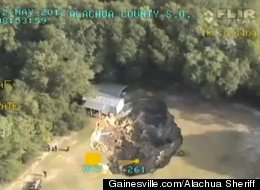 Is the entire state of Florida sinking into the Atlantic?
Just a week after a massive sinkhole displaced a family in Orlando, another widening land cavity has opened up in Jonesville.
The 80-foot-long and 40-foot-wide sinkhole opened Friday in the backyard of the house Robert "Robin" and Rhonda Matheny built 37 years ago. The couple heard a crack like thunder that evening but did not see the sinkhole until the following morning.
Seventy feet below at the bottom of the hole sat the Matheny's grill and a cooler as a nearby pool and shed teetered to share the same fate.
"The first time I saw it," Robin told the Gainesville Sun, "the first thing I said is, 'Ready to move?' "
The couple, whose house is insured for sinkholes, has since relocated to their son's home in Gainesville.
One of the Matheny's neighbors told News 4 Jax, "Sinkholes are a part of living like Florida. Kind of like snakes. You gotta understand they're around and insure against them and do the best you can."
Florida is comprised of limestone, an already porous rock that dissolves easily in acidic rainwater, according to the Department of Environmental Protection.
Click here for a map of Florida that classifies the frequency and severity of sinkholes.
Chris Gilbert of the Environmental Protection Agency also said that drought as well as people pumping too much water from the Floridian aquifer can lead to sinkholes.
"With the water table down and that you have these voids in the earth that are there and at any point there can be an area that destabilizes and causes a sinkhole to erupt."