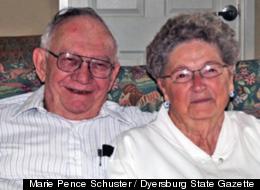 AP/The Huffington Post
DYERSBURG, Tenn. -- Two residents of a Tennessee assisted living center got married on Sunday, more than 60 years after they first met.
According to the Dyersburg State Gazette, the two octogenarians who got married, Peggy Schuster and Rev. Henry Freund, used to be college sweethearts.
Freund said the couple often sat together in class at Rhodes College in Memphis (then Southwestern) and frequently dated. But they eventually went their separate ways and married other people.
Then, while attending a church meeting in Memphis in 2001, Freund learned that Schuster had been widowed.
Freund, who had lost his wife, wrote his college sweetheart to offer sympathy. A decade later, Schuster gave Freund her email address and the couple, both in their 80s, began corresponding.
Freund said a spark that had survived for more than 60 years "burst into flames."
"Renewal took shape as Cupid's arrow zeroed in on the couple (and they) decided they would spend the remainder of their days as husband and wife," Freund told the State Gazette.