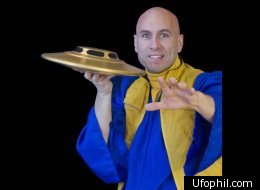 A California man who contributes to the popular paranormal show "Coast to Coast AM" with George Noory has plans for television that may seem out-of-this-world.
Phil Hill, better known as "UFO Phil," told The Huffington Post that he is in negotiations with "a major network" to bring his alien musings to primetime. Hill would not reveal which network he is supposedly working with and would say only, "I had to choose a media partner with universal appeal, one that really gets the whole E.T. experience."
Hill said the show, which he described as "pure entertainment," will feature himself as a paranormal investigator who researches alien abduction cases. In each episode, Hill said he will seek to confirm or debunk abductions using science, common sense and "electro-magnetic tools from my basement."
But Hill also revealed an ulterior motive. "The real purpose is to give a voice to the real aliens when they arrive on Earth. They have a lot of propaganda to disseminate in a short time." Hill added, "You have to keep that part a secret. It's a matter of security."
Oops.
UFO Phil is no stranger to TV. He once appeared with MTV comedian Tom Green, was featured on the national program "Right This Minute" and was interviewed by Peter King of CBS.
UFO PHIL IN THE NEWS:
In interviews with The Huffington Post and other media outlets, UFO Phil has revealed he is in possession of secret scrolls that are written by beings from another planet. Those documents, Hill claims, give him the authority to assume presidential leadership.

Once he assumes presidency, the "Statue of Liberty has to come down," UFO Phil told HuffPost. In its place, Phil said he will erect a much taller "Monument of Zaxon." Zaxon, according to Phil, is the leader of the good aliens. "He has very nice skin and will look phenomenal as a statue," Hill said.

If UFO Phil's campaign promises sound a bit over-ambitious, it's because he plans to become president of earth, not just the United States.

UFO Phil, whose real name is Phil Hill, claims to be an ambassador to the aliens. He supposedly monitors alien transmissions and plans to construct a full-sized limestone pyramid at Alcatraz Island.

Phil Hill said he is already working with the National Park Service, the agency in charge of Alcatraz Island. "They contacted me in July and we are reviewing permits in preparation for a 2012 construction date," Hill told The Huffington Post.

An artistic rendition of the "Great Pyramid of Alcatraz."

Phil Hill said aliens have also instructed him to erect a slightly smaller pyramid behind the Hollywood Sign in Los Angeles. It would serve as a backup generator "in case Alcatraz is compromised," he said.

An artistic rendition of a giant pyramid Phil Hill envisions on top of Pikes Peak in Colorado.

Phil Hill, during a press conference in Colorado, claimed ancient Egyptian pyramids -- designed by extraterrestrials -- were massive stone power stations.

UFO Phil points ... at something.
Related on HuffPost: