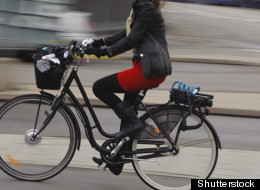 What makes a bike commute easier? Certainly the condition of the roads and the layout of a city or town make a world of difference. But how an office supports cyclists may be just as important. In fact, according to at least one New York City bicycle survey, conducted by the Department of City Planning, a lack of adequate resources for bike commuters was the number one reason why respondents didn't regularly bike to work.
Not only is biking to work an environmentally friendly alternative to driving and taking public transport, it's a great cardiovascular and cross-training workout. And research shows that communities with a relatively high rate of bike commuters are wealthier, more diverse, more educated and -- believe it or not -- happier.
Read on for some of the top amenities offices are offering to help employees get moving on their bikes. Does your office provide you with any of these? Which one would you like most? Tell us in the comments!
Having a safe, dry place to store a bike is a very important issue to commuters. In fact, according to the New York Bike Survey, 51 percent of non-commuters said that not having a good storage space at work was the most important factor in their decision not to bike. Bike storage can take many forms -- including an interior bikes-only room, bicycle lockers, space in a car garage, or even a designated space within the office. Not only do many employers now offer bike storage, many city ordinances, in places like Palo Alto and Santa Cruz, mandate that they do so.

Showing up to work, rain or shine, takes on a great deal more meaning without a car roof overhead. Many commuters will want to towel off, change their clothes and maybe even shower after a long ride in. Offering facilities for cleaning up post-commute are appreciated. In fact, according to the New York Bike Survey, 31 percent of non-commuters said a lack of shower and changing facilities kept them off their bikes.

It's one thing to support bike commuters on their own bikes, but for potential-riders who live too far away to make cycling sensible, daily errands and lunch excursions are good opportunities for two-wheeled travel. Companies like Atlassian and (who you calling biased?) AOL offer office-owned bikes to help employees zip around during work hours.

Many companies offer tax-free public transportation passes or partial gas reimbursement, but what about cyclists? Firms that offer financial incentives may find more employees will hit the road atop two wheels. Other incentives can include: free bike kits, accessories or lessons, like those offered at Rackspace

A flat tire is a nuisance for anyone, but a cyclist can't exactly call AAA. Offices that stock up on tire tubes, wrenches and other useful supplies can greatly improve the lives of their bike commuters. Or, like MIT, they can go above and beyond and have actual tune-ups and repairs in-house.