Coquitlam Adanacs, Nanaimo Timbermen Brawl: Canadian Lacrosse Fight Results In Suspensions (VIDEO)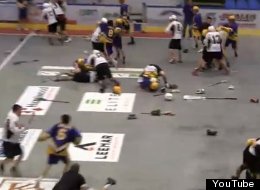 Saturday's intermediate A lacrosse game between the Coquitlam Adanacs and Nanaimo Timbermen, two Canadian teams made up of 16-18 year-olds, took an ugly turn late in the second period when a couple of hard hits led to a massive bench-clearing brawl.
Several players started fighting after Coquitlam scored to take a 15-4 lead. As the officials tried to settle everyone down, more players got involved and both benches eventually cleared.
The game was called with 47 seconds left in the period.
Josh Aldrich of the Nanaimo Daily News reported that B.C. Intermediate A Lacrosse League commissioner Gene Regier handed down 15 suspensions, but he did not reveal who or how long the suspensions were.
Garrett Ungaro, vice president of Coquitlam's junior and intermediate teams, told The Province on Monday that the brawl gave "the sport a black eye."
H/T to Deadspin