Detroit's contentious Gateway Project, the drawn-out construction plan meant to keep trucks off city streets and out of Detroit neighborhoods, hit an important milestone Monday.
Now, when trucks exit the Ambassador Bridge from Canada, they will drive a direct access road to the I-75 and I-96 expressways, according to the Detroit News.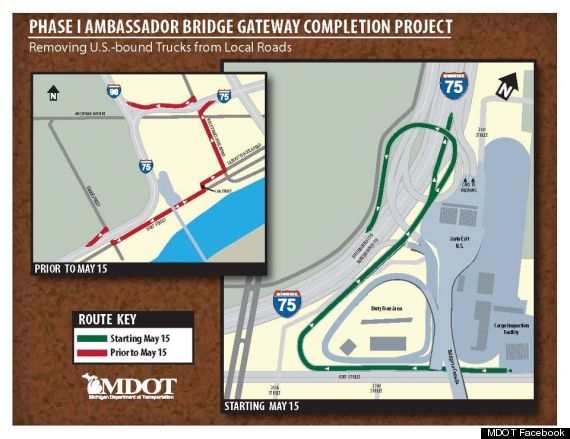 The Michigan Department of Transportation held a ceremony Tuesday morning to celebrate the completion of the road -- years behind but now ahead of schedule. To those who've followed the $230 million Gateway Project over the last decade, MDOT's recent progress on construction that is now years overdue may indeed seem surprisingly speedy.
The state took over construction on the project from Manuel "Matty" Moroun's Detroit International Bridge Company in early March after a series of legal battles, quickly moving ahead to secure a contractor for the project.
In 2009, MDOT sued the DIBC's owners for dragging their feet on the Gateway Project, and Wayne County Circuit Court Judge Prentis Edwards ordered the company to complete its share of the work. When his orders went unheeded, he briefly jailed DIBC President Dan Stamper in 2011, and both Stamper and Moroun earlier this year.
DIBC restarted construction in February, but Edwards, dissatisfied with the company's progress, ordered the company to hand the project over to MDOT, as well as provide $16 million to pay for construction costs.
According to the Detroit News, the Gateway Project will redirect 10,000 trucks that daily travel Detroit's surface streets. Earlier this year, residents in the affected neighborhoods in southwest Detroit expressed their relief that the project was moving forward.
The entire Gateway Project is expected to be fully finished by fall, but its completion might not be the end of local bridge and highway construction. Michigan Gov. Rick Snyder has continued to push his idea of building a second bridge connecting Detroit and Ontario, with support from the Canadian government.