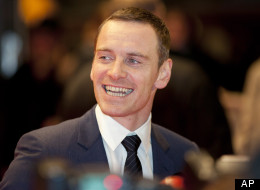 You weren't the only person surprised that Michael Fassbender didn't receive an Oscar nomination for his role in "Shame." Fassbender was shocked too!
Speaking about the Academy diss to GQ, the ubiquitous actor -- who next stars in "Prometheus" -- revealed the Best Actor slight was a "good little lesson." Not that he was pleased with how it all went down.
"At the beginning people [say], 'You're going to be going to the Oscars,' and you're like, 'Whatever, doesn't matter, don't think so.' But after a while it does penetrate. After a while you're like, 'Anyway, so I'm going to the Oscars...'" Fassbender told GQ writer Chris Heath. "And you start to believe it. And I did. I thought I was going. And then I found out I wasn't and I was upset. I was very upset by it. The first reaction was 'What the fuck…?'"
Despite receiving numerous accolades for his striking performance as a sex addict in "Shame," Fassbender failed to make the Best Actor cut; George Clooney, Brad Pitt, Gary Oldman, Demian Bechir and eventual winner Jean Dujardin were all nominated ahead of him.
"It's a vanity thing. It does become important to you. And it shouldn't," he said.
For more on Fassbender, including his feelings about his now-infamous "Shame" nude scenes and his love life, head over to GQ.com.
[via GQ.com]
PHOTOS:
Oscar Nominations 2012: Snubs And Surprises
"Lord of the Rings," this was not. Despite being well-reviewed, beloved and a bonafide box-office hit, "Harry Potter" was relegated to the blockbuster ghetto of below-the-line nods. The final Potter installment earned just three nominations, including Best Visual Effects. Accio, disappointing!

Maybe the Screen Actors Guild nominations should have been taken a little more seriously. Though many believed Albert Brooks was the only other viable contender to win Best Supporting Actor besides Christopher Plummer (the favorite for "Beginners"), he was left standing at the altar on Tuesday morning with no nomination. Blasphemy! Whether that's because Film District didn't have any money to spend on a "Drive" campaign is certainly up for debate, but the Brooks snub is one of the most curious in recent memory.

"The Girl With the Dragon Tattoo" did very well during the Oscar nominations, scoring nods for Best Actress (Rooney Mara), Best Cinematography and Best Editing. What it didn't grab? A Best Director nomination for David Fincher, in spite of Fincher's nomination from the Directors Guild of America. In the end, Fincher was probably squeezed out by Terrence Malick, a surprise entry into this category for "The Tree of Life." Sorry, Finch! Maybe if you were more of a recluse.

Where did this come from? Oh, right: Stephen Daldry and Scott Rudin, two Oscar titans, adapting a movie about 9/11. With a mere 48 percent Fresh rating on Rotten Tomatoes, "Extremely Loud & Incredibly Close" is not only the worst reviewed movie among the 2011 Best Picture nominees, but also the worst reviewed movie in recent history to earn a coveted BP nod. Only "The Blide Side" and "The Reader" were more poorly reviewed. Congrats?

Not that Steven Spielberg had any right to expect a Best Director nomination on Tuesday morning -- after all, he was similarly left out by the Directors Guild of America in the same category -- but with "War Horse" earning Best Picture nod, it was somewhat surprising to see the two-time Best Director winner left home. Insult to injury: "The Adventures of Tintin," which won Best Animated Feature at the Golden Globes and the Producers Guild of America award ceremonies, was left off the Best Animated Feature list at the Oscars. Hopefully, the Academy will favor Spielberg next year, with the release of "Lincoln."

It's unfortunate to top off the Year of Gosling (i.e., 2011), the Academy Awards decided against nominating The Gos himself. Arguably the best actor of his generation (and a nominee once before for "Half Nelson"), Gosling turned in two strong Oscar-worthy performances in 2011: "Drive" and "The Ides of March." Unfortunately, "Ides" never caught steam as an Oscar contender, and "Drive" was apparently not the Academy's cup of tea. It's not all bad for Gosling, however: dude's a real hero, after all.

With nine nominees for Best Picture, it seems a little far-fetched to think "Bridesmaids" didn't make the cut. Alas! The people's choice for Best Picture did earn nominations for Melissa McCarthy and Best Original Screenplay, so it's not like it was totally shut down. Still would have liked to see Kristen Wiig get some love as Best Actress, though. PHOTO: Universal

Can you even believe this one? Michael Fassbender, who gives one of the best performances of any year in the indie sex-addiction drama "Shame," was left off the list for Best Actor. In his place, either upstart Demian Bichir or veteran Gary Oldman, two well-respected journeymen who saw their Oscar profile rise during the last two months, while Fassbender's festival heat faded. Here's guessing he was the sixth nominee for Best Actor, which is -- wait for it -- a real shame. (GROAN, but come on.)

One of the only pleasures of sitting through the laborious "J. Edgar"? The idea that you were at least seeing one of the five nominees for Best Actor ply his craft. About that: Leonardo DiCaprio was left off the final list for leading male, despite -- or perhaps because of -- the pounds of make-up and jowls he displayed as former FBI director J. Edgar Hoover in Clint Eastwood's misfire. Acting! Sometimes it doesn't work.

Many times, the best performances of the year aren't rewarded by the Academy Awards (cough, Albert Brooks). This time, at least one was: Rooney Mara in "The Girl With the Dragon Tattoo" gives one of those searing and memorable performances that cause Internet writers to use words like "searing" and "memorable." It really is the best female work of 2011, and while she won't win, the nomination itself is more than enough.

Everyone's favorite eccentric actress didn't make the cut at the Academy Awards for her performance in "We Need to Talk About Kevin" as a conflicted mother dealing with her awful son. Perhaps it was a matter of getting the indie film seen by enough voter eyeballs that kept Swinton out; or maybe it was the overwhelming Academy love for Glenn Close, who earned her sixth Oscar nomination for the middling "Albert Nobbs."

Fun fact: Best Picture-nominated movies, with three Oscar-nominated stars, direct themselves! At least that's the takeaway from the snub of Tate Taylor who missed out on a Best Director nomination for "The Help." Not that Taylor belongs in the same class as Woody Allen, Alexander Payne, Martin Scorsese, Terrence Malick and Michel Hazanavicius, but let's give the guy some credit!

The outstanding reviews for "A Separation" -- plus its Golden Globe win -- assured the Iranian import a slot in the Best Foreign Language Film category. Where it was a surprise nominee, however, was for Best Original Screenplay. Huzzahs to Asghar Farhadi, the writer/director of the foreign language film all your cool friends will see in the next month. PHOTO: Sony Classics

The Steven Spielberg-directed animated feature was good enough to win the Best Animated Feature award from the Producers Guild of America last weekend ... but not good enough to earn a Best Animated Feature nomination from the Oscars. Great snakes, indeed. PHOTO: Paramount

Late in 2011, snubbed director David Fincher joked that "The Girl With the Dragon Tattoo" had too much rape to earn an Oscar nomination. Guess he was right. Despite the fact that nine (nine!) movies earned Best Picture nominations on Tuesday morning, "The Girl With the Dragon Tattoo" was left out. Somewhere, Scott Rudin -- who produced both "Tattoo" and the movie that might have bumped it off, "Extremely Loud & Incredibly Close" -- both frowned and smiled, simultaneously. PHOTO: Sony

Needed more eyeball stabbing.

Proof that any Oscar buzz you read about this week from the Sundance Film Festival should be laughed off. Elizabeth Olsen, the 2011 It-Girl from Sundance, missed the Best Actress shortlist despite earning plaudits for her work in "Martha Marcy May Marlene."

Don't gasp! Sandra Bullock, a winner as Best Actress for "The Blind Side," gives the best performance in "Extremely Loud & Incredibly Close," a movie that clearly resonated with Oscar voters thanks to its shocking Best Picture nomination. Are we to believe that Oscar voters watched "Extremely Loud" and didn't walk away totally floored by Bullock? Apparently.

To be fair, Woodley wasn't that great in "The Descendants," but she was on the pundits's lists of choices for basically three months. What happened? Well, the rise of Jessica Chastain for "The Help," plus Melissa McCarthy and Janet McTeer having strong backing as well.

Who? The veteran Mexican actor -- who you might remember as Fidel Castro in "Che" or from "Weeds" -- earned a surprise SAG nomination for Best Actor for "A Better Life" and carried that momentum through to Tuesday morning. A great underdog story and one of only three minority actors nominated by the Academy.

Gary Oldman had never been nominated for an Academy Award. That crime has finally been rectified after his work in "Tinker Tailor Soldier Spy." Is anyone upset about this one?