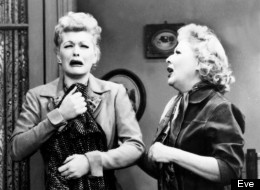 A lot can be said of the bond between any female and her best friend... her BFF, her gal pal. And while there's a flowery quote set against an equally flowery background for every such sentiment under the sun, this isn't that kind of celebration.
Inspired by the eponymous leading ladies of Rizzoli & Isles, in concert with their imminent return to TV, we saw fit to take a look back at some of the most memorable female duos of the small screen.
Whether they're a bit more animated, genealogically relative, or even dubiously grounded in "reality," all no doubt made it on here doing it their way. Sure, we may have taken some liberties with the rules—making room for dynamic dames that, while not strictly a pair, are too legit to omit—but, we like to think that when it comes to these fab femmes, the more the merrier.
Care to nominate a pair of pals that didn't make our list? Let us know your favorites in the comments, and don't forget to catch the season premiere of Rizzoli & Isles, Tuesday, June 5, at 9/8c.
Classic Female Duos on Television
Shirley Feeney: Laverne... Laverne De Fazio: Hmm? Shirley Feeney: I just thought of something awful. Laverne De Fazio: What? Shirley Feeney: Some day, God willing, I'm gonna be a mother. And if my daughter comes to me and says, "Mama, I want to go to this bachelor party and come outta this cake..." what can I tell her? Laverne De Fazio: A lot more than most mothers!

Hannah: Hey, Marnie, if you had read the essay and it wasn't about you, do you think you would have liked it? Just as, like, a piece of writing?

Jane: This is just like a high school. Daria: You know, I get the feeling we'll be saying that all our lives.

Rory: Mom? Lorelai: Oh. Rory: You're happy. Lorelai: Yeah. Rory: Did you do something slutty? Lorelai: I'm not that happy.

Jenna: Well, whenever I find something weird in my cell phone, I can usually trace it back to last time I was drunk. Liz: Oh my God, the dentist's office! Jenna: Your dentist gets drunk with you, too?

Isles: Jane and I, we're... Rizzoli: Best friends. We're more than best friends. We're... LLBFFs. Isles: Exactly. We're LLBFFs. Rizzoli: Yes, we are... lifelong best friends forever. Get it?

Gabrielle: Another one's fallen for you. Xena: Again? What is it? Gabrielle: Oh, the blue eyes... the leather. Men love leather. Xena: I think it's time for a wardrobe change. Gabrielle: Yeah. You could try wearing chainmail. Xena: Nah. That'd just attract a kinkier group.

Britta: This may shock you, Annie, but I come from a long line of wives and mothers. Annie: Many do. Britta: But I ran away from it my whole life. I refused to give Santa a Christmas list because I didn't want to depend on any man for anything, and now look at me. I'm Betty Crocker. I'm Martha Stewart. I'm one of the Steppenwolf wives. Oh, God. I am gonna make some man very happy someday.

Patsy: What will you drink if you stop drinking? Edina: I shall drink water. Patsy: (Blank look) Edina: It's a mixer, Patsy; we have it with whiskey.

Mary Beth Lacey: We go in together and it's 'Hello, Sgt. Cagney,' 'How ya doing, Sgt. Cagney?' I may as well have stayed in the car. Christine Cagney: Oh, Mary Beth. Mary Beth Lacey: And when we go to the lab, Solomon offers you sushi, me, I get fiber samples. Don't tell me you never noticed. Christine Cagney: Well, maybe one or two times. You know how men are.

Monica: Look, when it started I was just trying to be nice to her because she was my brother's girlfriend. And then, one thing led to another and, before I knew it, we were... shopping. Rachel: Oh. Oh, my God. Monica: Honey, wait. We only did it once. It didn't mean anything to me. Rachel: Yeah, right. Sure! Monica: Really, Rachel, I was thinking of you the whole time. Look, I'm sorry, all right. I never meant for you to find out!

Blossom Russo: Nowadays, women have just as many rights as men do. Six LeMeure: Oh yeah? Have you ever tried to wizz standing up?

Carla: Elliot, you know how they say, "No one will ever love you until you learn to love yourself"? Elliot: My mother used to say, "No one will ever love you."

Tia Mowry: Tamera, do I look like someone who would put on rollerblades and skate around with someone named Dinky Patterson? Tamera: Well, you look like me, and I'm going!

Rhoda Morgenstern: Mary, I thought you knew. Your parties are, uh, disasters. I mean, I thought you knew. How could you not know that? Mary Richards: Yes, I know. OK. I know. I knew. I just didn't know that anyone else knew.

Captain Sharon Raydor: Chief, if you don't at least attend this final interview, the women of the LAPD will be completely demoralized, and many of them will never forgive you. Ever. Deputy Chief Brenda Leigh Johnson: Well can I just skip the whole prep part? I'll just go in there and be myself. Captain Sharon Raydor:That is a *terrible* idea.

Paris: Wal-Mart, what's that? Do they, like, make walls there? [Jaws drop... the Leding family looks stunned] Nicole: In The South people hang out there.

Julie: He touched your teeth, it means something. Felicity: My teeth don't mean anything. Julie: Don't you think he touched her teeth? Felicity: It was like a... flick.

Marci: Oh, hey, who's that? Ashley: Carrie? Oh, she's just... Mary-Kate: Another one of dad's girlfriends! Marci: Oh... your dad has other girlfriends? Ashley: Yeah, but don't worry. I think he likes you the best.

Wilma Flintstone: I didn't know there was a fight scheduled. Barney Rubble: Are you kidding? Tonight's for the championship, oooohh it should be a real grudge boat. Betty Rubble: Heavyweight or lightweight? Barney Rubble: Both, a heavyweight vs. a lightweight. Wilma Flintstone: Why're you putting the chairs over there by the window? The TV set's here. Fred Flintstone: This is not on TV; it's a closed circuit. Betty Rubble: But who's fighting? Barney Rubble: The new neighbors, Mr. and Mrs. Brickrock.

Ethel: There's lots of things you're good at. Lucy: Like what? Ethel: Well, you're awfully good at... uh... You've always been great at... Lucy: Those are the same ones Ricky came up with.

Charles Townsend: [on speakerphone] Now I'm going to have to hurry along, Angels. Work, work work. Sabrina Duncan: Another case, Charlie? Gee, I thought you just finished one. Charles Townsend: I did, and the last one really took a lot out of me. Charles Townsend: [cut to Charlie sitting in a hot tub while a woman in a pink bikini climbs out of a pool and into the tub] But something else just came up, and you know how I put my heart into my work. Bye, Angels! Sabrina Duncan, Jill Munroe, Kelly Garrett: Goodbye Charlie!

Big: You girls are the loves of her life. A guy is lucky to come in fourth.

Rose: I just had a thought... Sophia, Dorothy, Blanche: Congratulations.