This gives a new meaning to "Ice Cream Sandwich."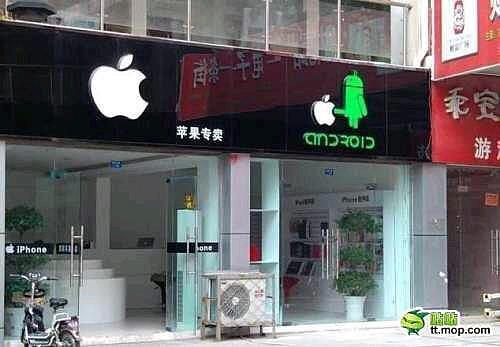 The text beside the Apple logo translates to "Exclusively Apple," in that it exclusively sells Apple products; the Android logo, meanwhile, would seem to indicate that the store next door has something exclusive for Apple, and it's not a smartphone or a MP3 player.
Indeed, many Android proponents have long held the belief that Apple sucks; now they have the visual proof.
Both shops are likely fakes, of course, as I very much doubt that Google would approve a be-penised version of its beloved Droid mascot to grace a storefront, no matter how close an Apple store happened to be.
Android has the market share, and now it has a (very) crude representation of its dominance, thanks to an enterprising store owner in China. No word on whether Apple has anything planned in retaliation, though we can only imagine that its revenge will involve Siri.
SUBSCRIBE TO & FOLLOW THE MORNING EMAIL
The Morning Email helps you start your workday with everything you need to know: breaking news, entertainment and a dash of fun. Learn more