The Patently Apple blog discovered that Apple has won a patent for a remote control that attaches to a car's steering wheel, allowing the driver to control his or her sound system using a click wheel design that will be familiar to (non-Touch) iPod owners. A mock-up of what the iSteeringWheel might look like, via Patently Apple, is below: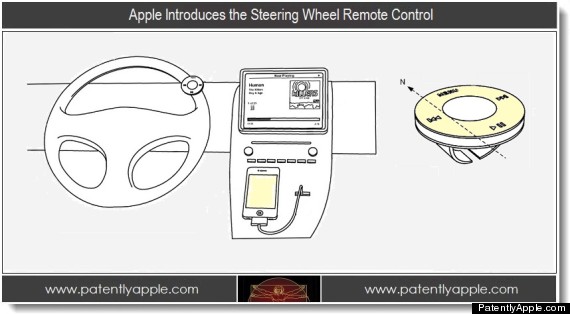 The click wheel has a clamp on its underside that attaches it to the steering wheel and is capable of wireless transmission (likely via Bluetooth) to an iPod or iPhone. Patently Apple notes that the clamp can be adjusted to accommodate various steering wheel thicknesses, so, if you've got a really, really thick steering wheel, you can breathe a sigh of relief.
We have to admit, though, that starting your car with Siri and using a new iPad as your dashboard infotainment system are quite a bit cooler than a little click wheel on your steering wheel. And now the really bad news: Apple, like all technology companies, files a lot of patents for a lot of products that never see the light of day. In 2009, for example, it was awarded a patent for a sleek new in-vehicle navigation system with touchscreen that excited the Internet for a week in March. Lost drivers everywhere are still waiting for that elegant solution from Apple to become a reality.
For more on Apple's patent win for a remote control on your steering wheel, check out Patently Apple, which has all the details, as usual.
Check out some of the coolest patents Apple's ever filed (below).
SUBSCRIBE TO & FOLLOW THE MORNING EMAIL
The Morning Email helps you start your workday with everything you need to know: breaking news, entertainment and a dash of fun. Learn more