The Best Cooking Tips From Moms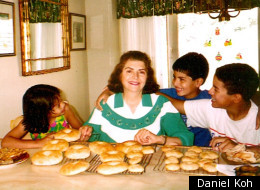 Whether our moms (and even grandmas) were culinary geniuses or hated to cook, many of them still found themselves putting dinner on the table to feed their families. And because of that cooking experience, these wise women in our lives have developed tricks of the trade when it comes to cooking.
If you're lucky, they shared some of their wisdom with you. Click through the slideshow below to see what culinary tricks the women in our lives have shared -- and share with us what you've learned from yours!
"Memories of visiting my dad's parents' house are dominated by one thing -- the scent of bacon. My Grandma Aiken saved all of her bacon fat in a jar that sat on her countertop (lord only knows for how long -- and I'm not recommending you do the same). She used it to cook everything -- potatoes, roasts, you name it. But the most memorable dish she made? Pancakes fried up in bacon fat. The aroma and flavors of the sweet cakes fried to salty, crisp perfection are unforgettable." -- Kristen Aiken

"Before serving food in a bowl, use a clean paper to wipe around the inner and outer circumference. It will make the presentation that much better!" "When toasting bread in the oven, stand near it the entire time so you don't forget to take it out quickly. Otherwise it's easy to forget it and it will burn!" -- Daniel Koh

"My earliest childhood memories of cooking originate with the presence of three generations of women. I would stand -- on my tippy toes -- on a kitchen chair and watch them every week while they prepared Sunday dinner. I can vividly remember my great-grandmother making Southern Italian dishes and slicing the ingredients directly over the pot. She handled every ingredient with care, but never thought twice about what she would add. In traditional fashion, there were never recipes in sight; only her vision for that week's family dinner. She would often hand me a spoon and ask me to stir the pot; I would light up with excitement. The results were never short of amazing. Some of my favorite dishes: sauce (or gravy) with meat (meatballs, pork, sausage, braciole), pasta e fagioli, eggplant parmesan, stuffed artichokes. My grandmother is still known today for her over the top trays of italian cookies that she brings to every special occasion. The 'trick' they used was to soak their poultry and pork in salt water to 'clean' it, but it was essentially brining." --Amanda Heckert

"My mom only cooked with one seasoning: salt. Her dishes were not exotic or exciting, but they were always really good. She taught me that if something doesn't taste quite right, add a little salt. That will almost always fix it." *You should of course use salt sparingly. -- Julie R. Thomson

"Put salt in boiling water, always use a wooden spoon, fresh pasta solves every problem." --Annemarie Dooling

"My last name might be Dolan, but it was my mom, née Tempestilli, and her mom that passed on the culinary wisdom. It's their red sauce -- known as gravy by people who roll in the NY and NJ Italian food circles -- that's the best kitchen trick they've imparted on me. It's deceptively simple, just a few cans of tomato this and that, but the whole is more than the sum of its parts. And, it opens the door to all of our family's favorite foods: spaghetti, baked ziti, eggplant parm, sauce in a bowl with a spoon... Oh, and they say always use some stale bread to lighten up the meatballs." -- Rebecca Dolan

"My mom's mom, Marion Carpenter, always has homemade desserts in the freezer, usually in the form of cookies, date bars, or lemon bars. Her desserts are always at-the-ready, and the best trick I've learned from her many years of baking experience is how to salvage broken egg shells from your batter. The only way to retract those pesky shards of shell is to use the shell itself to scoop them out-- the shells have a natural attraction to one another." --Kristen Aiken

"My mother-in-law's mother changed my relationship with food. In this piece I wrote for Salon.com, I talk about how she led me to appreciate seasonal cooking, subtle flavors and the cultural complexity of Indian food. Despite having lived in the country my entire life, it was because of Amma that I learned that Indian food isn't just the curries of the North and the dosas of the South. Amma taught me about the intimate connection between earth and kitchen -- lessons I'll carry around with me forever." --Riddhi Shah