Never misplace your keys again with this Craft Of The Day. The best part of this burlap tray? It'll look great in any room. Though we love it for organizing those little things in life that can get lost, we also think it would also make a lovely centerpiece (just add fruit!). Keep reading for the simple how-to.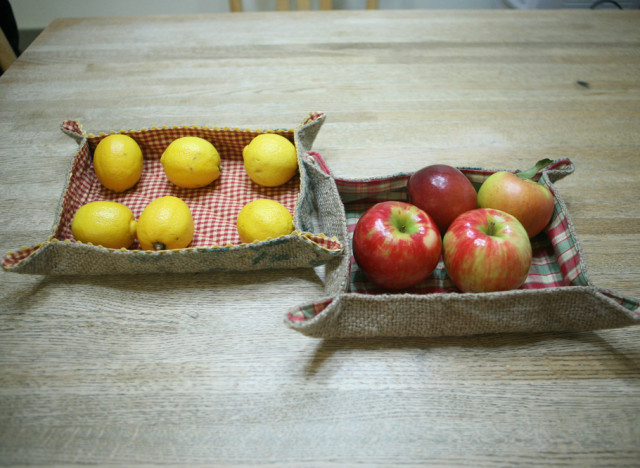 Flickr photo by ecokarenlee
What You'll Need:
Burlap fabric
Fabric lining for inside the tray
Padding or an extra thick fabric
Spray starch
Iron
Needle and thread
Sewing Machine
Ribbon or ric rac trim (optional)
How To Make It:
1. Spray the burlap with starch.
2. With a thin fabric on top, iron the burlap.
3. Cut the burlap, lining and padding to the size you want the tray to be.
4. Order your fabrics where the padding is on bottom, burlap is the middle and lining is on top (right side down).
5. Sew around the edges, leaving a quarter-inch allowance along there border and a three-inch opening.
6. Trim the corners.
7. In the three-inch opening, separate the burlap and lining and flip the tray inside out.
8. Hand baste the opening shut.
9: Optional: Sew ribbon or ric rac trim to the inner lining.
10. Quilt the fabric by sewing stripes or diamond shapes, which will help stiffen the tray.
11. Pinch the corners together and hand stitch.
For the full tutorial, visit Crafting A Green World. And, be sure to check out the other great crafts in our Craft Of The Day slideshow below.
PHOTO GALLERY
BEFORE YOU GO
Craft Of The Day
PHOTO GALLERY
Craft Of The Day