Food Informants is a week-in-the-life series profiling fascinating people in the food world. We hope it will give you a first-hand look at the many different corners of the food industry. Know someone who would make a great Food Informant? Tell us why.
Meredith Vachon and Rachel Ayotte met in Los Angeles in 2002 when Rachel was hired to join Meredith's team at a hospitality PR firm. As two Southerners (Rachel is from Arkansas and Meredith is from Texas) new to the City of Angels, they instantly connected over their shared love of good food, big laughs and chilled wine. After leaving the firm to explore separate avenues, one of which led Meredith to Austin, they found themselves at career crossroads with daily discussions about ways they could work together doing what they loved most--spreading the word about great food. Bread & Butter Public Relations opened in March 2007 with two clients and two home offices (dining room tables). Today, the company has over 50 clients, offices in Austin, Los Angeles, New York and San Francisco (real offices), and a steadily expanding team of employees. The good food, big laughs and chilled wine are now considered everyday perks of the job.
Read Rachel (Los Angeles-based) and Meredith's (Austin-based) diary below to learn how publicists balance clients and keep them happy.

Monday, April 30
Rachel:
6:30am: As the mom of a 2 year old with baby #2 due in a few weeks, sleep isn't coming easily these days, so I usually wake up around 5:30am. Which means, I'm ready for breakfast by 6:30 or so. This morning, I was psyched to dig into leftover sausage and cheese grits from one of our favorite neighborhood haunts, Auntie Em's. Being from the South, I love anything with grits, so my bowl of grits and coffee made for the perfect start to a busy week.
11:24am: We have a standing company meeting every Monday at 10:00am, so Monday mornings are usually a mad dash to get your thoughts together to share what you have going on for the week. We had our 10:00 a.m. meeting, then had an 11:30am call scheduled with Bon Appétit magazine to discuss a collaboration with one of our clients. Because I hadn't eaten since 6:30, I was starving and needed to quickly squeeze in a little snack. Luckily, we just had a lovely meeting with a potential new client last week who made us all individual kumquat loaves. I have no idea how to begin to eat and/or cook a kumquat, so this was one part learning exercise, one part delicious treat!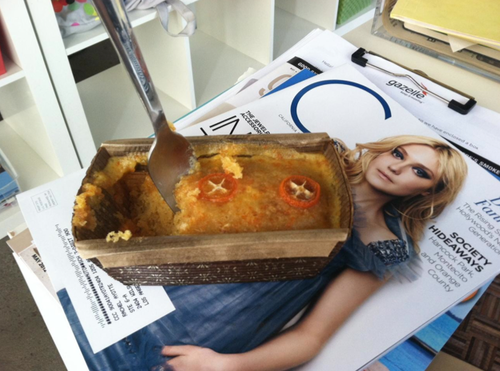 1:00pm: Unless I'm headed to have lunch at a client's restaurant or with a journalist, I'm usually at my desk during the day. We have a full kitchen in our office, so it's easy to cook, which is such a money saver, as well as way to eat well often. Today, one of our staff offered to get us lunch from one of my favorite sandwich shops in downtown LA, Mendocino Farms, and I couldn't resist. I had a Ham & Gruyere Grilled Cheese with honey ham, shaved gruyere cheese, a smoked gouda foundue, roasted tomatoes, Mendocino mustard on panini grilled rustic white with Sweet Potato Chips.
4:00pm: This time of day is always tricky because I am starving, but don't want to eat a lot and ruin dinner. For sure one of the best parts of working with food-centric clients is that we ALWAYS have some sort of snack or food item in the office. We're working with Patagonia, the awesome clothing company known for its outdoor gear, to help them launch their first-ever food line called Patagonia Provisions. Their first product is a smoked salmon jerky and I had to crack open a bag to stave off my afternoon munchies. As someone who only marginally likes salmon, I love this jerky!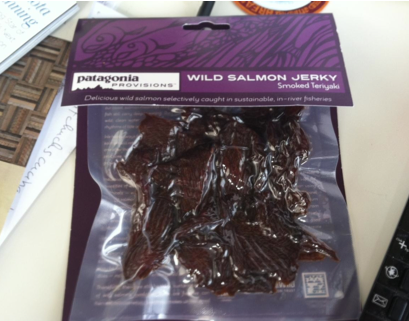 9:00pm: One of our clients, Mezze, is owned by two young guys who are receiving a lot of acclaim and they have started a series of late night dinners they call Industry Night. One of the owners, Mike Kassar, worked for Wolfgang Puck for years and the Chef/Owner, Micah Wexler, has worked for Tom Colicchio and Joel Robuchon, so they know a ton of amazing chefs who come to this roundtable to essentially discuss the topics and issues of the hospitality industry today. I got there at 9pm, late for a pregnant lady, and immediately downed two Iced Turkish Coffees so I could hang with the chefs.
10:00pm: Once we all sat down and started talking, the feasting began. I got to try some delicious Lebanese wine. As the menu at Mezze is Eastern Mediterranean, they have a large selection of wines from the region -- Israel, Lebanon, etc. -- that are unusual and interesting to taste.
11:15pm: One of the highlights of the night was that Bill Niman, who started Niman Meats and now owns BN Ranch, was there. Bill was one of the first farmers who worked to bring sustainable and humanely raised pork and meat to chefs and restaurants and I absolutely have a case of hero worship. We got to try some heritage turkey Micah prepared in several iterations -- turkey roulade, a baked turkey breast and fried turkey legs -- so delicious. In addition to Bill, some of the other guests included Ricardo Zarate, who is getting a lot of buzz for his modern Peruvian, Nyesha Arrington, who was a major contender on last season's Top Chef and Noah Ellis, one of the owners of Red Medicine, also a hotspot here in LA. Overall, it was a delicious night of fabulous food and really amazing company and I'm so glad I went. A major perk of this job for sure.
Meredith:
6:45am: Good morning Eve. The day begins with the first meal of the day -- a bottle of formula for my five-month-old, Evelyn, or Eve. I indulge for a sweet moment of quiet cuddle before the rush of day and notice a little congestion and some weepy eyes. Uh oh.
7:50am: Good morning Max. Next meal up, Rice Krispies and banana with juice for my three-year-old. My husband Sam is getting ready for work and choosing Max's outfit for a quick change after he's finished with his cereal.
8:30am: Kisses and hugs for Max and Sam. Boys are out the door, but me? I'm working from home today. This one doesn't look well.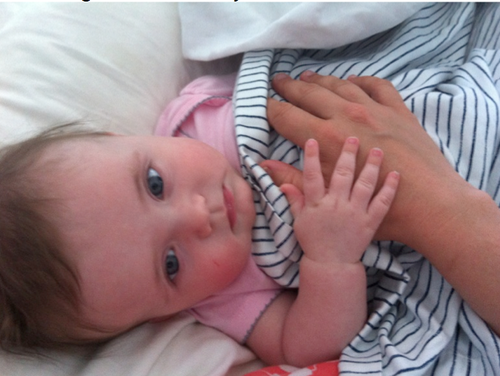 9:22am: Eve is snoozing in her swing so I feverishly get on my email and Gmail chat to check in with the team at the office.
10:15am: Phone rings, it's Chris McCray of McCray Designs with an update on our office redesign. Can we meet today? Nope. I've got a host monkey on my hands. We go over a few items such as fabric choice, final cost breakdown of the recent paint, furniture and labor. Approved? Yes. Did I like the new table he found for the entry? YES! Can his team work every night this week to finish things up? YES YES! We're almost through with the redesign and I can't wait to see the finished product. Having a space that is stamped inside and out with the BBPR brand is a dream. I feel a summer Open House coming...
11:30am: Oops...haven't eaten anything yet and if I'm going to lose the last 10 pounds of baby weight, I'd better. Veggie sandwich with flax bread, tzatziki, hummus, cucumber, tomato, carrots, lettuce and pepper jack, little squirt of lemon, salt and pepper...yum.

12:45pm: Just responded to a slew of media inquiries including confirmation that client, Peche in downtown Austin, will be featured on TastingTable.com, which is great news considering this was one of their goals when we began working together a month ago. Yay!
12:45pm: Email Susan Leibrock with our pro-bono client, Sustainable Food Center regarding their groundbreaking ceremony on the new facility. We need to iron out details like who is coming -- Public? Press? Will there be a press conference? If so, we'll need to write the script. I suggest a meeting so we can hash out all the details in person. This is the first step in a hugely important addition to our food community so we need to make sure we're promoting everything in the most thoughtful way possible.
1:10pm: Call the office to get updated on today's strategy session with clients, Peached Tortilla and Yumé Burger trailers. Clients want "national, national, national!" so we explain that yes, they deserve national praise (their food is creative and insanely tasty) however in order to get it, local press is necessary. Immediate goals: Austin Monthly, Texas Monthly, Wall Street Journal, Food Arts.
3:00pm: Call with my business partner and best friend, Rachel, to discuss various items including new website updates, Austin's upcoming trip to LA, how's our social media team doing, and how are you feeling?!? (Rachel is due with baby #2 any day now.) She's exhausted and excited...about right for the end of pregnancy.
5:15pm: Garage door opens and our Golden Retriever/Chow, Quincy, eagerly runs to the back door. Boys are home, work is through and it's time for me to get busy in the kitchen.
Tuesday, May 1
Rachel:
11:30am: Working in this industry, I think you develop an almost Pavlovian instinct to eat often. This seems to have spilled over to the entire office, as we'd all put in our lunch orders by 11:00am. An office day today, so salad it is!
12:00pm: Conference call with our sweetest client, Magnolia Bakery. Having to look at and talk about photos like this makes it hard not to want to run out and eat some cupcakes. Luckily, we do Magnolia events a lot, so there's never a shortage of goodness around. It's a miracle we don't all weigh 500 pounds.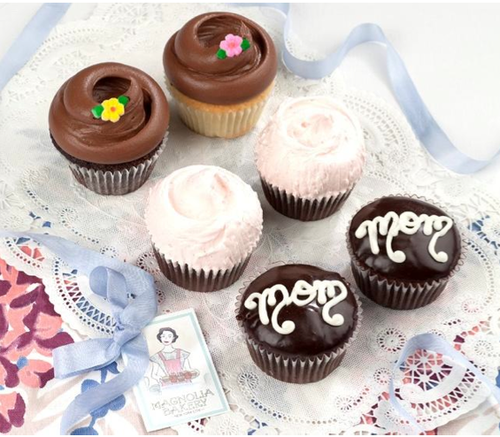 4:00pm: Meeting with our client Papilles, which is this super cute new restaurant that is in the bistronomic vein. They only have one prix fixe menu that changes weekly and the chef is awesome. Plus, the wine list is really esoteric (think Serbian reds) and it's always packed. We went today to take a photo of a foie gras dish for an upcoming story, as foie gras is being banned in the state of California starting July 1. Chefs and the media are going foie crazy.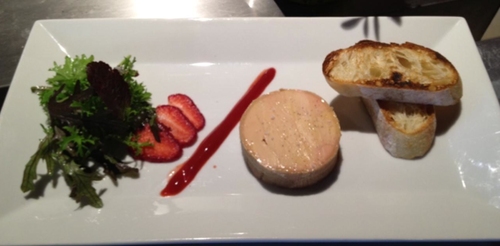 Meredith:
9:00am: Call with bookkeeper regarding a billing question and to go over outstanding invoices. Being reminded about past due money owed isn't the best way to start the day, but all in all, things look great.
10:00am: BBPR State of the Union meeting at the office. These occur every Tuesday morning and give all of us a chance to share successes, concerns, upcoming calendar items, etc. State of the Union seems strong: happy clients, lots of new business on the horizon, and a number of excellent press hits. Makes mama bear content...for now.
11:15am: Chris McCray pops in for a little design chat. What do I think of the fabric samples? I choose white linen. What are my thoughts on putting an old-fashioned oil lamp on the front desk? No thank you. Chris, will you please find me a funky upholstered chair and reading lamp for my office? Thanks.
12:10pm: Lunch break at Whole Foods. The Austin mothership is bustling with all kinds of people. It truly feels like the Dining Hall on a college campus -- a communal hub of activity and socializing. I love it here. Brown rice spicy tuna roll and albacore tataki it is. A bottle of Yerba Maté and I'm back in the car to eat at my desk.
1:10pm: Tackle to-do list: respond to about 15 emails, including one very important one to Iron Chef America producers; approve two media plans; draft two new agreements for new clients; look over new photos for Swift's Attic; book tickets to Los Angeles in June.
2:00pm: Kelsey, our New Media Account Executive, steps into my office to discuss BBPR social media before her weekly call with the LA social media team. She informs me that the group is concerned about the amount of content we're putting out via Twitter and Facebook and whether or not is being managed in the best way. Important concern, I agree. They have great ideas for managing content as we grow and I'm grateful to be surrounded by such smarties.
3:15pm: Meeting at office with White Lodging to discuss taking on PR for two additional projects. We currently work with White Lodging by representing Urban Grill at their Westin Hotel in north Austin. With the potential to add these two new projects to our roster, it's apparent that the partnership with White Lodging is an important one.
6:00pm: Dinner with White Lodging team at client, Swift's Attic. The restaurant is a block away from the future site of JW Marriott by White Lodging so this gives us a chance to introduce two clients and future neighbors. Dinner is outstanding and we leave energized and inspired to promote Chef Mat Clouser to the masses. There is nothing like an incredible meal at a client's restaurant to stoke the creative fire and remind me that I have the best job in the world. Two favorites of the evening: squid "fries" with roasted garlic aioli and charred lemon, and a flash fried red kale Caesar with silverfish, rye croutons and charred lemon. Splendid.


Wednesday, May 2
Rachel:
1:00pm: This morning was pretty uneventful, but I had a lunch with a local writer at one of our clients Enoteca Drago in Beverly Hills. It's this fabulous little trattoria owned by Celestino Drago, who is hands down one of the most talented Italian chefs in the city. They sent out one of their favorite dishes, burrata with baby market beets, pistachio cream and arugula. I, unfortunately, am not a big fan of beets (and by "not a big fan," I mean I hate them). It's always a challenge when chefs or clients send out a dish that you don't like. I've gotten pretty good at eating everything BUT the beets and/or pushing things around to make it look like I've eaten some of them. In this case, eating a lot of burrata wasn't so tough.
3:30pm: Wine Wednesday! Every Wednesday, we all take a break and hang out to drink wine (or some other alcoholic beverage) and have snacks and just talk. Everyone in the office takes turns bringing in whatever they want and it's just a yummy and fun mid-week treat. This week, our only guy employee, (who we all love and who was responsible for our first "Beer Wednesday") decided to do a little pre-Cinco de Mayo celebration with homemade sangria, chips, salsa and guacamole. No sangria for me, but the guacamole was just what the doctor ordered.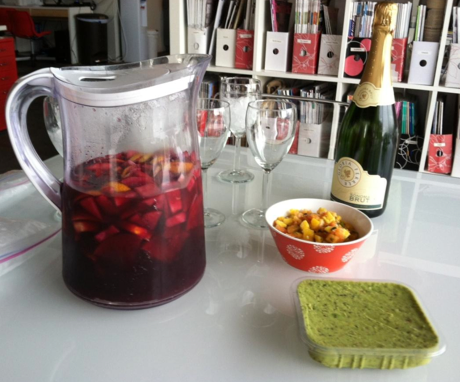 6:00pm: Went with my mom and some of her friends in town to the Pasadena Showcase House. It was super cool to see this big, beautiful house with each room redone by a local designer. Then, we all headed to one of our favorite Pasadena restaurants, Vertical Wine Bistro, to celebrate my mom's birthday. A highlight included a "Liquid Cupcake" cocktail at the end. I only had a teensy taste, but it was delicious.
Meredith:
9:00am: Coffee with a local editor to catch up on both of our work, which ends up being a discussion about the highs and lows of our inaugural Austin Food & Wine Festival which took place last weekend. We agree that it was a moderate success with room to improve, but that we can't wait for next year. I got a few good pitches in for clients, which will hopefully result in press and she gave a great lead on a new concept which we're going to approach. Successful coffee chat!
10:15am: I'm reminded that Marisa, Kelsey and Kristen from our office are in Dallas visiting our client, Lucky Layla Farms. I text Marisa to see how things are going and she responds with the following picture. It's testimony that with this job, every day brings a new adventure. Side note: can you believe these cows are on one of the oldest dairy farms in Texas which happens to be in North Dallas?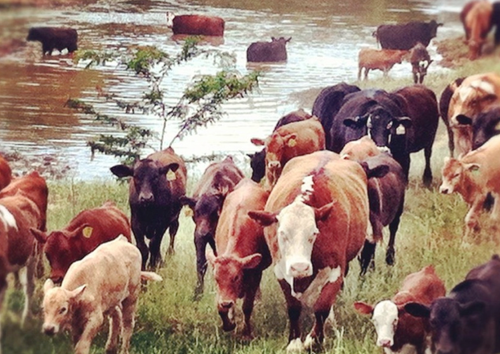 11:30am: Meeting at the BBPR office with a restaurant and wine bar opening in east Austin next year. The owner, a French sommelier (who is painfully adorable...did she just walk out of a French novel?) is nothing short of brilliant and has perfectly sketched out every detail of the concept. Any time a restaurateur puts this much thought into their place from the wall color to the placemats, it's a good thing and bodes well for success. We're buzzing with ideas and very excited!
2:00pm: I take a minute to check in with Lindsey in our office regarding Chef James Holmes and his very hectic schedule over the next two weeks with Chefs For Farmers in Dallas and the Atlanta Food & Wine Festival. She's kept meticulously detailed itineraries for him so everything seems in order.
3:15pm: Wine Wednesday! This weekly tradition started in the LA office and has become a ritual that we live for. Every Wednesday afternoon, we stop work and gather to share some wine and various yumminess. It's a mini vacation and much needed for morale and balance.
Thursday, May 3
Rachel:
7:30am: Throughout this pregnancy, I have craved biscuits and gravy. Being from the South, it's like my ultimate comfort food. I've become quite the pro at my sausage/gravy recipe. I had an early appointment this moring, so I couldn't do the whole shebang and had to just settle for biscuits. But, they definitely hit the spot.
11:00am: Headed to shoot "The Talk" with our client Susan Feniger, chef/owner of STREET restaurant here in L.A. This is her second appearance and the producers love her, which of course we love. We always have fun doing these shows. Today's menu was all about avocados for Cinco de Mayo.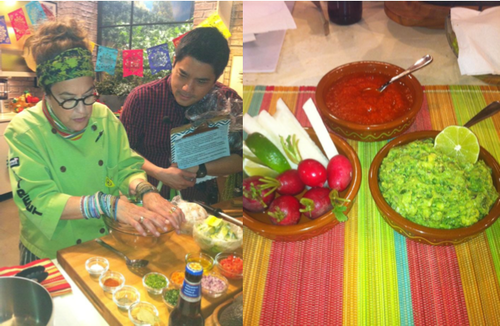 1:00pm: Had lunch with some friends visiting town and went to our client Drago Centro downtown. The space is so beautiful and urban and it was perfect weather today -- kind of overcast and cool -- for pasta. Celestino Drago has a signature pasta with housemade pappardelle, morels and pheasant that is one of my favorite things on earth. So, of course I had to have a big bowl of it.

6:00pm: I love pretty much any Mexican food and my mom is obsessed with the Green Corn Tamales at a local restaurant called El Cholo, which is a Los Angeles institution that has been around since 1923. The tamales are only available from May through October, so my mom was chomping at the bit to get the first taste of the season and invited us to dinner with some friends of hers.
Meredith:
9:00am: By a small miracle, everyone slept until 8:00 this morning! After breakfast, bottle-feeding, brushing teeth, outfit picking and dressing, and plenty of kisses and "Have a good day! I love you," Sam and the littles leave for daycare and I relish in the quiet house with my iced coffee. Lately, with rising temperatures making hot coffee a sweat-fest, I've become obsessed with a local cold brewed coffee, Chameleon Cold Brew. Ice, skim milk and a dash of Truvía...mmmm...
11:30am: At my desk staring at my inbox and watching it fill with the usual mix of client correspondence, press inquiries, updates from Rachel and industry newsletters, but all I can think about today is the lunch I packed: quinoa salad with tomatoes, green onion, cucumber, lime, cilantro, avocado and sour cream. It's not too early to eat it, right? Nah. I'm going to get it.
2:00pm: New business meeting with a brilliant cookbook author who has just inked a lucrative deal to turn one book into a series of five. She's seeking both PR and talent management. We have a lovely meeting that's equally informative and fun, and I leave wanting to be her friend. Proposal is up next and hopes are high.
Friday, May 4
Rachel:
6:00am: While our dogs were in our backyard this a.m., I snapped this photo of an artichoke plant from our garden that we've allowed to bloom. We had a wonderful summer garden last year and the artichoke was the only plant we didn't pull out. Unfortunately, we had a little bug infestation and the artichokes weren't that tasty. But, I read an article in a magazine that said artichoke plants can be used in place of shrubs and that if you let the artichoke bud bloom, they're gorgeous flowers. Now, I have proof!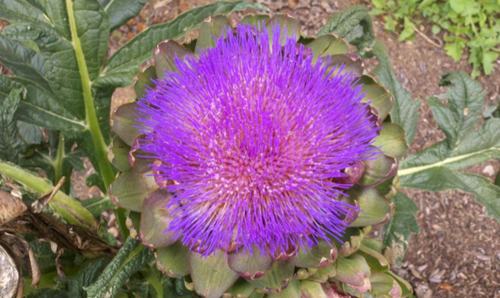 1:15pm: We didn't order out for lunch today and I didn't bring anything, which meant I had to rummage around in our fridge/freezer for something to eat. Luckily I had some frozen Indian fare from Trader Joe's. Chicken Tikka Masala and Saag Paneer are two of my favorite foods ever. I would also like to point out that these plates are salad size, so my meal looks massive. However, I did eat the entire thing.
6:15pm: It's been a long week and I'm beat. We ordered pizza and I think I went to sleep at 8:30pm.
Meredith:
10:00am: I meet Marisa for a meeting with Chef Parind Vora at his home to discuss his two new restaurants opening this summer. This meeting is by far my favorite of the week because Parind truly has an urban farm in the middle of the city. He has told us about his animals and gardens many times, but I had no idea the place was this special. Two goats, several chickens, geese, ducks, turkeys, and a varied selection of vegetables and fruit trees keep Chef Parind very busy. This little lady was my favorite: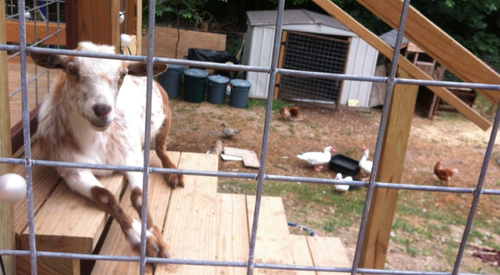 12:00pm: Weekly company-wide conference call with our biggest client, California Pizza Kitchen. This campaign gives us a chance to all work together as a team, which is so fun and is lending to good results. Client seems happy, which makes Rachel and me very happy.
12:30pm: I start reviewing Friday media reports from Marisa, Mallory, Lindsey, Kelsey and Kristen for each client. I'm grateful for each of their hard work and dedication, and proud of the work that was done this week.
2:00pm: Late lunch. A banh mi from the Banh Banh Trailer. Several friends have texted and or tweeted about it this week, saying it's the best in town. I'll be the judge. Mmmmhmmm...everyone is right! This is legit!
7:15pm: I end the week with my cozy little family at one of my favorite places and a client, Lucy's Fried Chicken for some much-needed relaxation. One sip of my Lucy Basilia cocktail and bite of a cold Gulf oyster and...bring on the weekend.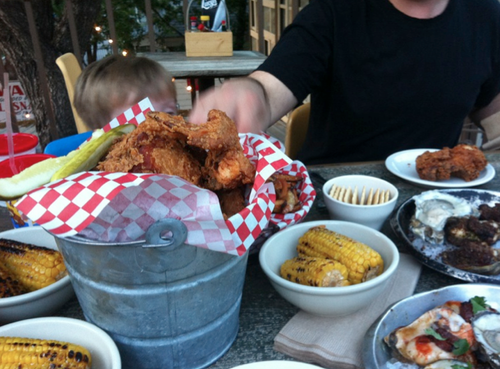 Saturday, May 5
Rachel:
7:15am: Made everyone pancakes before my husband went to work at our daughter's school and my daughter and I went to work outside. I planted some vegetables for our summer garden, weeded and moved some grasses around. Kirby helped me dig and the dogs laid in the sun. It was lovely.
5:30pm: We went to dinner at one of our client's, Tom Bergin's, first nights of service. It's a revamped Irish pub (L.A.'s oldest Irish pub to be exact) and it was very cool. They're doing a steakhouse menu at the back of the restaurant and an old school Irish bar at the front. Being that I can't drink, I focused my energies on eating things like fried chicken skins with blue cheese sauce and jacket potatoes, essentially a twice baked potato with some bacon on it. I couldn't really take a lot of photos since they were still working out the kinks, but I did snap this shot of my husband's porterhouse. I can't wait to go back.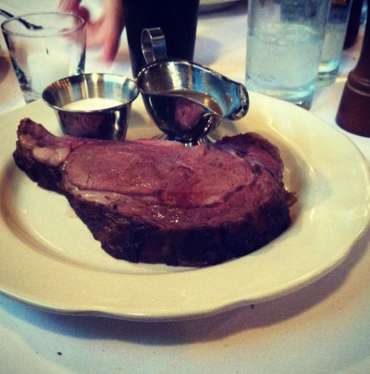 Meredith:
6:00am: Eve wakes.
6:30am: Max wakes.
6:33am: My husband proves he's a saint when he says "I've got them. You sleep." OH MY GOD, I love you soooo mu...zzzzzzzz....
10:00am: I bound down the stairs, bright-eyed and bushy-tailed ready to greet the day. A fun afternoon lies ahead at Contigo for their first anniversary party.
3:00pm: Contigo, a local favorite, is celebrating their first anniversary by having a free crawfish boil open to the public at 5:00, but "special friends" are invited at 3:00. We roll up our sleeves and dive in to a gorgeous plate of spicy bugs. An ice-cold Modelo Especial makes it perfect.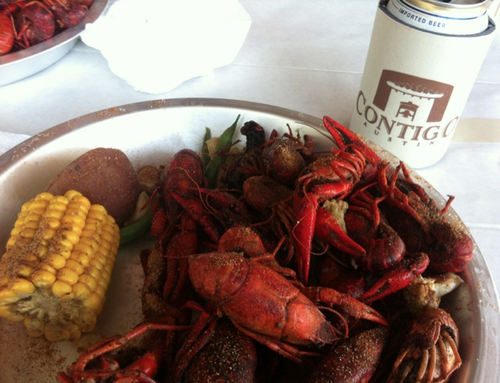 Sunday, May 6
Rachel:
11:30am: Big day of eating today! I started at Taste of the Eastside, an event we did the press the press for and are just general fans of, since I live on the Eastside of LA. The event is fun because it celebrates the chefs and restaurants of the Eastside of LA, which tends to be more eclectic and creative (yes, I'm totally biased). It was at a beautiful park called Barnsdall Art Park that is the home of Frank Lloyd Wright's Hollyhock House and overlooks the Hollywood sign and Griffith Park Observatory. Our client, Little Dom's, participated and did their BBQ Oysters, which are unreal. Even Ruth Reichl is a fan. I kept going back and was afraid they were going to make me leave the table so as not to embarrass myself.
2:15pm: Nap.
5:00pm: Chef Micah Wexler, owner of our client Mezze, was one of the 5 featured chefs for the Cochon 555 L.A. event, so of course we had to go and represent. It was at House of Blues on Sunset Blvd. and the mix of an interesting music venue with wall-to-wall pork was pretty cool. The Mezze team ruled with their own signature Cochon t-shirts. And hors d'oeuvres. Yes, that's just a jar of bacon. The concept of Cochon is that chefs have to use a pig, snout to tail. Mezze did that and then some, even offering a bacon cocktail.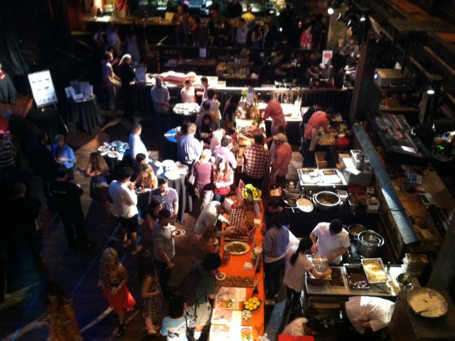 See more Food Informants below:
Loading Slideshow
Ann Cooper, School Lunch Reformer

A graduate of the Culinary Institute of America, Hyde Park, New York, Ann Cooper has been a chef for more than 30 years including positions with Holland America Cruises, Radisson Hotels, Telluride Ski Resort as well as serving as Executive Chef at the renowned Putney Inn in Vermont. She has been featured in The New Yorker, The New York Times, The Washington Post, The San Francisco Chronicle, The Chicago Tribune, Newsweek, and Time Magazine and has appeared on NPR's 'Living on Earth,' ABC's Nightline, CNN, PBS' To The Contrary and the CBS Morning Show and many other media outlets. Ann has shared her knowledge and experience by speaking at the Smithsonian Institute, the National Restaurant Association, the Heifer Foundation, Chefs Collaborative, the International Association of Culinary Professionals and numerous conferences. She has been honored by SLOW Food USA, selected as a Kellogg Food and Society Policy Fellow, and awarded an honorary doctorate from SUNY Cobleskill for her work on sustainable agriculture. <strong><a href="http://www.huffingtonpost.com/2013/10/09/ann-cooper_n_4038062.html?utm_hp_ref=food-informants" target="_hplink">Read Ann's diary here</a>.</strong>

Harlen Wheatley, Buffalo Trace Master Distiller

Harlen Wheatley has been the Master Distiller at Buffalo Trace Distillery since 2005. Born in Mount Sterling, Kentucky, in 1969, Harlen has spent almost all of his life in the Bluegrass. After relocating and spending much of his youth in Florence, KY, Harlen attended Northern Kentucky University, attaining his degree in chemistry. He then migrated to work full-time at a chemical company in Central Kentucky while completing a chemical engineering degree at the University of Kentucky, gaining formal training in distillation and separation techniques. Harlen joined the Distillery as a supervisor in 1995. Not long after, the Distillery was rechristened and the flagship Buffalo Trace Bourbon was introduced. It marked a new era in the Distillery's esteemed history and Harlen continued to make his mark as he was promoted to Distillery Manager in 2000. Harlen was named Master Distiller in 2005, becoming Buffalo Trace's sixth Master Distiller since the Civil War. Having worked in every aspect of production from raw materials to barrel aging, as Master Distiller, Harlen has driven many initiatives, including solidifying standards and consistency, quality focus and efficiency gains. He is active in overseeing a number of distilling and aging operations in various locations, all while promoting and educating the public on bourbon whiskeys. <strong><a href="http://www.huffingtonpost.com/2013/09/25/food-informants-harlen-wheatley_n_3977285.html?utm_hp_ref=food-informants" target="_hplink">Read Harlen's diary here</a>.</strong>

AvroKO, Restaurant Design Firm

New York-headquartered design-and concept firm AvroKO is equally adept at the varied disciplines of architecture, furniture, graphics and even fashion. AvroKO's four partners -- William Harris, Greg Bradshaw, Kristina O'Neal, and Adam Farmerie -- each contribute a unique vision to the firm's multifaceted design mission. The four principals first met at University and officially joined forces to design a client's company from top to bottom, bringing their distinct design backgrounds to bear on the process. Since its creation, AvroKO has grown to a staff of over 46 in its NYC office, 20 in its Bangkok office, and 5 in its recently opened San Francisco office. Their active portfolio of architecture projects, including restaurants, bars, hotels, and retail, are taking place currently in 7 countries and 15 cities worldwide. <strong><a href="http://www.huffingtonpost.com/2013/09/18/avroko_n_3901286.html?utm_hp_ref=food-informants" target="_hplink">Read AvroKO's diary here</a>.</strong>

Ryan Sutton, Food Critic

Ryan Sutton wishes he were at a Russian bathhouse right now, steaming his face with a bowl of spicy Georgian lamb soup before hitting the banya for some 220F shvitzing. Instead, he's holed up in midtown Manhattan, fact checking an upcoming price increase at one of New York's most expensive restaurants. Such is the life of Bloomberg News' New York food critic and the founding editor of The Price Hike and The Bad Deal. <strong><a href="http://www.huffingtonpost.com/2013/09/11/food-informants-ryan-sutton_n_3900164.html?utm_hp_ref=food-informants" target="_hplink">Read Ryan's diary here</a>.</strong>

Stella Rankin, Partner At Pinch Food Design Catering

Stella Rankin is a partner of start-up catering company Pinch Food Design. She was recently nominated for the Bizbash Readers Choice Award for Best Caterer in New York City.
 Originally from Australia, she lives in NYC, has two Pomeranians, and is a big fan of Broadway. <strong><a href="http://www.huffingtonpost.com/2013/09/04/stella-rankin-pinch-food-design_n_3832164.html?utm_hp_ref=food-informants" target="_hplink">Read Stella's diary here</a>.</strong>

Peter Kim, Executive Director Of The Museum Of Food & Drink

Peter Kim became the Executive Director of the Museum of Food and Drink (MOFAD) in May 2012. Before that, he served as counsel to the museum as an attorney at Debevoise & Plimpton LLP. As a Peace Corps volunteer, he founded and directed a rural arts-based public health program in Central Africa. He also served as an Emerson Fellow for the Congressional Hunger Center and worked at the USDA, where he advised state agencies on food stamp outreach. <strong><a href="http://www.huffingtonpost.com/2013/08/28/food-informants-museum-food-drink_n_3823618.html?utm_hp_ref=food-informants" target="_hplink">Read Peter's diary here</a>.</strong>

Chef Quinn Hatfield, Training For A Cycling Competition

Quinn Hatfield has worked with David Bouley, Wolfgang Puck and Jean-Georges Vongerichten before helming his own kitchen in 2003. In 2006, Quinn and his wife Karen opened Hatfield's -- Karen designed the space, Quinn assembled the kitchen equipment and together they created the menus. In July 2012, the Hatfields opened their newest project, The Sycamore Kitchen: a hip, neighborhood eatery for house crafted, seasonally focused fare, and sweet and savory rustic pastries. When not in the kitchen, Hatfield enjoys outdoor sports including surfing, skateboarding, snowboarding and rock climbing. He is currently training with his Olympic coach and competing in track cycling events, with credits including placing 5th in the men's kilometer time trial at the 2012 USA Cycling Elite Track National Championships and two "top 20" and "top 10" finishes in the Elite National Championships. The Hatfields have two young children, daughter Paige, and son Bennett. <strong><a href="http://www.huffingtonpost.com/2013/08/07/quinn-hatfield_n_3688869.html?utm_hp_ref=food-informants" target="_hplink">Read Quinn's diary here</a>.</strong>

Jay Gilbertson & Ken Seguine, Hay River Pumpkin Seed Oil Founders

Jay Gilbertson and Ken Seguine produce the first pumpkin seed oil made in the U.S.. With a strong commitment to create jobs in their local community, the long-term vision is for Northwest Wisconsin to become known as where America's pumpkin seed oil is produced. The oil works as a vinaigrette salad dressing, bread dip, or drizzled on soups, cooked vegetables, popcorn or even ice cream. Jay is an author of the Madeline Island series, and is from Eau Claire, WI. Ken is from Los Angeles. The couple has been together 18 years. <strong><a href="http://www.huffingtonpost.com/2013/07/24/food-informants-pumpkin-seed-oil_n_3604767.html?utm_hp_ref=food-informants" target="_hplink">Read their diary here</a>.</strong>

Izetta Chambers, Alaska Salmon Fisherman

Company founder and managing member Izetta Chambers is the driving force behind Naknek Family Fisheries. She organized the LLC in October 2006 and has been managing it seasonally since that time. Izetta is a graduate of the University of Arizona College of Law, where she earned her Juris Doctorate in 2008. Izetta serves as the MAP Agent/Assistant Professor for the Marine Advisory Program, an extension partnership between the University of Alaska Fairbanks and Alaska Sea Grant program. Izetta lives in Dillingham with her husband, Chet, their children, Noah and Lovina. Izetta (a.k.a. "the fish lady") has participated in the Bristol Bay fishery since the age of 9 years old, when she began setnet salmon fishing with her brother, Everett Thompson. <strong><a href="http://www.huffingtonpost.com/2013/07/17/food-informants-izetta-chambers_n_3562289.html?utm_hp_ref=food-informants" target="_hplink">Read Izetta's diary here</a>.</strong>

Dominique Ansel, Cronut Maestro

Dominique Ansel served as the Executive Pastry Chef for Restaurant Daniel under chef Daniel Boulud for six years. During his tenure, the restaurant won its first 3-star Michelin rating, a 4-star New York Times review and James Beard's Outstanding Restaurant of the Year Award in 2010. In 2013, Chef Ansel received his own James Beard Award nomination as a finalist for Outstanding Pastry Chef at his eponymous bakery. (Pictured is a DKA, not a cronut). <strong><a href="http://www.huffingtonpost.com/2013/07/10/food-informants-dominique-ansel-cronut_n_3562955.html?utm_hp_ref=food-informants" target="_hplink">Read Dominique's diary here</a>.</strong>

Sarah Allman, Pastry Chef At A Diamond Mine

Sarah Allman has been baking in her own kitchen, bakeries and high-end restaurants for the past 12 years. A native of Peterborough, Ontario (an hour outside of Toronto), she developed her passion for baking at a young age, unknowingly apprenticing with her great grandmother at the age of eight. In February, she left her job at a bakery five kilometers from her home to bake her wares over 3500 km away, at Diavik Diamond Mine, 200 km from the Arctic Circle in the Northwest Territories. The only thing she loves more than being in the kitchen is being with her four kids, which is why she took the job with the longer commute. She works a two-week rotation at the Diamond Mine, which allow her to spend two work-free weeks with her kids every month. When she worked at the bakery she was starting her day at 7am and on Saturdays -- this left only one full day with her kids. Working at Diavik for Bouwa Whee Catering, she continues to be a mom at home and it extends to her work family at the mine, who love her baked goods and eat more than their share. Her peanut butter brownie cups have become a mine favorite, to the point that workers stock up before they head home. <strong><a href="http://www.huffingtonpost.com/2013/07/02/food-informants-sarah-allman_n_3518272.html?utm_hp_ref=food-informants" target="_hplink">Read Sarah's diary here</a>.</strong>

Izabela Wojcik, James Beard Director Of House Programming

Izabela A. Wojcik is the Director of House Programming for the James Beard Foundation, a nonprofit organization founded in 1986 that is dedicated to celebrating, nurturing and preserving America's diverse culinary heritage and future. Wojcik oversees more than 250 special events held at the historic James Beard House, which features chefs, pastry chefs and winemakers from across the United States and beyond. In her role as head of House programming, Wojcik has a rolodex of culinary and beverage professionals from around the world. Part of her responsibility is engaging in constant dialogue with influencers in the epicurean industry, thereby, staying on top of the latest gastronomic trends. Wojcik frequently appears on panels concerning food and cooking. She holds a B.S. degree from the Cornell University School of Hotel Administration in Ithaca, New York. Her culinary experience also includes positions at Marriott and Omni Hotels, Tribeca Grill and Osteria del Circo restaurants. A self-taught chef, she is proud to have been selected to cook at the four-star Chanterelle, as well as First in New York. Wojcik resides in Brooklyn with her journalist husband and son. <strong><a href="http://www.huffingtonpost.com/2013/06/26/food-informants-izabela-wojcik_n_3466547.html?utm_hp_ref=food-informants" target="_hplink">Read Izabela's diary here</a>.</strong>

Larry Austin, Whole Foods Detroit Store Manager

Larry Austin got his start in the grocery world as a bagger, cashier and stocker at the Detroit chain Farmer Jack's in 1988. He headed to Ann Arbor soon after and stocked the grocery, dairy and frozen sections at Arbor Farms for a few years before joining Whole Foods Market's Ann Arbor store as a receiver in 1999. Larry worked his way up from receiver to grocery buyer and eventually Grocery Team Leader, then went on to manage multiple departments in various stores across the Midwest. Now he's running the show as Store Team Leader -- that's what the people at Whole Foods Market call the store manager -- at the company's highly anticipated Detroit store, which opened June 5. Larry's at the helm. <strong><a href="http://www.huffingtonpost.com/2013/06/12/food-informant-larry-austin-whole-foods-detroit_n_3385005.html?utm_hp_ref=food-informants" target="_hplink">Read Larry's diary here</a>.</strong>

Jay Isais, Senior Director Of The Coffee Bean & Tea Leaf

Nearly seven million pounds of coffee beans pass under Jay Isais's eyes and nose each year at The Coffee Bean and Tea Leaf's Research and Distribution facility in Camarillo, CA. Isais oversees the blending and roasting of all of those beans. Isais began his career in the early '80s with Hillside Coffee. He then held operations management and buying positions at Brother's Gourmet, Gloria Jean's, Coffee People Worldwide, and Diedrich Coffee before joining The Coffee Bean & Tea Leaf in 2000. Isais's primary responsibility day to day is making sure the quality of Coffee Bean & Tea Leaf's coffee is, as he says, "perfect from start to finish." To accomplish this, he evaluates shipments of green beans, working with Master Roaster Jesse Martinez-Beltran on finding the perfect roasts for each varietal, or blend, and tasting the brewed product. Isais also spends much of his time sourcing coffee from the finest coffee farms around the world, establishing and maintaining one-on-one relationships with coffee growers at the points of origin -- a hallmark of the company's philosophy. Isais is a founding member of the Roasters' Guild, is a volunteer instructor for the Specialty Coffee Association of America and a certified judge for the Cup of Excellence® program. He is also a licensed Q grader and an APICS Certified Supply Chain Professional. Isais is additionally a judge at cupping competitions around the world, most recently the Hawaii Coffee Association's cupping competition. <strong><a href="http://www.huffingtonpost.com/2013/06/05/food-informants-jay-isais-coffee-bean-tea-life_n_3354978.html?utm_hp_ref=food-informants" target="_hplink">Read Jay's diary here</a>.</strong>

Aaron Franklin, Barbecue Guru

Aaron and his wife Stacy debuted Franklin BBQ in late 2009 on an East Austin parking lot. From the walk-up window of a travel trailer turned brisket stand, patrons quickly noticed the Franklins were selling the best barbecue around. By spring, the line of admirers snaked around the block, and the press followed. In less than two years, the duo could count contributors from The Washington Post, Texas Monthly, and Cooking Channel among a growing chorus hailing Franklin among America's BBQ elite--mentioned in the breath as Smitty's, Kreuz's and other stalwart temples to the holy craft of smoked meat that line the Central Texas brisket belt. In the summer of 2010, Bon Appetit hailed Franklin BBQ as the best in America. Aaron and Stacy quickly outgrew their trailer, and moved their operation to a brick and mortar location in March of 2011. And despite the new digs and every reasonable effort to increase production, Franklin BBQ's line is as long as ever, and the restaurant has sold out of brisket every day of its existence. <strong><a href="http://www.huffingtonpost.com/2013/05/29/food-informants-aaron-franklin-barbecue_n_3346669.html?utm_hp_ref=food-informants" target="_hplink">Read Aaron's diary here</a>.</strong>

Daniel Boulud, Chef

Daniel Boulud, a native of Lyon, France, is today considered one of America's leading culinary authorities and one of the most revered French chefs in New York, the city he has called home since 1982. Daniel is chef-owner of db Bistro Moderne, DBGB Kitchen and Bar, Bar Boulud, Café Boulud, Boulud Sud and Épicerie Boulud. In all his restaurants you'll find the warm welcome the chef is renowned for, combined with traces of the soulfully satisfying traditional cooking he grew up with on his family's Rhône Valley farm. Yet Daniel Boulud is best known for New York's exquisitely refined DANIEL, the three Michelin-star Relais & Châteaux restaurant. You'll also discover the chef's French-American cooking in Miami and Palm Beach, Florida and internationally in London, Singapore, Beijing, Montréal and Toronto. Boulud is the author of seven cookbooks, the recipient of three James Beard Foundation awards, including Outstanding Chef and Outstanding Restaurateur and was named a Chevalier de la Légion d'Honneur by the French government, as well as Chef of the Year 2011 by The Culinary Institute of America. He is a generous and energetic supporter of Citymeals-on-Wheels, serving on their board of directors since 2000 and is also co-founder and Chairman of the Bocuse d'Or USA Foundation. <strong><a href="http://www.huffingtonpost.com/2013/05/22/food-informants-daniel-boulud_n_3306825.html?utm_hp_ref=food-informants" target="_hplink">Read Daniel's diary here</a>.</strong>

Josh Reynolds, President Of World's Largest Maraschino Cherry Company

Josh Reynolds is the president of Gray & Company, home of the CherryMan brand and producer of more than two billion maraschino cherries a year. Although Gray & Company started in Oregon in 1908, Josh's family has been involved since 1982. After graduating from Colby College, Josh worked as a producer and on-air talent for one of Portland's top radio stations. He returned to the family business in 1996, earned his MBA from the University of Michigan in 2001, and was promoted to president in 2008. As president, Josh directs sales, marketing, operations strategy and all new product development initiatives. Outside of work and cherries, you'll find Josh spending time with family, volunteering in the Portland community, staying in shape and playing music. Josh is currently involved with the I Have a Dream Foundation of Oregon, the National Cherry Growers and Industries Foundation, and the Young President's Organization Oregon Evergreen Chapter. For all his accomplishments in both business and the community, Josh was named one of Portland Business Journal's "Forty Under 40." Married with two sons, Josh relishes spending their weekends on Mt. Hood where they ski, hike and relax. <strong><a href="http://www.huffingtonpost.com/2013/05/15/food-informants-josh-reynolds-cherry_n_3196199.html?utm_hp_ref=food-informants" target="_hplink">Read Josh's diary here</a>.</strong>

Debi Mazar & Gabriele Corcos, Living On $1.50 Per Day

Actress Debi Mazar and her Tuscan-born husband, Gabriele Corcos host "Extra Virgin" on the Cooking Channel. They recently participated in the Live Below The Line Challenge, a campaign that encourages people to think about poverty in new ways. They each had $1.50 per day to spend on food -- the U.S. equivalent of the extreme poverty line. As a family of four, their weekly budget was $30 for five days of meals. <strong><a href="http://www.huffingtonpost.com/2013/05/08/food-informants-debi-mazar_n_3209264.html?utm_hp_ref=food-informants" target="_hplink">Read Gabriele & Debi's diary here</a>.</strong>

Paul Tanguay & Tad Carducci, Cocktail Consultants

Paul Tanguay and Tad Carducci are beverage consultants and partners in Mercadito Hospitality group. In this role, they create and manage the beverage programs at the group's concepts throughout the country, including Tavernita, Little Market Brasserie and Mercadito in Chicago as well as Mercadito in Miami and New York. Most recently, the Bros. and the Mercadito Hospitality group are currently developing Tippling Hall, a new concept in Chicago's River North neighborhood that will debut later this summer. <strong><a href="http://www.huffingtonpost.com/2013/05/01/food-informants-tippling-bros_n_3154728.html?utm_hp_ref=food-informants" target="_hplink">Read Paul & Tad's diary here</a>.</strong>

Heather Bailie, Fatted Calf Charcuterie Director of Operations

Heather Bailie discovered a passion for all things meat as a young girl. Inspired by her father and grandfather's hunting adventures, Bailie learned at an early age that cooking and butchery are about mindful involvement in what you eat. This philosophy followed her throughout her culinary career. After obtaining a degree from the California Culinary Academy in 2006, she worked in Michelin one-star restaurants -- Acquerello in San Francisco and Ubuntu in Napa -- before changing course to learn butchery and charcuterie full-time. Yearning to get back to her roots, she pursued work with Toponia Miller and Taylor Boetticher at their artisanal charcuterie in Napa, The Fatted Calf. Working at the Fatted Calf that gave Bailie her foundation for cooking, but also life: work hard, work smart, do your best, never underestimate your abilities, and then work even harder! Bailie quickly moved up the ranks; she was promoted to Kitchen Manager and then Production Manager. In 2012, she was made Director of Operations and Partner. She oversees the Fatted Calf's two retail stores in Napa and San Francisco and a team of 40 skilled meat enthusiasts company wide. Together the stores produce a variety of handcrafted salumi, sausage, pates, confits and roasts, as well as fresh cuts of pork, lamb, beef and poultry. <strong><a href="http://www.huffingtonpost.com/2013/04/03/food-informants-heather-bailie-fatter-calf_n_2992356.html?utm_hp_ref=food-informants" target="_hplink">Read Heather's diary here</a>.</strong>

David Padberg, Executive Chef Of New Restaurant

Raven & Rose Chef David Padberg is a veteran of some of Portland, Oregon's greatest restaurants. Beginning his career as a pastry chef in Kansas City, he quickly moved up the line. In short succession, he trained with James Beard Award winning chefs, at a Swiss chalet, and with Wildwood's Cory Schreiber, developing his palate and skill with seasonal ingredients. In 2003 Padberg became the opening sous-chef at clarklewis. In 2004 he was hired by Park Kitchen's Scott Dolich as Executive Chef, where he was known as "One of the great forces that moved Park Kitchen forward." Now at the recently-opened Raven & Rose, Padberg's menu reflects both the history of the 1883 Ladd Carriage House as well as the traditions of rustic cuisine -- taking inspiration from both early American farmhouse cooking and the culinary traditions of Ireland and the British Isles. <strong>Read David's diary here.</strong>

Thomas Szymanski, Celebrity Cruises' Senior Traveling Corporate Executive Chef

"Working as a chef on a ship is unlike anything I've experienced on land. I spend time in kitchens all over the world's oceans, and from the moment you step onboard, it's rock-and-roll, and I don't mean the ship moving. I mean it's crazy fast, so intense sometimes that you can't even believe the day has passed. And it's like music, fast and rich and full of life. Music is my thing. I cook with it, I hear it even when it's not playing, it's in my head. Food cooked with music stirring the soul is food cooked with extra passion. There's not much difference between a chef and an orchestra conductor. We're both artists in what we do, and we both are at the center of many critical pieces, parts and players. When it all works together, it's pure harmony, from the bottom of the heart. So how did I get here? I was born in the small town of Konskie, Poland. As a little boy, I spent much time in my mother's kitchen. I'll never forget the cheese crepes she made in the mornings, the smell would make sure that I would get out of bed and get right to work. At the age of 15, I discovered my passion for food, when helping on my grandparents' farm, with butchery. I then moved to Germany to help my sisters with their restaurants. Since then, I've worked with many great chefs, and have been trained in French and European techniques. In 20 years as a chef, I've learned many styles, including modern approaches such as molecular gastronomy and sous-vide - and here I am. And it's been a long, road to where I am today, in Hawaii, on Celebrity Century. I can't even begin to count all the countries I've visited in the last 20 years. A few days ago, I was in South America, in Montevideo, Uruguay, where I left Celebrity Infinity, flew to San Diego, and on to Hawaii, where I boarded Celebrity Century to provide leadership to our hardworking team of cooks." <strong><a href="http://www.huffingtonpost.com/2013/03/13/food-informants-thomas-szymanski_n_2828207.html?utm_hp_ref=food-informants" target="_hplink">Read Thomas' diary here</a>.</strong>

David Harwell, Loews Concierge

David Harwell joined Loews Miami Beach Hotel four years ago starting out as a Front Desk Agent and then moving to Concierge. He currently belongs to the 100% Club, meaning he has been mentioned by the Corporate Mystery Shopper as someone who has provided outstanding service. In 2012, David was nominated and awarded the most prestigious honor that could be bestowed to any Loews Team member, The Loews Legend Award. David is not only passionate for his job as a Concierge but he also loves living in Miami Beach where he gets the opportunity to walk his beloved and very spoiled Italian greyhound "Samsom." Living in the middle of South Beach, David often thinks about things that would create a more lasting good impression on visitors. He believes a more efficient transportation system would make it easier for them to have access to other popular South Florida destinations such as Fort Lauderdale, West Palm Beach and the Keys. David was born and raised in a small town called Luka in Northeast Mississippi. He was raised by his parents and has a close relationship with his older brother and younger sister, and as David tells us, he is "crazy over his niece and nephew," whom he spoils at every chance he gets. <strong><a href="http://www.huffingtonpost.com/2013/03/06/food-informants-david-harwell_n_2790295.html?utm_hp_ref=food-informants" target="_hplink">Read David's diary here</a>.</strong>

Maile Carpenter, Editor-In-Chief Of Food Network Magazine

Maile Carpenter is the founding editor-in-chief of Food Network Magazine, a joint venture between Hearst Magazines and Food Network. The magazine launched in 2008 and quickly became the best-selling food title on newsstands. Prior to joining Hearst, Carpenter was the executive editor of Every Day with Rachael Ray. She started her career in newspapers, at the Wilmington Morning Star and Raleigh News & Observer in North Carolina, followed by Time Inc's FYI magazine, San Francisco Magazine and Time Out New York. Carpenter has a journalism degree from the University of North Carolina, Chapel Hill, and a culinary degree from the French Culinary Institute in New York. She is a two-time James Beard Award nominee and won a Beard Award for magazine feature writing in 2002. She lives in Manhattan with her chef-husband, Wylie Dufresne, and their two daughters. <strong><a href="http://www.huffingtonpost.com/2013/02/27/food-informants-maile-carpenter_n_2745020.html?utm_hp_ref=food-informants" target="_hplink">Read Maile's diary here</a>.</strong>

Harley Morenstein, Epic Meal Time Founder

Harley Morenstein, the host of the #1 online cooking show Epic Meal Time, started his career as a substitute teacher surrounding the metropolitan area of Montreal, Quebec. Harley stumbled upon Epic Meal Time after creating a Fast Food Pizza with his sidekick Muscles Glasses. The buzz from the first episode prompted Harley and his team to dedicate their lives full-time to all things Epic Meal Time. Every Tuesday Harley and the EMT team release a new episode of the show. They have also successfully launched a new cooking competition series called Epic Chef, and have grown an audience of over 3.5 million subscribers to date and counting on YouTube. <strong><a href="http://www.huffingtonpost.com/2013/02/20/food-informants-epic-meal-time_n_2697765.html?utm_hp_ref=food-informants" target="_hplink">Read Harley's diary here</a>.</strong>

Kenneth 'Cat Daddy' Pogson And Tres Shannon, Voodoo Doughnut Founders

Kenneth "Cat Daddy" Pogson and Tres Shannon have been friends for awhile. They always wanted to start a business together. Something that would fit into an extraordinary Portland business climate. Something fun, different and one for the ages. After much searching under rocks, tequilas, and Portland's under belly, they found what they were looking for... doughnuts!! Cat Daddy with his astute business sense, and Tres with his seemingly endless supply of connections, set forth to conquer Old Town, Portland. After a meeting with some Armenians and drumming masters, they were ready to set up shop in the "crotch" of Portland -- Old Town. Voodoo Doughnut is now coming up on it's 10th year of business. Cat Daddy loves spending time with his family and is a former roller derby, game show, & Portland organic wrestling announcer. Tres hosts Karaoke From Hell every Monday night at Dante's and is former owner of the famous all ages club, the X-Ray. Both Cat Daddy and Tres Enjoy life to it's fullest. World Doughnut Domination! <strong><a href="http://www.huffingtonpost.com/2013/02/06/food-informants-voodoo-doughnut_n_2580998.html?utm_hp_ref=food-informants" target="_hplink">Read their diary here.</a></strong>

Chris Rivard, Ben & Jerry's Flavor Guru

Chris Rivard graduated from the University of Vermont with a bachelor's degree in Nutrition & Food Sciences and Dietetics. He spent the first four years of his career working for a local nutrition company focused on providing high quality, functional food products to companies in the weight management industry. Chris then joined Ben & Jerry's R&D team, which is made up of five "Flavor Gurus" that are responsible for the product development and the quality problem solving across the business. Chris's primary focus is on global markets (Australia, Singapore and Japan, among others) as well as new market implementation. But R&D is very much a team effort: they all work together on new flavor innovations across all regions. <strong><a href="http://www.huffingtonpost.com/2013/01/30/food-informants-ben-jerrys-chris-rivard_n_2541809.html?1359578771" target="_hplink">Read Chris's diary here.</a></strong>

Ashley Palmer, PETA Employee

Ashley Palmer is the online marketing manager for People for the Ethical Treatment of Animals (PETA). Palmer oversees all of PETA's web projects, including the wildly popular "Sexiest Vegetarian" series of contests, online campaign initiatives, and celebrity features and videos. She got her start as the top coordinator for PETA Living, the lifestyle section of PETA's award-winning website, where her efforts resulted in a 1,100 percent increase in traffic to the PETA Living blog and accounts for 50 percent of all traffic to PETA.org. She lives in Los Angeles with her husband, Kevin, and two cat companions, Bo and Henry. <strong><a href="http://www.huffingtonpost.com/2013/01/23/food-informants-ashley-palmer-peta_n_2495951.html?utm_hp_ref=food-informants" target="_hplink">Read Ashley's diary here</a>.</strong>

Tink Pinkard, Professional Hunter & Fly-Fisher

Tink Pinkard is a professional hunting and fly-fishing guide located in the Texas Hill Country. His focus is to provide hunters the opportunity to hunt and harvest white tail deer, exotic species and feral hogs in a fair chase situation. He strives to not only educate a hunter on the basics of the hunt and harvest, but to promote and educate on the utilization of the complete animal "from nose to tail." He aims to do the same for his clients on the waters throughout Texas when he guides them fly-fishing. <strong><a href="http://www.huffingtonpost.com/2013/01/02/food-informants-tink-pinkard_n_2372755.html?utm_hp_ref=food-informants" target="_hplink">Read Tink's diary here</a>.</strong>

Matthew DuTrumble, Executive Chef Of Zynga

Matthew "Matty" DuTrumble has been the Executive Chef for Zynga -- the company that creates online games such as FarmVille and ChefVille -- since joining the team in 2009. At Zynga, Matthew leads a team focused on menu development, local product sourcing and cooking multiple meals and snacks. He joined Zynga after serving as a Chef Instructor at Le Cordon Bleu CCA in San Francisco. At Le Cordon Bleu CCA, Matthew focused on a broad range of disciplines, including Kitchen Production, Butchery, Banquets & Catering and Contemporary Cuisine. Matthew has appeared on The Food Network's "Private Chefs of Beverly Hills," and also ran his own catering company Matty's Fresh Meals Catering. Additionally, Matthew has served as a Chef at the Harker School, and spent time in the kitchens of The West Deck in Newport, Rhode Island, and Caffe Itri in Cranston, Rhode Island. Matthew studied at Johnson & Wales University in Providence, Rhode Island, where he obtained his culinary and business degrees. <strong><a href="http://www.huffingtonpost.com/2012/11/28/food-informants-matthew-dutrumble-zynga_n_2193463.html?utm_hp_ref=food-informants" target="_hplink">Read Matthew's diary here</a>.</strong>

Gregory Hall, Cider Maker

Gregory Hall, a craft brewer, is now at the helm of Virtue Brands, the new Chicago-based branch-to-bottle cider venture that uses Midwestern heirloom apples to produce a series of ciders. In his new role as ciderist, Hall hopes to bring craft cider to the level where craft beer is today in America in terms of quality, variety and accessibility to the consumer. Known for his 20-year tenure as brewmaster at the Goose Island Beer Company, Hall began his brewing career in 1988, the year his father, John Hall, opened the brewery. Greg attended Chicago's brewing school, the Siebel Institute, graduating in 1989. In 1992, Hall become the brewmaster of Goose Island Beer Company and under his direction, the brewery flourished and expanded its draft and bottle beer lines. Hall stepped down as Brewmaster of Goose Island in May 2011 to pursue cider making. He maintains his ties to Goose Island as a consultant. Greg Hall is a long-time supporter Chicago food community and many local organizations such as Slow Food Chicago, Chicago's Green City Market and the Chicago Rarities Orchard Project. He is an avid cyclist and currently resides in Chicago with his two children -- Sofie and Henry. <strong><a href="http://www.huffingtonpost.com/2012/11/21/food-informants-gregory-hall-cider_n_2144649.html?utm_hp_ref=food-informants" target="_hplink">Read more about Greg's week here.</a></strong>

Christophe Hille, Restaurant Owner Post-Sandy

Christophe Hille is the founder and co-owner of Northern Spy Food Co. in New York's East Village. Before opening Northern Spy, Hille was a personal chef to Annie Leibovitz and the executive chef of A16 in San Francisco. He holds an MS in Nutrition & Food Studies from New York University. <strong><a href="http://www.huffingtonpost.com/2012/11/14/food-informants-christophe-hill-northern-spy-sandy_n_2119497.html?utm_hp_ref=food-informants" target="_hplink">Read Christophe's diary here.</a></strong>

Steve Smith, Tea Maker

Steve Smith is one of the world's leading tea makers and entrepreneurs. In 1972, Smith was a young partner in the first natural foods store in Portland. Expanding on these roots -- and the joys of tea learned from his grandmother and time spent in Southeast Asia -- he and two partners founded the Stash Tea Company. The trio introduced herbal and specialty black teas to retail and food service accounts throughout North America, eventually growing to become one of the largest-selling food service specialty tea brands in the country. When Stash was acquired in 1993 by Yamamotoyama, the oldest tea company in Japan, Smith left to pursue a new vision, which came to be known as Tazo. Smith is credited in developing over 60 proprietary blends in multiple beverage formats -- many of which remain Tazo's top selling teas today. In January of 1999 Tazo was acquired by Starbucks, and Smith and his team continued to lead the company until January of 2006. Parting ways with Starbucks and Tazo in 2006, Smith moved to Avignon with his wife, Kim and their 10-year-old son. But after a year, the path of tea called them all back to Portland. He's now perfecting his new signature line: Steven Smith Teamaker. <strong><a href="http://www.huffingtonpost.com/2012/11/07/food-informants-steven-smith-tea-maker_n_2065393.html?utm_hp_ref=food-informants" target="_hplink">Read Steve's diary here.</a></strong>

Jenny McCoy, Pastry Chef

Jenny McCoy is a New York City-based professional pastry chef turned home baker. She's the co-founder of Cissé Trading Company, a cookbook author, culinary instructor and authority on all things sweet. <strong><a href="http://www.huffingtonpost.com/2012/10/31/food-informants-jenny-mccoy-cisse-trading_n_2009096.html?utm_hp_ref=food-informants" target="_hplink">Read Jenny's diary here.</a></strong>

Lee Schrager, New York Wine & Food Festival Founder

Lee Brian Schrager serves as the Vice President of Corporate Communications & National Events at Southern Wine & Spirits of America, Inc. He joined the company in 2000 and oversees projects for the company in all 35 states in which it does business. Most noteworthy in Schrager's resume is his creation of the South Beach Wine & Food Festival in 2002 and the Food Network New York City Wine & Food Festival in 2008. <strong><a href="http://www.huffingtonpost.com/2012/10/24/food-informants-lee-schrager_n_1989586.html?utm_hp_ref=food-informants" target="_hplink">Read Lee's diary here.</a></strong>

David Venable, QVC Host

David Venable is the host of the popular QVC program "In The Kitchen With David" which airs every Wednesday at 9pm and Sundays at noon. David Venable joined QVC as a program host in 1993 and has since helped establish and build the multimedia retailer's gourmet food business. Venable also serves as a primary host for other QVC programming. Prior to joining QVC, Venable was an anchor/reporter for WOAY -- TV in Oak Hill, W. Va., and CBS-affiliate WTAJ -- TV in Altoona, Pa., where he hosted its weekly public affairs talk show "Action Newsmakers." He also hosted the Children's Miracle Network telethon for four years. Venable earned his bachelor's degree in radio, television and motion pictures from the University of North Carolina, Chapel Hill, N.C. He just released his debut cookbook which has been flying off the shelves. <strong><a href="http://www.huffingtonpost.com/2012/10/17/david-venable-food-informants_n_1959484.html?utm_hp_ref=food-informants" target="_hplink">Read David's diary here.</a></strong>

Kareem Hajjar, Restaurant Lawyer

Kareem T. Hajjar's bar and restaurant law practice includes the representation of approximately 400 bars and restaurants located throughout Texas and includes the formation of corporate entities, real estate acquisition and leasing, zoning and other land use and municipal issues, trademark acquisitions, Texas Alcoholic Beverage Commission permit acquisition, employment agreements, mergers, acquisitions, and reorganizations to private offerings of debt and equity securities, venture capital transactions and contract negotiations. Kareem has served on the Board of Directors of the Austin Young Chamber of Commerce, the Advisory Council for the Texas Wine and Food Festival, the Leadership Council for the Ronald McDonald House of Austin, the Board of Directors for FloralBurst, the Membership Committee of the Texas Food and Wine Foundation, and the Bulletproof Committee for the Lone Star of Texas Rodeo. <strong><a href="http://www.huffingtonpost.com/2012/10/10/food-informants-restaurant-lawyer_n_1933294.html?utm_hp_ref=food-informants" target="_hplink">Read Kareem's diary here.</a></strong>

Carolyn Ottenheimer, Kettle Brand Chip's Chief Flavor Architect

Carolyn Ottenheimer is the Chief Flavor Architect for Kettle Brand Chips in Salem, Oregon. She's responsible for developing and defining the flavor and quality attributes of all Kettle Brand products -- the base snack and the seasoning blends that are applied to the various flavors. She also defines the quality standards of all of the products and ensures that the process facilities have tools with which to monitor chip quality. She confirms that all of the products meet the claims that are being made on the packaging -- like "gluten free." Finally, she checks that production facilities have food safety programs. <strong><a href="http://www.huffingtonpost.com/2012/09/26/food-informants-carolyn-ottenheimer_n_1911190.html?utm_hp_ref=food-informants" target="_hplink">Read Carolyn's diary here.</a></strong>

Emil Grosso, Balducci's Food Buyer

As Vice President of Business Development for Balducci's, Emil Grosso is in charge of scouring and searching for the purveyors of quality available across the U.S. and around the world. From farms to fields to forests, he selects foods for Balducci's markets and catering services -- handpicking the best coffee beans, artisan breads and produce. Now, Emil is also sourcing quality ingredients for Balducci's Gourmet on the Go Café, the latest Balducci's food destination in New York City. The Café opened this past March, and it marked the return of Balducci's gourmet foods to Manhattan and was conceptualized and realized by Emil over the past two years. The new Café, located in the Hearst Tower on the corner of 56th Street and Eighth Avenue, serves an array of foods, made with locally sourced produce from New York City urban farmers and features breads and pastries from the city's best bakeries. Emil is constantly on the road, meeting new people in the food world and taking a lot of trips to find the best-of-the-best throughout the country to bring back to NYC. <strong><a href="http://www.huffingtonpost.com/2012/09/12/food-informants-emil-grosso_n_1861861.html?utm_hp_ref=food-informants" target="_hplink">Read Emil's diary here.</a></strong>

Eric Brenner, Gluten-Free Chef

Chef Eric Brenner has multiple food allergies in his family and years of experience cooking for food-sensitive restaurant customers. Named the 2008 Top Chef and Chef of the Year by multiple publications in St. Louis for his former restaurant MOXY Contemporary Bistro, he has now brought his culinary style to BOLD Organics, a line of gluten-free, dairy-free, lactose-free, casein-free, whey-free, egg-free, peanut-free and tree nut-free frozen pizzas that contain no GMOs, preservatives, nitrites, nitrates or trans-fats. Working together with 21-year-old company founder Aaron Greenwald, Brenner has created a new line of gluten- and allergen-free products that meet the dietary restrictions of the tens of millions who suffer with food sensitivities. <strong><a href="http://www.huffingtonpost.com/2012/09/05/food-informants-eric-brenner-gluten-free_n_1846865.html?utm_hp_ref=food-informants" target="_hplink">Read Eric's diary here.</a></strong>

Rudy Marchesi, Biodynamic Wine Maker

Rudy Marchesi assumed ownership of Montinore Estates in 2006, but has had a hand in the estate since 1992 when he lead the fine wine department of the distribution house of Allied Beverage. In 1998, he began consulting on Montinore's vineyard management, winemaking and marketing. He became Vice President of Operations in 2001 and President in 2003. Marchesi obtained the Demeter Biodynamic certificate in 2008, which certifies wines based on the strict principles of biodynamic farming. This process involves an organic approach that treats the soil with fermented manure, minerals and herbs.

Zach Zamboni, Anthony Bourdain's Cinematographer

Zach Zamboni is a cinematographer. Logging more than 10,000 hours of camera work throughout the world, Zach has been awarded two Emmy's for Non-Fiction Cinematography (2009, 2011), and is nominated for a third. He's shot more than 70 episodes of the highly successful travel series "Anthony Bourdain: No Reservations," and "The Layover." Between shooting documentaries and features, he's finishing a screenplay about the spooky side of traveling. Follow his adventures on Twitter @zachzamboni. Find him at www.zachzamboni.com. <strong><a href="http://www.huffingtonpost.com/2012/08/15/zach-zamboni-food-informants_n_1765003.html?utm_hp_ref=food-informants" target="_hplink">Read Zach's diary here.</a></strong>

Matt Cohen, Food Truck Organizer

Originally from Denver, Matt Cohen moved to Japan and became obsessed with ramen and classic Asian night markets. When he returned to the States, he settled in the Bay Area and founded Tabe, a late-night ramen cart. In 2010, Matt founded <a href="http://offthegridsf.com/" target="_hplink">Off the Grid</a>, a network of street food vendors, effectively bringing much of the feeling of an Asian night market state-side. He does everything from recruiting and approving new vendors, to dealing with the intricate process of acquiring permits and clearance for the growing number of weekly markets. At the heart of Off the Grid is a genuine love for the concept of bringing people together in a social urban environment and providing fledgling operations a jumping-off place for their endeavors. In a week, Off the Grid works with upwards of 100 small businesses, and with 18 weekly markets and growing, that constructive interaction is only bound to grow. Matt's most recent endeavor is The <a href="http://www.sffoodlab.com/" target="_hplink">SF Food Lab</a>, a business launched with two other industry veterans. The Food Lab offers a test kitchen space and dining are for entrepreneurs and small businesses to develop their products and cuisine, with all the tools necessary. That said, quickly approaching Off the Grid's second anniversary, Matt hasn't lost his love for street food -- you can usually find him at one of his markets every night of the week. <strong><a href="http://www.huffingtonpost.com/2012/08/09/food-informants-off-the-grid_n_1759442.html?utm_hp_ref=food-informants" target="_hplink">Read Matt's diary here.</a></strong>

Adam Keough, Chef Preparing For A James Beard Dinner

Since taking the reins as Executive Chef at Absinthe Brasserie & Bar in late 2010, Chef Adam Keough has garnered a three-star review and inclusion in the 2011 and 2012 "Top-100 Bay Area Restaurants" list from the San Francisco Chronicle, a first for the restaurant since opening in 1998. A Boston native and Michael Mina Group vet, Keough has years of fine dining experience in restaurants across the country. He is also a two-time James Beard Foundation semifinalist for national "Rising-Star Chef of the Year," in 2007 and 2008. <strong><a href="http://www.huffingtonpost.com/2012/08/01/adam-keough-food-informants_n_1710342.html?utm_hp_ref=food-informants" target="_hplink">Read Adam's diary here.</a></strong>

Ashley Archer, Culinary Producer Of 'The Chew'

Ashley Archer has 10 years of restaurant experience including three years at Prune in New York City. She was a Senior Culinary Producer at Food Network, where she worked on shows including Iron Chef America, Next Iron Chef, Tyler's Ultimate, Guy's Big Bite and more. She was also a food stylist for Emeril Live, Essence of Emeril, Next Food Network Star, Rachael Ray and more. Now, she's the Culinary Producer at The Chew and the co-editor of the new Chew cookbook, which debuts September 25. Archer lives in Washington Heights with her husband and two-year-old daughter. <strong><a href="http://www.huffingtonpost.com/2012/07/25/food-informants-the-chew_n_1689537.html?utm_hp_ref=food-informants" target="_hplink">Read Ashley's diary here.</a></strong>

Shawn Askinosie, Chocolate Maker On A Trip To Africa

Shawn Askinosie is the founder and chocolate maker of Askinosie Chocolate. Since founding Askinosie Chocolate after working in criminal law for 20 years, Shawn's social business model has been featured in O, The Oprah Magazine and numerous other publications. Shawn sells his chocolate throughout the U.S. and exports to stores around the world. He received an Honorary Doctorate of Public Affairs degree in May 2012 to "recognize his contributions as a community leader, an entrepreneur, a role model and an inspiration to students and others." <strong><a href="http://www.huffingtonpost.com/2012/07/18/food-informants-shawn-askinosie_n_1668658.html?utm_hp_ref=food" target="_hplink">Read Shawn's diary here.</a></strong>

Andrew Zimmern

Andrew Zimmern is a James Beard Award-winning TV personality, chef, food writer, teacher and is widely regarded as one of the most versatile and knowledgeable personalities in the food world. As the creator, host and co-executive producer of Travel Channel's hit series, "Bizarre Foods with Andrew Zimmern," "Andrew Zimmern's Bizarre World," and his new series, "Bizarre Foods America," he travels the globe, exploring food in its own terroir. Zimmern is a contributing editor at Food & Wine, an award-winning monthly columnist at Mpls-St. Paul Magazine and a senior editor at Delta's Sky Magazine. He resides in Minneapolis, Minnesota with his wife Rishia, son Noah and several un-eaten pets. <strong><a href="http://www.huffingtonpost.com/2012/07/11/food-informants-andrew-zimmern_n_1654620.html?utm_hp_ref=food" target="_hplink">Read Andrew's diary here.</a></strong>

Anthony Butler, Soup Kitchen Director

In June of 2005, Anthony Butler took the position as Executive Director at St. John's Bread and Life. During his tenure there, he has worked to meet the growing need of emergency food in the community, provide those services with the greatest dignity and develop strategies to reduce individuals and families need for emergency food. In June of 2008, Bread and Life moved into a new $8,000,000 state-of-the-art facility; featuring expanded space, a digital choice food pantry, medical offices, a library, a non-denominational chapel, classroom, demonstration kitchen, and proper space to meet the increased demand of Bread and Life's guest, fully paperless data collection, and swipe card system for hot meals. Throughout this, Bread and Life has grown to a $3,000,000 annual budget and has served over 500,000 meals annually. As part of Bread and Life's commitment to providing nutritious food, it has grown its partnership with the sustainable food community. Over the past two years Bread and Life has brought over $200,000 worth of sustainably grown New York State products into the community. It continues to partner with the Brooklyn and New York food community to address the issues of Hunger and poverty. <strong><a href="http://www.huffingtonpost.com/2012/07/03/food-informants-soup-kitchen_n_1643465.html?utm_hp_ref=food" target="_hplink">Read Anthony's diary here.</a></strong>

Jeni Britton Bauer, Ice Cream Maker

Jeni Britton Bauer has created ice cream for more than 15 years. Drawing from her traditional pastry training and a pantry of exceptional ingredients, the Columbus resident continues to perfect the frozen desserts for which her company, Jeni's Splendid Ice Creams, is known. Jeni first discovered her love for dessert while working at La Chatelaine bakery in Columbus, Ohio. Her passion for ice cream eventually led to the opening of her first ice cream shop, Scream, in 1996 in Columbus' North Market. With the help of her business partner and husband Charly, she founded Jeni's Splendid Ice Creams in November 2002 in the same market where she operated her first scoop. Now, Bauer is the owner and creative director of eight elegant scoop shops in central Ohio, one in Chagrin Falls, Ohio, and one in Nashville, Tennessee, with individual pints available online and in freezer aisles throughout the United States. Her ice cream has been praised by Time magazine, the Washington Post, USA Today and countless other media outlets throughout the country. In June 2011, Artisan Books published "Jeni's Splendid Ice Creams at Home." Now in its sixth printing, The New York Times best-selling cookbook has been dubbed "the homemade-ice cream-making Bible" by The Wall Street Journal, while The Washington Post proclaimed Jeni "an ice cream wizard." In May 2012, Jeni's Splendid Ice Creams at Home won a James Beard Media Award in the "Cookbook: Baking & Desserts" category. When Jeni isn't developing new flavors, she devotes time to Local Matters (the Columbus-based, fresh-food-for-all non-profit she co-founded), as well as reading, painting at her kitchen table, sewing, drinking wine, cooking and making big messes with her husband and two children at their home in Columbus. <strong><a href="http://www.huffingtonpost.com/2012/06/27/food-informants-jenis-splendid_n_1616712.html" target="_hplink">Read Jeni's diary here.</a></strong>

Amanda Hesser & Merrill Stubbs, Food 52 Founders

Amanda Hesser is an entrepreneur, best-selling author and has been named one of the 50 most influential women in food by Gourmet. As a longtime staffer at the New York Times, Hesser wrote more than 750 stories and was the food editor at the Times Magazine. She has written the award-winning books "Cooking for Mr. Latte" and "The Cook and the Gardener," and edited the essay collection "Eat, Memory." Her last book, a Times bestseller and the winner of a James Beard award, is The Essential New York Times Cookbook. Hesser is a trustee of Awesome Food, and is an adviser to the Spence Foundation, Real Time Farms and Fondu. Merrill Stubbs grew up in New York City and after graduating from Brown University with a degree in Comparative Literature, she honed her cooking skills at Le Cordon Bleu in London. Later, she interned in the test kitchen at Cook's Illustrated and was a private chef and cooking instructor. While she was in Boston, she also worked with Joanne Chang at Flour Bakery + Café. Merrill met her Food52 co-founder Amanda Hesser when she signed on to help research and test recipes for The Essential New York Times Cookbook. She has written for T Living, Edible Brooklyn and Body+Soul, and she was the food editor at Herb Quarterly. She lives in Brooklyn with her husband and their 4-month-old daughter. <strong><a href="http://www.huffingtonpost.com/2012/06/13/food-informants-food52_n_1586150.html?" target="_hplink">Read Amanda and Merrill's diary here.</a></strong>

Emiliano Lee, Cheesemonger

Emiliano Lee comes from a long line of grocers and his passion for cheese dates back to his childhood in Oakland, where he could be found stealing bites of Rouge et Noir brie from the wheel in his father's desk drawer and spending his allowance at the 6th Avenue Cheese Shop in San Francisco. After working as a cheesemonger throughout the country, Lee is now the Artisan Market Manager for Farmshop in Los Angeles. Since 2009, Lee has served as a judge for the American Cheese Society, affording him the opportunity to taste thousands of cheeses from hundreds of North American producers, and provide them with valuable aesthetic feedback. Additionally, Lee participated in the 2010 Cheesemonger Invitational, served as a panelist at the 2011 Sonoma Valley Cheese Conference, and most recently was a panel moderator at the 2011 American Cheese Society Conference. <strong><a href="http://www.huffingtonpost.com/2012/06/06/food-informants-cheesemonger_n_1567473.html?" target="_hplink">Read Emiliano's diary here.</a></strong>
CORRECTION: An earlier version of this entry mentioned that Rachel ate at Casa Bianca on Monday night. She meant to say that she ate there on Friday.