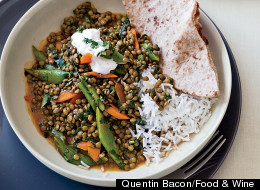 For many of us, making dinner is an afterthought -- especially after a long day of work. A healthy dinner is just what you need to re-charge, and it's easy to put together if you've got a good game plan -- sometimes the hardest part is finding a recipe. The good news is that we've got 50 healthy recipes for you right here. Take a spin through our gallery and find what you're going to make for dinner tonight.
A host of Indian spices flavor this lentil curry, which is packed with vegetables like green beans and carrots. Dollop with yogurt and serve with rice and flatbread. Get the Green Lentil Curry recipe

Salmon is a great choice for a healthy dinner since it's packed with omega-3. But instead of plain broiled fillets, try this recipe, which uses a spice rub of ground cumin and chili powder. Get the Baked Spiced Salmon with Basmati Rice and Asparagus recipe

This braised chicken dish features all the flavors of a traditional Moroccan tagine but removes all the skin and fat to make things healthier. For ease of prep, use frozen artichoke hearts and frozen peas. Get the Chicken Tagine with Artichoke Hearts and Peas recipe

Steamed fish may sound like a boring dinner, but that's not true with this recipe. The bass is cooked in a flavorful sauce of ginger and sesame and topped with frizzled jalapenos and scallions. Get the Steamed Wild Striped Bass with Ginger and Scallions recipe

This robust chili is packed with protein from lean ground turkey and vegetable protein. Serve with a dollop of Greek yogurt instead of sour cream. Get the Black Bean Chili for a Crowd recipe

Soup makes a great dinner option especially when it's full of fresh flavor and lean protein. This recipe features low-calorie shirataki noodles and lean beef tenderloin in a chicken broth. Get the Quick Vietnamese Noodle Soup with Beef recipe

If you've got broken lasagna, don't throw it away. Use it in this simple supper recipe made with sauteed garlic and baby spinach. Get the Broken Lasagna with Garlic and Baby Spinach recipe

This recipe showcases the freshness of spring and summer vegetables including morel mushrooms, asparagus, corn and tomatoes. It's a great side for grilled lean flank steak. Get the Grilled Flank Steak with Corn, Tomato and Asparagus Salad recipe

Smoked paprika gives these lean turkey cutlets a Spanish flair. Top them with a mixture of jarred roasted red peppers, olives and toasted almonds. Get the Grilled Turkey Cutlets with Olives and Almonds recipe

Frittatas aren't just for breakfast -- they make a quick and easy dinner too especially when served alongside a healthy salad. This recipe features spring asparagus and cottage cheese, which creates a fluffy texture. Get the Asparagus Frittata recipe

Skinless chicken legs are a good option for those who prefer dark meat to white meat but want to cut down on the fat. Once these drumsticks are marinated in yogurt and Indian spices and grilled, you won't even miss the skin. Get the Grilled Tandoori-Style Chicken Drumsticks recipe

This healthy Asian-inspired dish features crispy seared salmon atop a bed of brothy rice noodles and bok choy. Garnish with sliced scallions. Get the Crisp Asian Salmon with Bok Choy and Rice Noodles recipe

On their own roasted vegetables make a great side dish, but when tossed with whole-wheat pasta you've got a healthy meal. Get the Whole Wheat Rigatoni with Roasted Vegetables recipe

Poached chicken and low-starch sweet potatoes combine with prepared pesto to create this flavorful meal. With only five ingredients have dinner on the table in 30 minutes. Get the Chicken and Sweet Potato Salad with Pesto Vinaigrette recipe

Make these lean lamb burgers under the broiler and serve with a cooling Greek-style salad topped with crumbled feta cheese. All you need are olive oil and lemon juice for a dressing. Get the Greek-Style Lamb Burgers recipe

A warm orange and fennel salad makes the perfect pairing with lean pork chops. To carry over the fennel theme, the pork chops are coated in fennel seeds. Get the Pork Chops with Orange and Fennel Salad recipe

Goat cheese helps create a creamy sauce without the use of cream on this pasta recipe. Roasting the eggplant concentrates the flavor, basically caramelizing the vegetable. Get the Fusilli with Roasted Eggplant and Goat Cheese recipe

This lasagna may look way too indulgent buy it's actually healthy. Instead of frying, the eggplant slices are grilled. Then they're stacked with noodles, tomato sauce and skim ricotta and topped with skim mozzarella before baking. Get the Grilled Eggplant Lasagna recipe

Tahini (sesame paste) mixed with Greek yogurt makes a healthy and flavorful sauce for grilled chicken breasts. Serve with a green salad and flatbreads. Get the Middle Eastern-Inspired Chicken with Tahini Sauce recipe

This hearty vegetable soup is just right for dinner on a cold rainy day. Borlotti beans and farro, a wheat-like grain, ensures it's filling. Get the Mixed Vegetable and Farro Soup recipe

A fresh sauce of scallions, lemon juice, cilantro and olive oil works as a flavorful dressing for grilled tuna steaks. Serve with rice for a complete dinner. Get the Grilled Tuna with Lemony Scallion Sauce recipe

This pasta dish relies on fresh tomatoes and basil, which means there's no cooking involved. A pesto of roasted almonds and anchovies adds lots of flavor. Get the Spaghettini with Tomatoes, Anchovies and Almonds recipe

This elegant dish looks like it's straight from a four-star restaurant, but it's easy to create yourself when you prep everything ahead of time. Before searing the grouper, make the sauce in the blender and slice up the cucumber. Get the Grouper with Cucumber Salad and Soy-Mustard Dressing recipe

These grilled chicken breasts benefit in flavor from a homemade harissa pasta of paprika, chipotle, garlic, cumin and caraway. Serve with a simple tomato salad. Get the Harissa Chicken with Green-Chile-and-Tomato Salad recipe

You won't be hungry after eating this hearty and healthy recipe, which has sweet Italian pork sausage served with chickpea stew and barley. Get the Italian Sausage and Chickpea Stew over Barley recipe

You only need a few tablespoons of butter to help the chopped herbs adhere to the fish. Wrapping each fillet in lettuce helps lock in moisture during baking. Get the Herbed Fish Wrapped in Lettuce recipe

Lean pork tenderloin takes on the flavors of Jamaica in this grilled recipe. Serve with a refreshing jicama and pineapple salsa. Get the Jerk Pork Tenderloin with Pineapple Sauce recipe

Instead of regular tomatoes, use cherry tomatoes to make a quick pasta sauce -- it's faster and just as flavorful. A garlicky almond pesto ties all the flavors together. Get the Pasta with Cherry Tomatoes and Almond Pesto recipe

Bulgur is so easy to prepare because you don't need to cook it -- just pour boiling water on it to soften. It's a great choice for a quick and healthy entree salad, like this recipe with shrimp, baby spinach and radishes. Get the Lemony Bulgur Salad with Shrimp and Spinach recipe

Pineapple salsa is a great condiment for seared fish. Here it's served atop mahimahi fillets, but you could also try swordfish or whatever's fresh in the fish market. Get the Mahimahi with Cumin Oil and Pineapple Salsa recipe

It may be surprising, but firm tofu actually holds up well on the grill. In this recipe it takes on Mediterranean flavors with a piquillo salsa topping. Get the Grilled Tofu Steaks with Piquillo Salsa Verde recipe

If you've never tried the combination of fish and pasta before, you will love it after this dish. A spicy fresh tomato sauce dresses meaty chunks of swordfish and penne pasta. Get the Penne Rigate with Spicy Braised Swordfish recipe

Pork tenderloin is a great choice for kebabs because it gets nice and brown on the outside but stays tender and moist on the inside. This recipe works well on the grill or under the broiler. Get the Pork Kebabs with Couscous recipe

If you don't have time to make meatballs for your spaghetti, try this quick recipe. It features a flavorful ragu-style sauce made with extra-lean ground beef, served atop whole-wheat spaghetti. Get the Spaghetti with Quick Meat Sauce recipe

All you need are olive oil, lemon and rosemary to flavor this easy recipe for roast chicken. Add cubed root vegetables to the baking dish and you've got a complete dinner. Get the Rosemary and Lemon Baked Chicken recipe

These Greek-inspired patties are made with couscous, crumbled tofu, spinach and feta. They're a great choice for a protein-filled vegetarian meal. Get the Feta and Spinach Couscous Patties recipe

If you're looking for a simple and effortless fish dish, this one is it. All you need are salt, pepper and olive oil to dress the halibut fillets before roasting. Top each with a slice of lemon and garnish with chives. Get the Roasted Halibut with Olive Oil and Lemon recipe

This Vietnamese stir-fry features asparagus, cauliflower and bell peppers with the lively flavor of lemongrass. Instead of fish sauce use soy sauce to keep things vegetarian. To make the dish lower in fat use light coconut milk. Get the Stir-Fried Vegetables with Lemongrass recipe

With this recipe you get two jolts of protein -- from the quinoa and the spicy roasted shrimp. A fresh herb pesto adds a jolt of flavor to the quinoa. Get the Quinoa with Spice-Roasted Shrimp and Pistou recipe

These meatballs are so good, you don't even need pasta. Panko breadcrumbs ensures the lean turkey meatball stay fluffy and moist. Get the Turkey Meatballs in Marinara Sauce recipe

The next time you're craving the flavors of take-out, make a healthier version at home instead of ordering out. This recipe has extra-firm tofu and a number of Asian veggies. Get the Tofu, Veggie and Sesame Fried Rice recipe

Soba noodles make a very healthy option when it comes to choosing pasta for dinner. In this recipe the brightness of lime and cilantro help heighten the flavor of grilled shrimp. Get the Soba Noodles with Grilled Shrimp and Cilantro recipe

These healthy tacos feature lean pork tenderloin, which is briefly marinated and grilled. Top the tacos with a quick cabbage slaw, mashed avocado and cilantro. Get the Soft Tacos with Pork, Cabbage Slaw and Avocado Mash recipe

Capers add lots of flavor to this fast chicken paillard recipe. Serve the chicken with roasted cauliflower, which has much more flavor than steamed. Get the Roasted Cauliflower and Chicken Paillard with Caper Vinaigrette recipe

For a healthier take on lo mein noodles, try making your own recipe at home with buckwheat noodles or whole-wheat noodles. This recipe features lean pork tenderloin and bok choy in a light sauce. Get the Pork and Bok Choy Stir-Fry recipe

White beans makes this classic Italian soup hearty and escarole provides a healthy dose of vegetables. Freeze extra portions for later. Get the White Bean and Escarole Soup recipe

This chili recipe replaces the typical ground beef with lean ground chicken breast and amps up the vegetables with yellow peppers, yellow squash and yellow cornmeal for added texture. Get the Yellow Chicken & Chickpea Chili recipe

Make your own whole-wheat pizza dough or use store-bought for this fun recipe. The pizza toppings include grilled zucchini, fresh mozzarella and basil. Get the Whole-Wheat Crust Zucchini Pizza with Garlic and Fresh Basil recipe

The secret to making the best roast chicken breasts in record time is starting the dish off on the stove-top and then finishing it in the oven. Serve with roasted vegetables and a simple pan sauce. Get the Quick Roast Chicken and Root Vegetables recipe

A salad of grilled eggplant and red onions makes the ideal accompaniment to grilled lamb chops. The combination of mint and parsley add the right amount of Mediterranean appeal. Get the Grilled Lamb Chops with Eggplant Salad recipe

Cookbook author, Jennifer Chandler, is in the Better kitchen, cooking up quick and healthy dinner ideas.