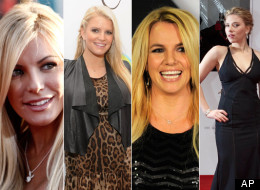 Reality TV star Linda Hogan, ex-wife of Hulk Hogan, has officially called off her engagement to 23-year-old beau Charley Hill.
On Tuesday, 52-year-old Hogan announced on Facebook that she was "now single" and no longer planning on marrying Hill, a friend of her son, Nick. "After the great therapy we had together and time to think and concentrate on who we are and who we want to be, Charley and I decided that we should each travel through life in different directions," she wrote. The pair first stepped out as a couple nearly four years ago.
But Hogan certainly isn't the first celeb bride who's called off her Big Day. Other stars have listened to their gut instincts too, and decided to cancel their weddings.
Click through the slideshow to challenge your knowledge of celebrity nuptials and find out which Hollywood brides called off their weddings.
Keep in touch! Check out HuffPost Weddings on Facebook, Twitter and Pinterest.
A) Jennifer Lopez B) Christina Aguilera C) Kelly Rowland D) Aretha Franklin

Just 20 days after singer Aretha Franklin announced that she planned to marry friend William "Willie" Wilkerson, she called the entire thing off. Franklin, who got engaged in January 2012, released a statement a couple of weeks later: "Will and I have decided we were moving a little too fast, and there were a number of things that had not been thought through thoroughly. There will be no wedding at this time."

A) Gwyneth Paltrow B) Drew Barrymore C) Julia Roberts D) Jennifer Lopez

Believe it or not, actress Julia Roberts was once engaged to actor Kiefer Sutherland -- but only briefly. Roberts, who was 23-years-old at the time, backed out of the engagement just three days before the lavish June 1991 wedding. The actress was later seen in Dublin, Ireland, with actor Jason Patric -- with no engagement ring in sight.

A) Scarlett Johansson B) Gwyneth Paltrow C) Jennifer Aniston D) Jennifer Garner

Before Brad Pitt and Angelina Jolie became Brangelina, there was Gwyneth Paltrow. Pitt and Paltrow dated for two-and-a-half years and were engaged for six months before the actress decided that she wasn't ready for marriage in 1997, according to Glamour.

A) Linda Hogan B) Kaley Cuoco C) Reese Witherspoon D) Jessica Simpson

In March 2012, The Big Bang Theory star Kaley Cuoco casually announced that she had would not be marrying Josh 'Lazie' Resnik, just months after she broke the news of her engagement in October 2011. The actress told Entertainment Tonight: "I'm not engaged anymore," but did not elaborate.