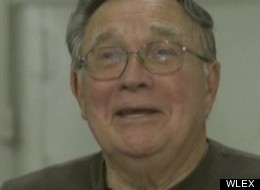 When Rankin Paynter learned that the Kmart in his Kentucky town was closing, he decided to buy everything that remained on the store's shelves -- and give it all away.
Four cash registers and six-and-a-half hours after his shopping spree began, the benevolent businessman walked away with $200,000 worth of inventory and gave it all over to Clark County Community Services, a nonprofit that helps families in Winchester, Ky., facing crisis situations, WLEX reports.
"It's time to give back," the "Summer Santa" told the news source.
Judy Crowe of Clark County Community Services was blown away by Paynter's generosity and told WLEX that it was the single largest donation her organization has ever received. She also said that this is the first year her organization will have enough coats, hats and gloves to provide all the children it serves during the winter.
Know an inspiring person you'd like to nominate to be a Greatest Person of the Day? Click on the yellow submission bar at the top of the page.
Click through our slideshow below to read more inspiring stories of "Secret Santas" who helped out those in need.
SLIDESHOW:
Hope was renewed after an alleged thief stole the money from Chicago's Toys For Tots Foundation. To help replenish the supply and ensure Christmas joy for the thousands of area children the organization reaches, a generous donor gave $25,000, the Chicago Tribune reports. His only request? To remain anonymous.

Money was inevitably tight for Maria Vargas, who spent her life's savings on monthly treatment as she battles Stage Four cancer. But that changed when Vargas received an anonymous check for $10,000, left in a sack of avocados on her doorstep, KTVU reports. The family had been protesting outside of a Kaiser facility, claiming misdiagnosis allowed a tumor to grow out of control.

If you ask a child his ideal Christmas present, you're likely to get a resounding answer: a bike. One donor in Oregon has been making that a reality for the past decade. In 10 years, he's given out almost 1,300 bikes KDRV reports. He's remained anonymous and is simply referred to as "Bike Santa."

Anonymous donations have caught on at stores across the country. Kindhearted Secret Santas are paying off remaining Kmart layaway balances for families nationwide, the Associated Press reported. These Santas have started spreading the love to other stores as well, hitting up Wal-Marts in Joplin, Mo., according to the AP.

Sometimes gifts for children don't come in the form of a firetruck or a new doll. An anonymous donor paid for an extended motel stay for Kim Artis and her 10-year-old daughter and 18-year-old disabled son as holiday budgets threatened to put them on the streets, the State Journal-Register reported.