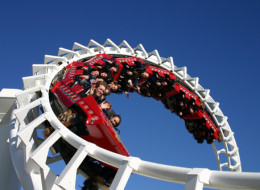 At least 135 new attractions are coming to America's theme parks this summer, a trade industry group says, with new roller coasters, water rides and a Legoland among the highlights.
The thrill rides and attractions will touch 24 states and more than 50 theme parks, museums and other destinations represented by the IAAPA, an industry group representing more than 4,000 members.
Disney, for its part, announced plans to expand its offerings at Disney World this spring, while over in California, Disney Land plans to open "Cars Land" in June.
Here's a small sampling of the attractions to come, and where you can check them out this summer.
What's New At America's Theme Parks
This 12-acre addition to Disney California Adventure consists of three attractions spun off of the "Cars" movie franchise.

Pirate Reef is a new water attraction coming to this already popular Lego-themed park. Photo: VALERIE MACON/AFP/Getty Images

"The Jellies Experience" will highlight these oft-misunderstood animals. Photo: AP photo/Monterey Bay Aquarium, Randy Wilder

The fastest land animal on the planet is the focus of the new "Shiley's Cheetah Run" at the zoo.

This park debuts its version of the Manta roller coaster this summer.

Including a 150-foot inversion, Superman: Ultimate Flight is a serious roller coaster that hits 62 mph.

Guests will experience a 400-foot plunge on the new Lex Luthor: Drop of Doom ride.

Seen here at the Singapore location of Universal Studios, Transformers The Ride comes to California this year. Photo: AP Photo/Bryan van der Beek

The new Soaring Eagle Zip Line carries visitors across a gorge 1,000 feet above the Arkansas River.

A number of new experiences are coming to this water park near Orlando.

An expanded Fantasyland debuts at Disney World this summer with Dumbo- and Little Mermaid-themed attractions.

This 3,000-foot-long winged roller coaster will hit speeds of 55 mph this summer.

The new Goliath roller coaster will free fall, loop and turn through this Massachusetts park.

This 2,900-foot-long ride is perfectly themed for 2012.

This adult-friendly water slide includes 360-degree loops.

This 24-story-high swing ride is a monumental take on the carnival classic.

This 138-foot-tall coaster features six inversions and face-to-face seating.

The newest coaster at this park is also its tallest, fastest and longest.

There's nothing tacky about this coaster that travels 3,127 feet and hits 61 mph.