Dennis Quaid And Michael Chiklis Talk 'Vegas' (VIDEO)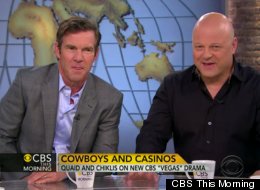 Actors Dennis Quaidand Michael Chiklis appeared on CBS This Morning to talk about their new television series, "Vegas," premiering this fall on CBS. Dennis Quaid, making his television debut, will play Sheriff Ralph Lamb, and Michael Chiklis will play his mob boss nemesis in 1960's Las Vegas (maybe the two stars can weigh in on when the spirit of that decade truly ended).
Check out the video above for Quaid and Chiklis on riding horses, the "culture clash" between the old West and the mob, and meeting the real Ralph Lamb.