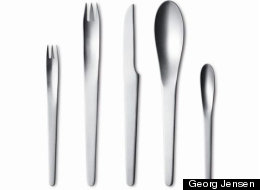 This week was Design Week in New York, and in honor of all the creativity stirring around us, we're taking a look at yours, and our, favorite design devotees on Twitter. Here, we've gathered 10 tweeters cut from different cloths, from interior to graphic to typographic. Some offer news, others commentary and others yet amazing feats of design all around us.
Design, as we all know, is a broad designator, so we've eliminated architecture for the most part (stay tuned for a separate list devoted to it). Our list is by no means comprehensive and is meant to serve as an entry point, so let us know who we missed in the comments!
John Maeda, president of the Rhode Island School of Design, is full of words of wisdom for his followers, like this one here. Follow him for design news and daily inspiration.

Typography nerds! Rally 'round typographer/designer Erik Spiekermann font-friendly feed.

Criticism, commentary and news on visual design, from Print Magazine's Stephen Heller.

Over on the more obscure end of graphic design, we have data visualizer Jer Thorp, a Data Artist in Resident at the NYTimes and prolific tweeter.

Are you into DIY? Design Sponge's Grace Bonney is here for you!

More on the home design front but less on the DIY, we have Design Milk, for all your interior design needs.

Design critic of the International Herald Tribune, Alice Rawsthorn offers thoughtful commentary on design, like this here one on her soup spoon.

Cool Hunting explores the "intersection of art, design, culture and technology"... all of which is present right in this tweet.

Zahra Ebrahim of Architext is trying to change the way we see design in our daily lives. See how the conversation develops here.

Dwell magazine deputy editor Jaime Gillin offers a good mix of interior, exterior and graphic design news.